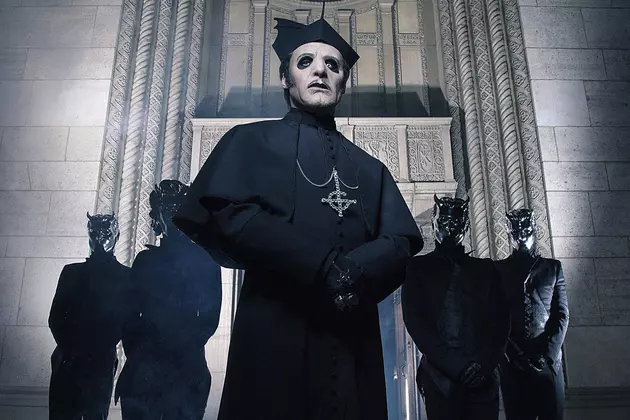 Ghost Reference Legal Disputes on New 'Prequelle' Album
Loma Vista Recordings
Ghost leader Tobias Forge said legal disputes with four former members of the band are referenced on their upcoming album Prequelle.
Last year, Forge's former colleagues launched a lawsuit against him, claiming he had failed to pay them what they were entitled to and that the band was a partnership, despite Forge's insistence that they were effectively hired hands. The dispute led to Forge confirming his identity for the first time.
"All things considered, a year down the line, having been through so much turmoil," he told NME in a new interview. "I've come to realize that what happened needed to happen. Also, I'm a big fan of rock, of rock history, and I've read every classic rock biography of every band I'm a fan of. You know what? The same shit takes place in every single one. A friend of mine, a very successful songwriter, said to me, 'You're not really in the game until you've been sued, so welcome in!' and I think he's got a point. I've been in lots of situations in my life where I've managed to turn pain into growing pains. Really, what happened was a receipt that things are going well. ... It's fine. It'll be over."
One of the new songs, "See the Light," includes the lines "Many a rat I've befriended" and "Of all of the demons I've known, none can compare to you." Forge admitted it's about people who "crossed" him. "I think it's a song that can apply to any situation in which you're surrounded by enemies," he explained. "Really, it's a song about redistributing anger and negativity."
He also said that "Rats" was partly inspired by his experience of being outed online as details of the legal battle became public. "As much as I'm an advocate for whistle-blowing culture in the modern era – and of course I'm for that, things that are bad for the world should be exposed – I'm not sure that's the forum for it," he said. "All those people just … shouting. ... So many people have opinions based, not on fact, but spite. There are people who just love to destroy other people. It saddens me to admit, that I think at whatever state of human civilization we arrive at, the will to destroy other people, is something that is innate in some people."
Forge previously noted that the theme of the LP -- which will be released on June 1 -- focuses on surviving monumental change, which was also informed in part by current U.S. and Russian political tensions.
More From Ultimate Classic Rock