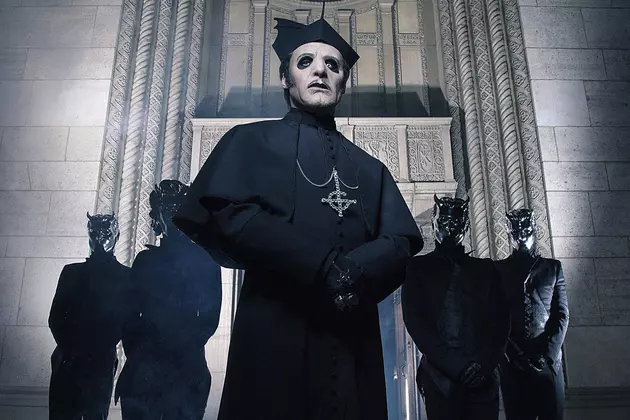 Ghost Cancel Show After Fan Reportedly Dies in Crowd
Loma Vista Recordings
Ghost cut their concert short in Milwaukee last night after someone in the audience reportedly collapsed and died.
Tobias Forge and his band had completed the first 13 songs of their first set at the Riverside Theater, but did not return to deliver a second set, which usually consists of 14 songs. The show took place just hours before the band's new album, Prequelle, was released.
"Tonight, in Milwaukee there was a medical emergency with one of our fans," Ghost said in a statement on their Facebook page. "We decided not to continue out of respect to him and his family. Ghost and all who work with us ask that you please send the family your thoughts, prayers and respect their privacy during this time."
Comments on the post appeared to mainly support the decision, with several fans saying they'd witnessed what venue staff called a "terrible tragedy." "It was a tragic incident and totally understand that you couldn't and made the right call of shouldn't going on," one fan wrote. "The first part of the show was fantastic and we hope you come back to WI. Prayers to the family and friends of the individual who passed. It was a sight unfortunately I can't unsee, watching an individual die in front of you while the emergency responders did all they could."
"That was a horrible thing to witness," another fan commented. "I was talking to a guy, speculating what might have happened when we found out it was his stepfather. Deepest condolences to that family." Another eyewitness added that it was "heartbreaking that we all had to witness that. But let us take Peace with the fact that this was not a death or cancellation due to some act of violence or hatred. Let's rock for those we have lost."
You can stream Prequelle below.
Ghost continue their Rats on the Road tour in St. Paul tonight, with one more U.S. appearance on June 8 before they travel to Europe for a series of festival shows.
More From Ultimate Classic Rock