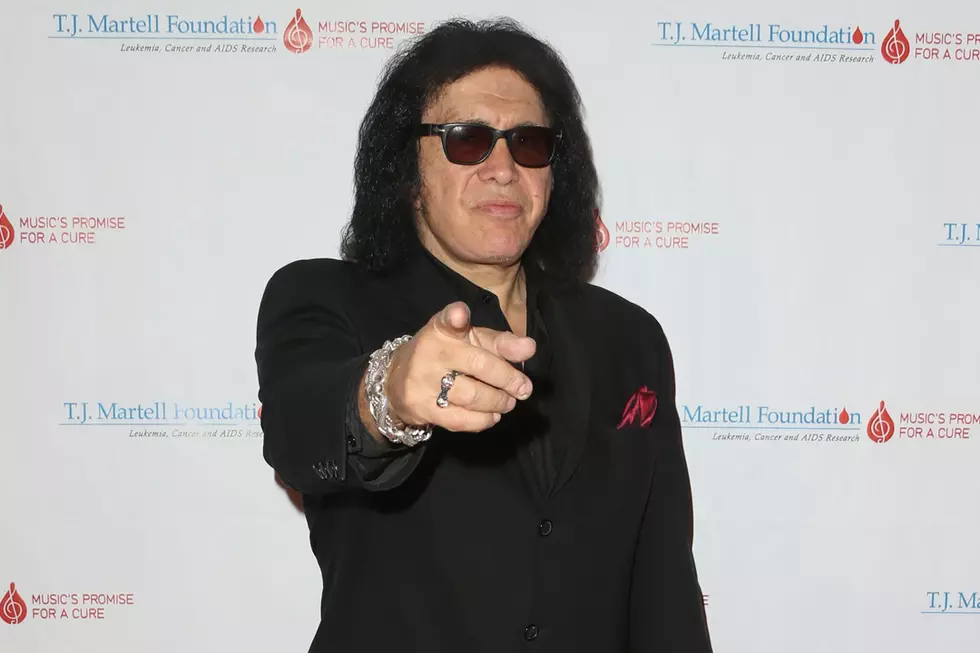 Gene Simmons Defends Labels and Blames the Fans
Frederick M. Brown, Getty Images
In 1977, Nick Lowe recorded a song called, "I Love My Label," an ironic dig at those who "never talk behind my back and they're always playing my new tracks when I come along." Gene Simmons, on the other hand, wasn't being sarcastic when he praised them in a recent interview.
Speaking to Planet Rock in advance of their set at last week's Download Festival, he said record companies "gave bands money that they never had to pay back — ever! If the band failed and the records were a complete disaster, the advance money was all theirs. What other business would give you that? If you go to a bank and they give you a million dollars, and your business goes under, they don't care it failed; they want their money back."
He continued by calling labels "a gift from heaven. Yeah, they're greedy, they're this… but they wanna make money just like you do. But they gave you money — millions! And if it wasn't for record companies, there'd be no Sex Pistols, there'd be no punk, there'd be no nothing. There would be punk, but it would be in a small club. It would never become huge."
So who does Simmons feel is responsible for the decline of the music industry? "I blame the fans. Because the fans have decided en masse — in other words, the masses have decided — that they should get free music, download, fileshare [...] You're killing the next Elvis [Presley] and the Beatles and the next Kiss and the next whoever, because you have to give your music away for free [...] It's disappointing, because they would prefer not to support a new band [...] It affects the next great band, who won't have a chance. Why? Because the talent isn't out there? It sure is. The fans killed it. They killed the infrastructure."
He said that Kiss are exempt from the current model because "we've been around a long time and we make a good living."
Kiss and the Top 100 Albums of the '80s
Kiss Albums Ranked Worst to Best
More From Ultimate Classic Rock