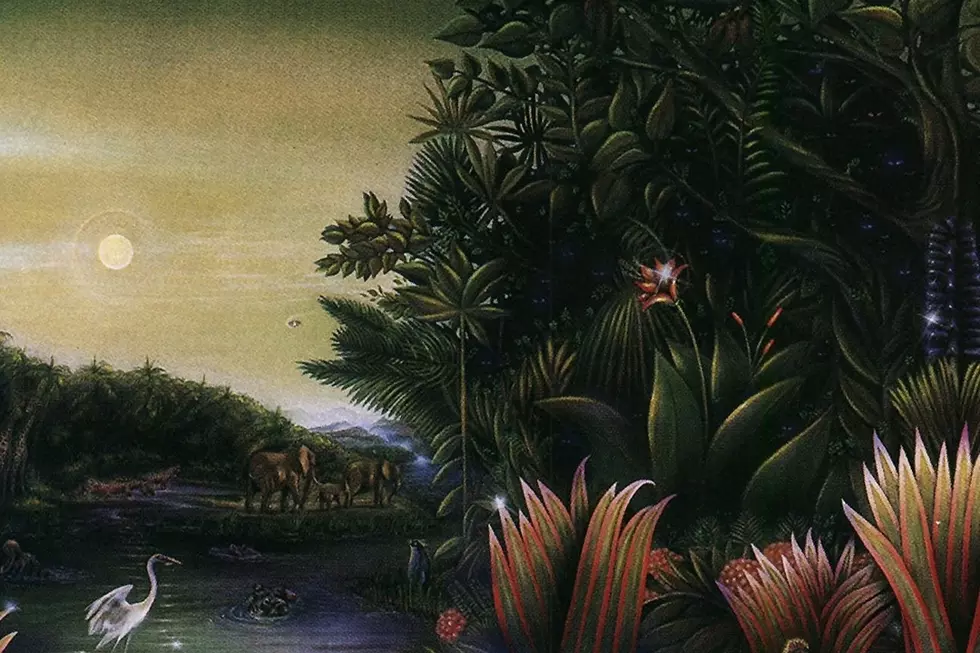 How Fleetwood Mac's Classic Lineup Came Together for a Final LP
Warner Bros.
Fleetwood Mac spent much of the '80s at loose ends before reuniting again for one of their most popular albums. But long-festering personal and creative issues splintered the lineup before they could even take Tango in the Night on tour.
Their extended hiatus began at the end of the Mirage tour in late 1982, as band members spent several years focused on outside pursuits. Lindsey Buckingham, Christine McVie and Stevie Nicks each released solo albums during the downtime.
McVie's solo career, in fact, ultimately led to the reunion after she was commissioned to record a cover of "Can't Help Falling in Love" for the soundtrack to the 1986 Blake Edwards comedy A Fine Mess.
"They gave me total freedom as to who I wanted to use. So I called up Lindsey and we got [bassist John McVie] and [drummer Mick Fleetwood] to play bass and drums," McVie later said in Fleetwood Mac on Fleetwood Mac: Interviews and Encounters. "The atmosphere in the studio was so instant we jammed for hours and played some of the old songs. At that point, we sat down and said let's get serious about the studio again."
As with most things Mac-related, the truth was a little more complicated than McVie let on. In reality, Buckingham was working on a solo album, and not really in a rush to return to the Fleetwood Mac fold. But out of a sense of obligation and a feeling of unfinished business following what he felt was uninspired work on Mirage, he agreed to bring the songs he'd earmarked for his project to the table for a new band project.
"I had a choice of either continuing on to make the solo record, or to sort of surrender to the situation and try and make it more of a family thing. I chose the latter," Buckingham later argued. And unknown to his bandmates at the time, he saw the project in decidedly different terms: "I had the idea that that was going to be the last work with the group."
Watch Fleetwood Mac's 'Little Lies' Video
The chemistry might have been instant during the sessions for the Fine Mess soundtrack, but things grew exponentially more complicated once Fleetwood Mac started to work on the new record in earnest. John McVie, drying out after a long struggle with alcohol addiction, wasn't at his best. But his problems were dwarfed by the substance problems facing Fleetwood and Nicks, whose lifestyles prompted Buckingham to install a Winnebago in the driveway outside his home studio where the two could indulge while staying out of his way.
Chemical issues certainly didn't help the recording process, but they weren't the only problems facing Fleetwood Mac. Nicks, juggling her own rehab stint and busy solo career, was dragooned into the sessions relatively late in the process. By her own admission, she wasn't at 100 percent — and not just because she was struggling with the side effects of a Klonopin prescription administered by her doctors. She didn't appreciate being forced to track her vocals in the bedroom shared by her ex-boyfriend Buckingham with his new partner.
"I found it very uncomfortable, personally. I guess I didn't go very often and when I did go I would get like, 'Give me a shot of brandy and let me sing on four or five songs off the top of my head,'" Nicks told the Miami Herald. "I'd leave and he'd take all my vocals off. And I'm not blaming him for that because I'm sure they totally sucked. Vocals done when you're crazy and drinking a cup of brandy probably aren't usually going to be great, and Lindsey is very precise when recording. … I wasn't into it."
Tango in the Night "took close to a year to make, and I think we saw Stevie for about three weeks out of that time. And these weeks weren't the greatest three weeks," Buckingham said in Fleetwood Mac on Fleetwood Mac. "Nobody was in a good place, really."
Fleetwood Mac may have been in a turbulent place emotionally, but they were far stronger on the creative front. Nicks was largely MIA in the songwriting credits, but Buckingham and Christine McVie both turned in a series of gems. She offered future hits "Everywhere" and "Little Lies," while he contributed "Big Love," "Caroline" and the title track from his aborted solo project. Whatever else the band might have lacked in terms of studio presence or chemistry, Buckingham and co-producer Richard Dashut covered up with glossy layers of quintessentially '80s production.
They ultimately ended up with an album the band could be proud of, but Buckingham still wasn't willing to go any further. After laboring through 18 months of sessions, Fleetwood Mac finally finished Tango in the Night in time to get it in stores on April 13, 1987 — and Buckingham announced his departure on the eve of the tour to support the LP, which was already well on its way to becoming their second-best sales performer – below only the mammoth Rumours.
Watch Fleetwood Mac's 'Big Love' Video
Nicks later recalled a screaming match that turned dangerously violent after Buckingham handed in his walking papers, but fierce ups and downs were par for the course with Fleetwood Mac. The band quickly opted to honor their live commitments, replacing Buckingham with a pair of guitarists: former Bob Seger sideman Rick Vito and veteran recording artist Billy Burnette.
To a public already well versed in the many behind-the-scenes issues in the band, Buckingham's departure was surprising, but not shocking. "There's a comedic sense to it — that we were promoting an album that was mainly his body of work. It was like Brian Wilson and the Beach Boys: 'I've made the album, but now I'm staying at home,'" Fleetwood told Classic Rock.
"But also, when I look back, I see another example of how desperate Lindsey was to be heard," Fleetwood added. "Basically, he was coerced and persuaded to do that album – mainly by me. And to his credit, he put aside everything that he'd dreamt of doing, including making his own album, for Fleetwood Mac. But then realized that he'd made a mistake and went: 'Oh my God – I've got to get out.'"
Buckingham's absence had a marked effect on Fleetwood Mac's creative output. By the time they returned with 1990's Behind the Mask, the group faced a far steeper climb at radio, and Nicks would follow her former partner out the door later that year. It would take a decade for Fleetwood Mac's most commercially successful lineup to find their way back together for any extended activity.
Part of that hiatus was just time healing old wounds, but it was also necessary to close a dangerous chapter that drove an emotional wedge between old friends.
"I just couldn't stand to see you doing what you were doing to yourselves. Did you ever realize that? You were so out of control that it made me incredibly sad, and I couldn't take it anymore," Fleetwood remembered Buckingham telling him and Nicks when the subject came up during a 2012 interview. "It was really powerful stuff. This was someone saying: 'I love you.' It hit Stevie and me like a ton of bricks. And we all cried, right there in the interview."
Fleetwood Mac Ex-Members: Where Are They Now?
Fleetwood Mac has had massive success, and a difficult time keeping a lineup together.
Why Don't More People Like This Fleetwood Mac Album?
More From Ultimate Classic Rock