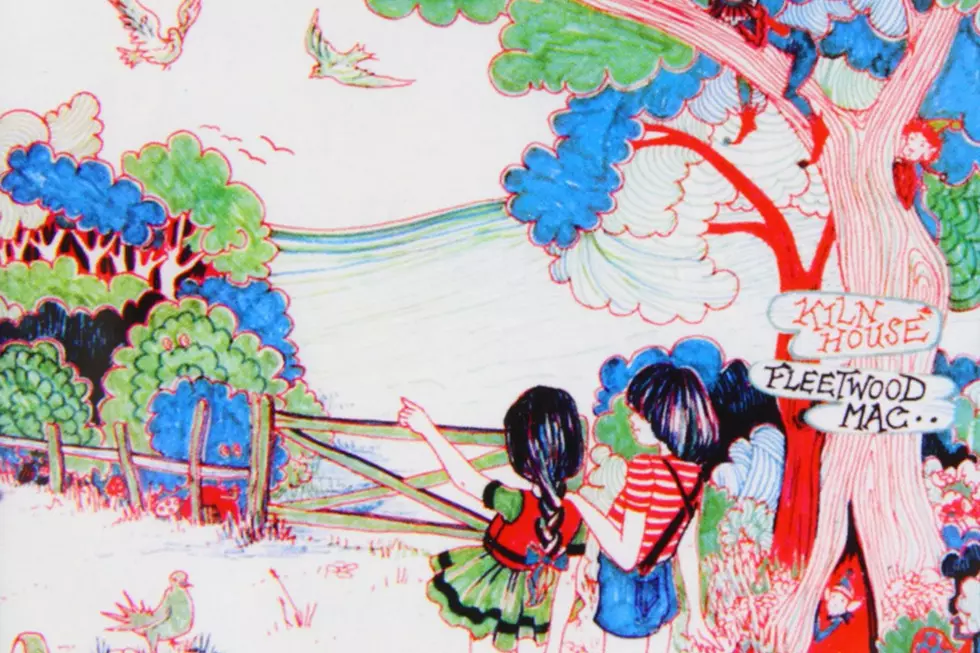 When Fleetwood Mac Looked to Rock's Roots on 'Kiln House'
Reprise
Fleetwood Mac were battered and bruised in 1970 after the departure of guitarist Peter Green. Green exited amid a haze of drugs, religion and confusion following the release of Then Play On and a couple of ground-breaking singles ("The Green Manalishi" and "Oh Well"). His absence left Fleetwood Mac without a leader and focal point.
Not that the band was a one-trick pony. Then Play On saw them transcend the purist blues sound of their first two albums to deliver a whirlwind of psychedelia, gritty blues and gentle acoustic numbers. But they still had a new challenge to face. Fleetwood Mac dealt with it not by replacing Green, but rather by settling in as a four-piece and looking to the roots of rock and roll's early days.
Released on Sept. 18, 1970, Kiln House is a mixed bag of songs that call upon folk, country, blues and pop. Guitarist Jeremy Spencer takes the wheel for a good chunk of the album, recasting Fleetwood Mac in the light of '50s rock and roll, with nods to the Everly Brothers, Buddy Holly and Gene Vincent.
The LP kicks off with the full-on retro vibe of "This Is the Rock." Written by Spencer, it's Gene Vincent's slap-back shuffle brought back from the dead as a genuine homage to those early sounds. "Station Man," co-written by Spencer with guitarist Danny Kirwan and bassist John McVie, swims back into a more contemporary style perfectly suited for the laid-back groove many aspired to in 1970.
"Blood on the Floor," however, does teeter between sincerity and parody as Fleetwood Mac attempts to take on true-blue American country music. The end result is still up for debate.
Listen to Fleetwood Mac's 'Jewel Eyed Judy'
It's still not clear why "Honey Hush" was retitled "Hi Ho Silver." Regardless, it's a no-frills rocker originally recorded by Big Joe Turner in 1953. "Jewel-Eyed Judy" is a gritty, stomping rocker that has more in common with the likes of Badfinger than it does with much of the '50s motif found throughout the LP.
They dive backward again with "Buddy's Song." Though written by Jeremy Spencer, the track is credited to Ella Holly, Buddy's mother, and is essentially a tribute to Buddy Holly with its references to a handful of Holly classics. "Earl Gray" is a somewhat haunting Danny Kirwan instrumental that is neither filler nor killer, but simply a nice side-step.
"One Together" finds Spencer on a bit of an Everlys path, while Kirwan's "Tell Me All the Things You Do" is more modern-sounding. The album ends with a cover of "Mission Bell," originally recorded by U.K. pop vocalist Ronnie Hilton a decade prior. Fleetwood Mac spin the straight pop fare into a more Holly-ish ballad to suitably end things.
Peaking at No. 91, Kiln House did little to bolster Fleetwood Mac's status or reputation. The good news was that future star Christine McVie made her presence known for the first time – not only on keyboard, though uncredited at the time, but also with an original painting that graces the cover.
Jeremy Spencer followed Peter Green out the door, however, after this album's release. Like Green before him, Spencer left under somewhat odd circumstances also involving religion. His replacement, Bob Welch, took the band on yet another musical path.
Fleetwood Mac Lineup Changes: A Complete Guide
A look at the many changes the band has been through over its half-century career.
Stevie Nicks Talks About Life After Music
More From Ultimate Classic Rock