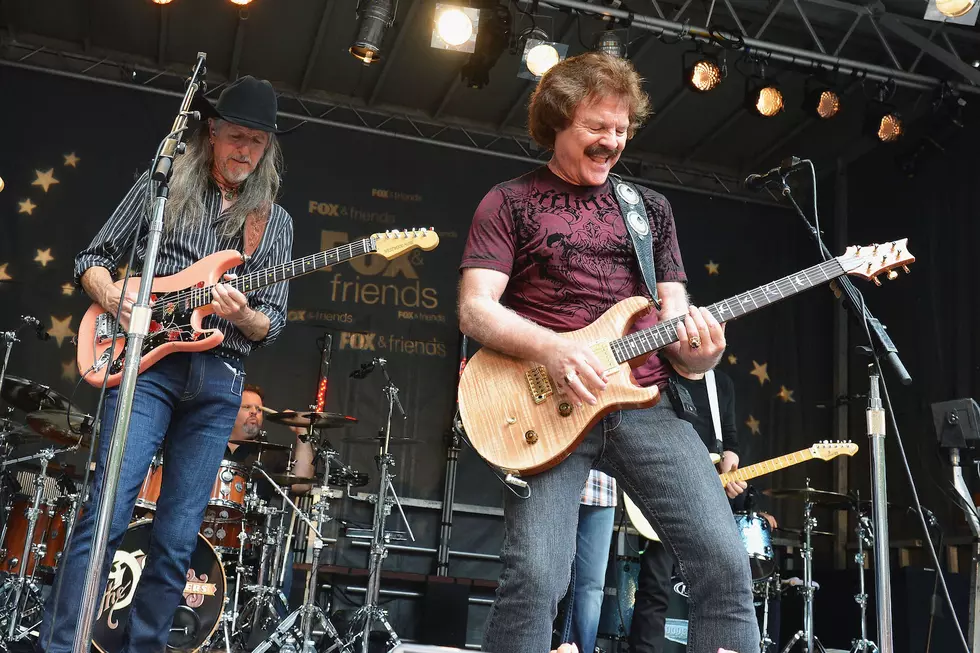 5 Reasons the Doobie Brothers Should Be in the Rock and Roll Hall of Fame
Slaven Vlasic, Getty Images
The Doobie Brothers would be first-ballot inductees in a hall of fame for survivors. Over the years, they've compiled a history of huge hits and health issues, breakups and hiccups, and seemingly countless comings and goings, then reunion and triumph.
Tom Johnston has helmed things twice, in 1969-75 and again since 1987. In between, Michael McDonald co-led the group with Patrick Simmons, the only member to have appeared in every different Doobie Brothers incarnation. John McFee, who joined in the McDonald era and remains today, still refers to himself as the New Guy.
They collected chart-topping albums and singles, a handful of Grammys and platinum certificates by the bushel, but were never mentioned in connection with the Rock and Roll Hall of Fame before 2019. "I think I speak for all the other guys when I say that it seems rather odd we haven't been selected before," Johnston told Billboard. "But at the same time we don't take it for granted and we are honored to be nominated – and if we can just carry it all the way to getting in, it would be awesome."
A total of nine band members would enter if the Doobie Brothers finally earn induction, including guitarist Jeff "Skunk" Baxter, drummer John Hartman, late drummers Michael Hossack and Keith Knudsen and bassist Tiran Porter. Here are five reasons why the Doobie Brothers should be in the Rock and Roll Hall of Fame.
1. They Pushed Musical Boundaries
The Doobie Brothers are best known for Johnston-fronted radio-favorite rock songs like "Long Train Runnin'" and "China Grove," both from 1973. The addition of Jeff "Skunk" Baxter and Keith Knudsen created a tough three-guitar, two-drum approach that shaped everyone's conception of their sound.
But the group showed a penchant for experimentation from the first, drawing on folk and bluegrass styles for its first chart-topping single, 1975's "Black Water," before stirring in R&B in the later '70s. Still, preconceptions remained, perhaps because Johnston is such an outsized figure. They've been described as a "biker band," "guitar-driving rock 'n' roll" and a "post-hippie boogie band."
But, as Simmons told UCR in 2019, they were always more than that. "It's more subtle and more complicated," he said. "So, I wonder sometimes why people have been sometimes dismissive in terms of our contribution or those particular writers' contributions to the genre of modern music. I just think it's a little bit more significant."
The 2014 album Southbound recognized their impact on roots and country music by pairing the Doobies with stars like Zac Brown Band (for a new take on "Black Water"), Blake Shelton, Toby Keith, Brad Paisley and Sara Evans.
2. They Were Masters of Reinvention
The Doobie Brothers didn't just change frontmen when McDonald joined during the sessions for 1976's Takin' It to the Streets. They completely transformed themselves into a sleek soul-inflected band – yet never lost commercial momentum.
"What started out as a temporary summer job became permanent employment with the band, and from that point on it was pretty much a group metamorphosis. My songs were maybe a little different than stuff they had done before, but we were always, collectively, a band," McDonald told Newsweek in 2017. "The one thing the band was determined not to do was just try to fill the void, the great void, that was Tommy being gone with a Tommy soundalike or a Tommy wannabe, if you know what I mean. They figured, 'Hey, while we're at this juncture, we might as well just follow a musical path, whatever that is.'"
They had eight Top 40 hits before McDonald's arrival, and nine after – including the band's second No. 1 song, 1977's "What a Fool Believes." But they weren't done changing. McDonald left after 1980's One Step Closer, and the group eventually reformed around Johnston again, returning to their more rock-focused roots while scoring yet another Top 10 hit with 1989's "The Doctor."
Johnston, Simmons and McDonald later reunited for a song on Southbound, singing together the first time since 1978's Minute by Minute. They then announced a 50th-anniversary reunion tour following the Doobie Brothers' Rock and Roll Hall of Fame nomination.
3. Their Guitarist Is Keeping the World Safe
Baxter joined the Doobie Brothers after his old group, Steely Dan, retired from the road in 1974, adding signature muscle to songs like "Take Me in Your Arms (Rock Me a Little While)." He also recommended McDonald, a former Steely Dan backup singer, when Johnston's health problems forced him to step back from the group.
Baxter was gone by 1980, only to drift into an entirely different field: counter-terrorism. This surprising career turn began when Baxter mentioned an interest in military systems to a neighbor – who just so happened to be a former engineer at the Pentagon. The neighbor gave him a subscription to an aviation magazine. Baxter began thinking deeply about the subject, and found himself jotting down some thoughts.
"I sat down at my Tandy 200 and wrote this paper about how to convert the Aegis weapon system — why it would make sense to convert it to do theater missile defense because it would be on a mobile platform, and give the United States a new role in NATO in the 21st century," Baxter said in 2016. He sent the memo to California congressman Dana Rohrabacher, and that led to a role as a consultant with the U.S. Department of Defense.
Since, Baxter has also worked with the Pentagon's Missile Defense Agency, the National Geospatial-Intelligence Agency and private defense contractors like Northrop Grumman.
4. They Took on Bootleggers, and Got a Laugh
The Doobie Brothers appeared on the TV sitcom What's Happening!! in a two-part 1978 episode called "Doobie or Not Doobie." The script found them returning to the group's fictional former high school only to find that one of the current students, Fred Berry's Rerun character, had been pressured into illegally taping one of their concerts.
"Because it was a black situation comedy, I thought it would be an adventurous thing for us to do because our music had always been laced with R&B and soul," Simmons told AXS in 2018. "Not only would our fans tune in, but it would also expose us to a new audience of people who watched the show regularly, and would begin to listen to our music."
The idea came from publicist David Gest, who later gained fame when he married Liza Minnelli. Simmons admitted to being nervous about acting, but said the band was excited by the opportunity to appear in a new forum. "I think people were aware of our social viewpoint, that we really value all of a larger, multicultural social audience," Simmons told Yahoo! in 2018. "So, doing that show for me was a joy in that regard — to be building what I thought was a bridge, at a time in television where those situation comedies were bridges between cultures."
Much has changed in the interim. "It's silly looking back on it now," Simmons told AXS, "because everyone is recording shows on their phones and giving it away on YouTube, but it was a different world in those days."
5. They Are Fan Favorites
The first-time nomination of the Doobie Brothers follows a more recent trend of recognition for bands that were always more popular than they were necessarily critically celebrated. That never mattered to rank-and-file record buyers, who responded in a big way by making them the top Rock and Roll Hall of Fame vote-getters coming out of the gate.
In fact, the Doobie Brothers earned nearly 120,000 votes of more than a million votes cast in the first week of fan polling, initially taking first place on a ballot that also included Judas Priest, Motorhead, Pat Benatar, Soundgarden, Dave Matthews Band, Depeche Mode, MC5, Nine Inch Nails, Todd Rundgren, T. Rex and Thin Lizzy, along with Whitney Houston, Kraftwerk, the Notorious B.I.G. and Rufus featuring Chaka Khan.
So, why the long wait? "When a band has two distinctly different eras or changes over time, it sometimes takes a little bit longer for the nominating process," Rock Hall CEO and president Greg Harris told ABC Radio. "The Doobies enjoyed great success in one era – and then, had a bit of a transformation to be more of a piano-driven band, and saw a resurgence in another era."
The Doobie Brothers later fell back into the fan-ballot pack, as Matthews – another of the first-time nominees, with Motorhead, T. Rex and Thin Lizzy – and Benatar surged ahead. But those early votes underscored the enthusiasm among fans who've watched as the Doobie Brothers were overlooked time and time again. They've been eligible since 1996.
See Doobie Brothers Among Rock's Most Underrated Albums
More From Ultimate Classic Rock