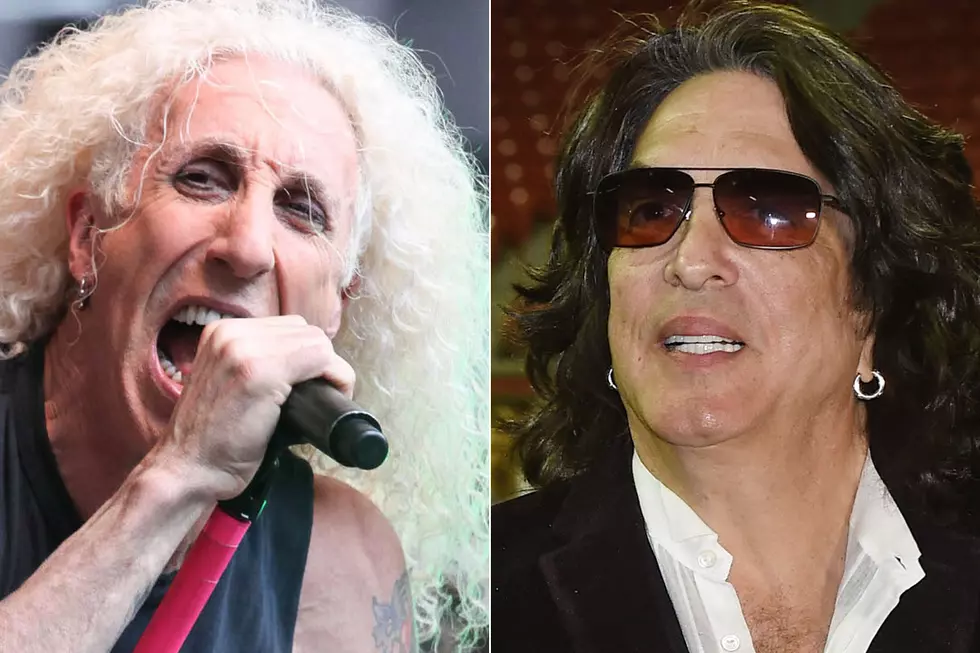 Dee Snider Wants to Know Why Paul Stanley Is 'Such a D—'
Rob Kim / Ethan Miller, Getty Images
Snider, who recently challenged Stanley to a stage duel after his critical comments regarding the current Kiss lineup prompted Stanley to call the Twisted Sister frontman a "wannabe", lashed out again during a conversation with The Real Radio Show during a Long Island hunger benefit.
During the segment, which you can watch above, Snider lays out his "Kiss credentials," insisting he bought the band's first album before it was reissued with the band's cover of "Kissin' Time" tacked on and arguing that his many years as a fan give him the right to find fault with the band for bringing in replacement players to mimic the parts, stage moves and makeup of departed original members Ace Frehley and Peter Criss.
"I don't think I'm out of line to say that I have an opinion and that I feel that the Ace Frehley impersonator playing guitar now is an insult to fans. People disagree — that's fine. People agree — that's fine," said Snider. "But Paul reacted to me making a statement — anything negative about Kiss; I mean, you're not allowed to do that, apparently — and decided to call me a wannabe and a buffoon, and I had to address that in an open letter to Paul, where I pretty much took him out at the knees."
Snider then addressed Stanley and Kiss co-founder Gene Simmons directly, questioning why they seem to have bigger chips on their shoulders than some of their peers. "Paul, I love your band, I love your music. Why do you have to be such a d---?" he wondered. "Alice Cooper is not a d---. Alice Cooper has inspired a million people and he's the coolest guy in the world, yet Gene and Paul, they've got this arrogance about them, like the world owes them something. We do owe you something, but let us offer it. Don't insist we buy it from you."
See Kiss and Other Rockers in the Top 100 Albums of the '70s
This Day in Rock History: October 7