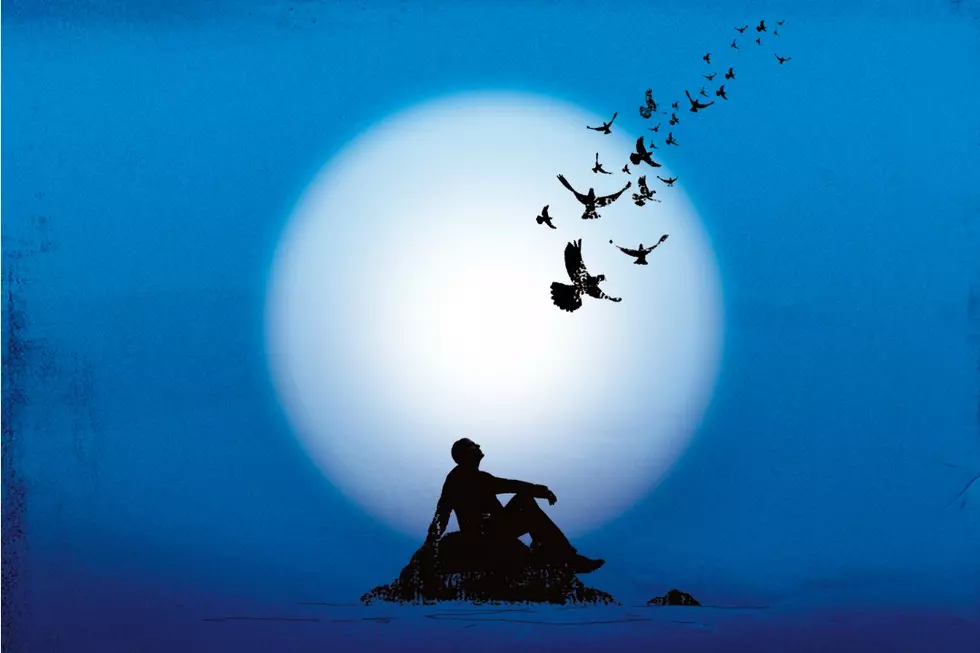 How David Gilmour Found Happiness With 'On an Island'
Columbia
By the late '90s, David Gilmour had earned the sort of financial stability that affords an artist enough freedom to take as long as they like between projects. He took full advantage, allowing his solo career to lay fallow for more than 20 years while only sporadically pursuing Pink Floyd as a part-time occupation.
In fact, Gilmour didn't get around to releasing his third solo album, On an Island, until March 2006 — decades after his most recent solo effort, 1984's About Face, and more than 10 years after after Pink Floyd's The Division Bell. The lengthy downtime was driven by a number of factors, including Gilmour's growing thirst for life away from the spotlight — and the creative and personal struggles he endured with his former Pink Floyd partner Roger Waters.
"The first one was just a quick blast. [...] It was really off the top of our heads. It was fun – comparatively, compared to Pink Floyd," Gilmour told Record Collector. "The last solo album in 1984 was at a time when we knew Roger wasn't going to be part of anything we did, but before he'd officially left. He had us trapped in limbo. I was putting my toe in the water. Then he left and I was unencumbered and carried on doing Pink Floyd. There didn't seem to be any reason to do a solo project."
Gilmour resumed his solo recording activity in 2001, collecting song fragments in his private recording studio on board the houseboat Astoria. "It's lovely to be here, you know," he later said of the studio, which he purchased in 1986 and used for The Division Bell and its Pink Floyd predecessor, 1987's A Momentary Lapse of Reason. "To have the water gently drifting past us and all that, and I like to have windows. You know I've spent rather too much time in studios and most of them don't have windows, and I can't stand being in places that don't have windows."
That gently drifting feeling couldn't help but seep into On an Island. Although Gilmour had never been known for favoring uptempo material, the songs he penned for the new album were among his most contemplative. The album's slow, introspective tone was further enhanced by orchestral arrangements courtesy of Polish film composer Zbigniew Prisoner. Working once again with his wife Polly Samson, who'd also contributed lyrics to The Division Bell, Gilmour turned to his past for the album's mood, if not the details.
"On On an Island I've gone back to my youth," Gilmour told Classic Rock magazine. "During that time, I was experiencing emotional isolation because my parents were more concerned with themselves than with their children. They were the kind of people who sent their little boys to summer camp while they went off to France or Italy on holiday. The moments of feeling totally isolated have now passed. As father of four young children, you hardly have any time for that."
Watch David Gilmour's 'On an Island' Video
After assembling the basic building blocks for On an Island, Gilmour reached out to his friend and neighbor, Roxy Music guitarist Phil Manzanera, for assistance with co-production. Manzanera's input helped speed the process along, but only so much. Eventually, both men became convinced they needed a third person's input, and they drafted veteran producer Chris Thomas to serve as the third member of the records behind-the-boards triumvirate. Along the way, Manzanera and Thomas prodded Gilmour to send the project in directions he might not have taken on his own.
"The album was initially not only very acoustic, but also very orchestral," Manzanera told Sound on Sound. "I didn't think it was a brilliant idea to have so much orchestra, so it was diluted in the end. And finally, David's electric guitar solos were all done in ... the last month of recording. He left the electric stuff to the last moment, and I wasn't sure he wasn't going to do it at all. So, I was very pleased that we managed to get him back onto the electric guitar, and he put some great things on."
In addition to production help, Gilmour enlisted guest performers who added to the array of instrumental tracks he'd already recorded during the demo process. Pink Floyd keyboardist Rick Wright contributed to a pair of songs, lending Hammond organ to the title track and vocals to "The Blue," and former Squeeze keyboardist Jools Holland also numbered among those making On an Island cameos. David Crosby and Graham Nash also added harmony vocals to the title track.
The end result, while among the quieter and more deliberately paced albums in a catalog largely devoted to avoiding stereotypical rock 'n' roll flash, clearly resonated with fans who'd waited years for new music. The record shot to No. 1 in the U.K., giving Gilmour his first chart-topper at home as a solo artist, and peaked at No. 6 in the U.S.. That added a suitably sweet postscript to a set of songs that, as many listeners noted, found Gilmour settling into a sense of contentment that few might have expected decades before.
"You know, that is my life," Gilmour said with a shrug. "Down the years, along with everyone else, I have despised songs about happiness. But, to me, this works."
 
Pink Floyd Solo Albums Ranked
You Think You Know Pink Floyd?
More From Ultimate Classic Rock