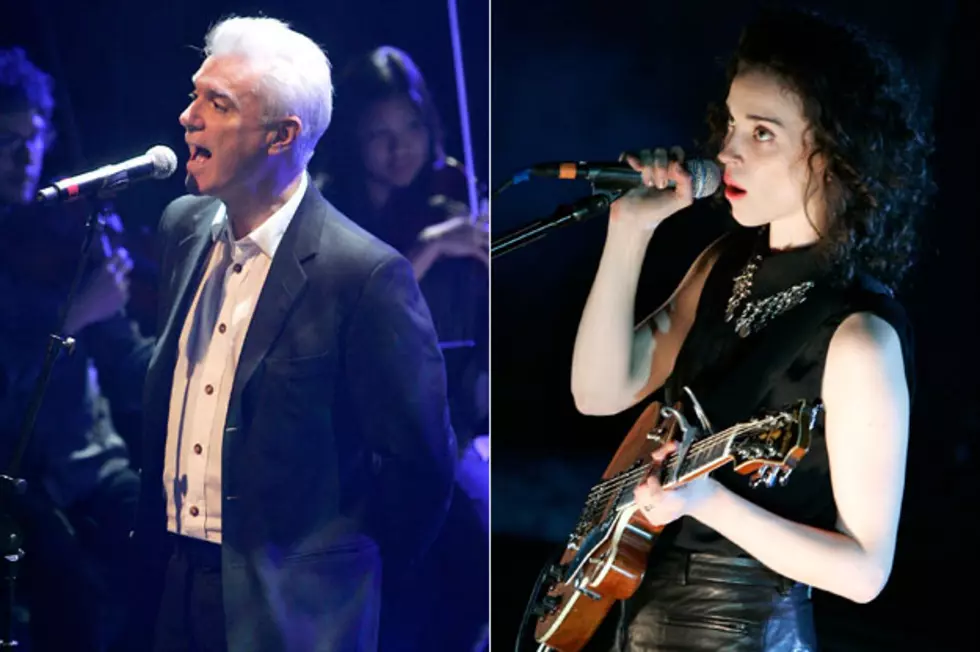 David Byrne Teams with St. Vincent for Collaborative 'Love This Giant' Album + Tour
David Byrne has explored his fascination with the female voice in the past with the 'Here Lies Love' project, which featured a number of women rockers. But this time around he's settled on just one female muse to join him on record for a new project.
St. Vincent, the stage name of Annie Clark, has teamed with the former Talking Heads singer for the new album 'Love This Giant,' and they'll share stages on tour this fall. The disc is now set for a Sept. 11 release through 4AD and Byrne's Todo Mundo label. Billboard reports that Byrne and Clark teamed up for ten of the album's tracks, with each of the musicians working on a single track individually. Byrne and St. Vincent have made the track 'Who' available as a free download.
Shortly after the release, Byrne will join St. Vincent on tour with a Sept. 15 kickoff in Minneapolis. Byrne says, "We'll be doing these songs and a bunch of songs that we suspect people will know, with a group that includes eight brass players, a keyboardist and a drummer."
Both Byrne and St. Vincent have released albums within the last couple of years. Byrne's last release was 2010's 'Here Lies Love,' while St. Vincent issued 'Strange Mercy' last year.
Listen to David Byrne and St. Vincent's 'Who'
David Byrne / St. Vincent Fall 2012 Tour
9/15 -- Minneapolis, Minn. -- State Theater
9/16 -- Milwaukee, Wis. -- Riverside Theater
9/18 -- Chicago, Ill. -- Chicago Theatre
9/20 -- Toronto, Ontario -- Queen Elizabeth Theater
9/21 -- Montreal, Quebec -- Eglise St-Jean Baptiste (POP Montreal)
9/23 -- Boston, Mass. -- Orpheum Theatre
9/25 -- New York, N.Y. -- Beacon Theater
9/26 -- New York, N.Y. -- Beacon Theater
9/27 -- Philadelphia, Pa. -- Tower Theater
9/29 -- Brooklyn, N.Y. -- Williamsburg Park
9/30 -- Bethesda, Md. -- The Music Center at Strathmore
10/2 -- Nashville, Tenn. -- Ryman Auditorium
10/3 -- Atlanta, Ga. -- Cobb Energy Center
10/5 -- Austin, Texas -- Bass Concert Hall
10/6 -- Houston, Texas -- Hobby Center
10/7 -- Dallas, Texas -- McFarlin Memorial Auditorium
10/10 -- San Diego, Calif. -- Humphrey's
10/11 -- Santa Barbara, Calif. -- Arlington Theatrer
10/12 -- Costa Mesa, Calif. -- Segerstrom Theater for the Arts
10/13 -- Los Angeles, Calif. -- Greek Theater
10/15 -- San Francisco, Calif. -- Orpheum Theatre
10/17 -- Seattle, Wash. -- 5th Ave. Theatre
10/18 -- Portland, Ore. -- Schnitzer Auditorium
10/20 -- Vancouver, British Columbia -- Centre in Vancouver for the Performing Arts
'Love This Giant' Track Listing
1. 'Who'
2. 'Weekend in the Dust'
3. 'Dinner for Two'
4. 'Ice Age'
5. 'I Am An Ape'
6. 'The Forest Awakes'
7. 'I Should Watch TV'
8. 'Lazarus'
9. 'Optimist'
10. 'Lightning'
11. 'The One Who Broke Your Heart' (featuring the Dap-Kings and Antibalas)
12. 'Outside of Space and Time'
More From Ultimate Classic Rock