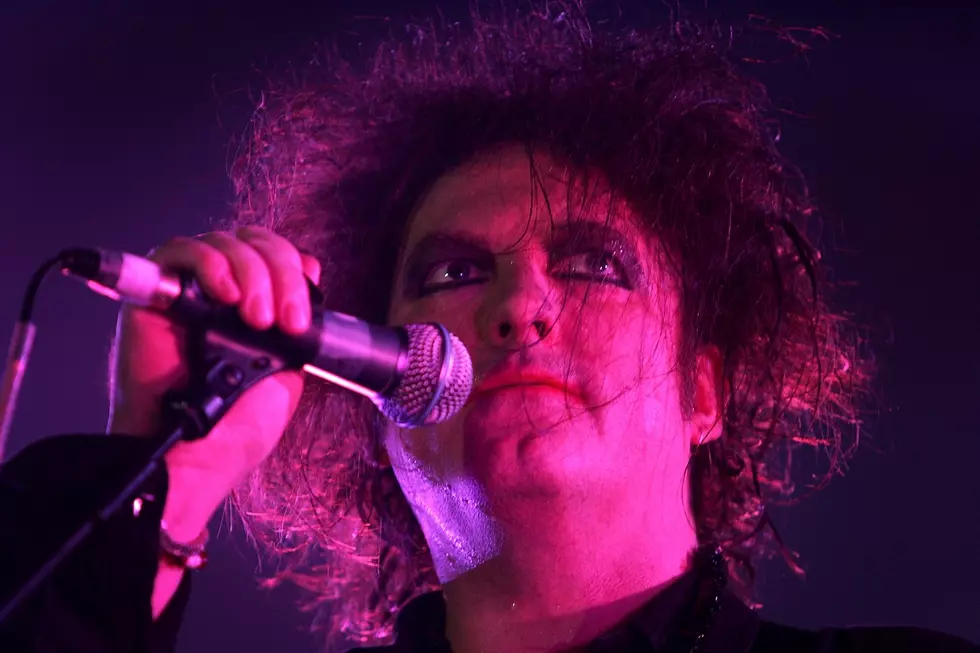 5 Reasons the Cure Should Be in the Rock & Roll Hall of Fame
Paul Kane, Getty Images
The Cure were always determinedly different, whether that meant embodying a genre while transcending it, or helping to bring alternative rock to the mainstream. Their musical output spans enough genres to build Rock & Roll Hall of Fame resumes for two or three bands. Their influence on successive groups is as obvious as stalwart leader Robert Smith's shock-treatment 'do.
That's made them one of the '80s best-loved, if not always most celebrated, bands. The Cure have been eligible for hall induction since 2004; they were a finalist once, in 2012, before returning to the ballot in 2019. Through it all, one thing has remained constant – well, one thing besides Robert Smith.
"I think people admire us, even if they don't particularly get the music," Smith told the Guardian. "It sounds very conceited, but it's not about me; it's about the band. We've stayed true to ourselves. If you're in a band, you realize how hard that is. I think people admire our tenacity."
Mostly, that's meant being thought of as both hopeless – maybe even suicidally so – but also hopelessly romantic. They've evolved from post-punk to goth, to New Wave to alternative, while never losing their weirdo center. In the end, Smith says it's all just "Cure music."
And that's just the beginning of their overstuffed resume. Don't believe us? Here are five reasons the Cure should be in the Rock & Roll Hall of Fame.
They Defined the Goth Genre
They didn't invent goth. (That would be Bauhaus, with the 1979 single "Bela Lugosi's Dead.") But the Cure became the genre's most prominent figures, beginning with the release of 1980's "A Forest." Smith's shy, deeply melancholic visage, all-black clothes and up-turned mop of hair came to personify the music's larger subculture, even as his band built a bridge between post punk and alt-rock. Oh, and don't forget the smudged lipstick. Always the smudged lipstick.
"I started wearing it because it made me feel confident and more attractive," Smith told the Quietus. "I'm completely featureless without it. But on stage I always used to lean my mouth on the mike and shut my eyes so I wouldn't have to see the people. And at the end I'd come off with lipstick smeared all over my face, so I thought I might as well go on with it like that and make it look intentional."
They started out cult-y, then notched a few small hits, before going mainstream with Top 40 singles including "Just Like Heaven," "Friday I'm in Love" and the No. 2 smash "Lovesong." Yet the Cure never lost their original goth tag, much – as we'll soon see - to Smith's consternation.
But Don't Call Them Goth
Darkly romantic songs? Darkly romantic makeup? Sounds pretty goth-y, right? Robert Smith says no; in fact, he said he was never a fan in the first place. "Every goth I've ever met has been very nice, you know?" he told Time Out. "As a subculture, I think it's full of wonderful people. But I have never liked what's classified as goth music."
Smith acknowledges that a three-album span over 1980-81, including Seventeen Seconds, Faith and Pornography basically "cemented our reputation, I suppose, for being dismal, doomy, and gloomy." In truth, however, the Cure remain chameleonic, moving from divinely sad songs into then-new synthpop sounds (1983's "The Walk"), neo-psychedelia (1983's "Perfect Murder," from his side project the Glove), something approaching jazz (1983's "The Love Cats"), horn-powered, almost R&B grooves (1987's "Why Can't I Be You?"), acid house (1990's "Never Enough") and jangly pop (1996's "Mint Car").
"We're not," as Smith once told Reuters, "categorizable." Is it any surprise they put out an album called Wild Mood Swings? Despite that undeniable range, the Cure are still stuck with the goth label. As frustrating as that no doubt is, Smith says he doesn't spend a lot of time worrying about their legacy. "I'm not bothered on a personal level," he told the Guardian. "I don't worry about my epitaph, for instance. I don't want to be remembered for anything in particular other than being in a pop group that was good."
Robert Smith Once Saved the World
The Cure's frontman appeared in cartoon form on Comedy Central's South Park, starring as an avenging creature called Smithra who defeats the evil Mecha-Streisand. In the same 1998 episode, Kyle famously declared "Disintegration is the best album ever!" Asked about it years later, Smith quipped: "Who am I to disagree?"
Well, his label bosses certainly did, describing that exquisitely gloomy masterpiece as commercial suicide. Smith stuck to his guns, and Disintegration eventually went triple platinum. As the Cure's profile peaked, they moved further into the wider culture.
Artist Neil Gaiman has said that the Cure inspired his work, including 2003's The Sandman. Director Tim Burton has clearly taken cues from the band, featuring Smith's music and famously creating a title character in Edward Scissorhands who boasted Smith's famous hairstyle. The Cure's "Burn" memorably appeared in the 1994 film The Crow; there was even a Reese Witherspoon rom-com named after their 1987 hit "Just Like Heaven" – though Smith says he's never seen it.
They Built a Foundation for Alt-Rock's Commercial Successes
From the first, the Cure faced an uphill battle that will resonate with many alternative rockers. In fact, their label chief never wanted them to release "The Forest," a song that later became the group's brooding breakthrough in the U.K.
"I wanted to do something that was really atmospheric, and it has a fantastic sound," Smith said in Never Enough: The Story of the Cure. "Chris Parry said, 'If you make this sound radio friendly, you've got a big hit on your hands.' I said, 'But this is how it sounds. It's the sound I've got in my head. It doesn't matter about whether it's radio friendly.'"
And so it went, as the Cure released albums that went gold and then platinum, while never following the old rules of rock stardom. In this way, the Cure laid the ground work for future stars to emerge out of college radio like R.E.M. and then Nirvana, not to mention descendent offshoot sounds like goth-pop and emo. "At one point we were also the 'godfathers of shoegazing,' which was another sort of quick trend that went," longtime bassist Simon Gallup later quipped.
They Would Pave the Way for Other Important Inductees
The Rock & Roll Hall of Fame doesn't yet seem ready to acknowledge the alt-rock revolution, or even New Wave for that matter. But the Cure might have just the right mix of ground-breaking achievements and broader commercial success to open the door for groups like the Smiths, the Pixies, Sonic Youth and (fellow 2019 nominees) Devo who are still cooling their heels outside.
The Cure were the poster children for the next generations of outsiders, but at the same time could lay claim to being covered by a mainstream act like Adele. "I think we made some kind of cultural change," co-founder Lol Tolhurst told Yahoo. "I think it's more than just selling records or filling concerts. I think that we made it allowable for people to be who they were. People say that to me, and I'm flattered and humbled every time I hear it – because you know, normally I'm like Groucho Marx: I wouldn't be in a club that would have me as a member. But I think we created our own club, and that's nice."
2019's Biggest Rock Hall Snubs
More From Ultimate Classic Rock