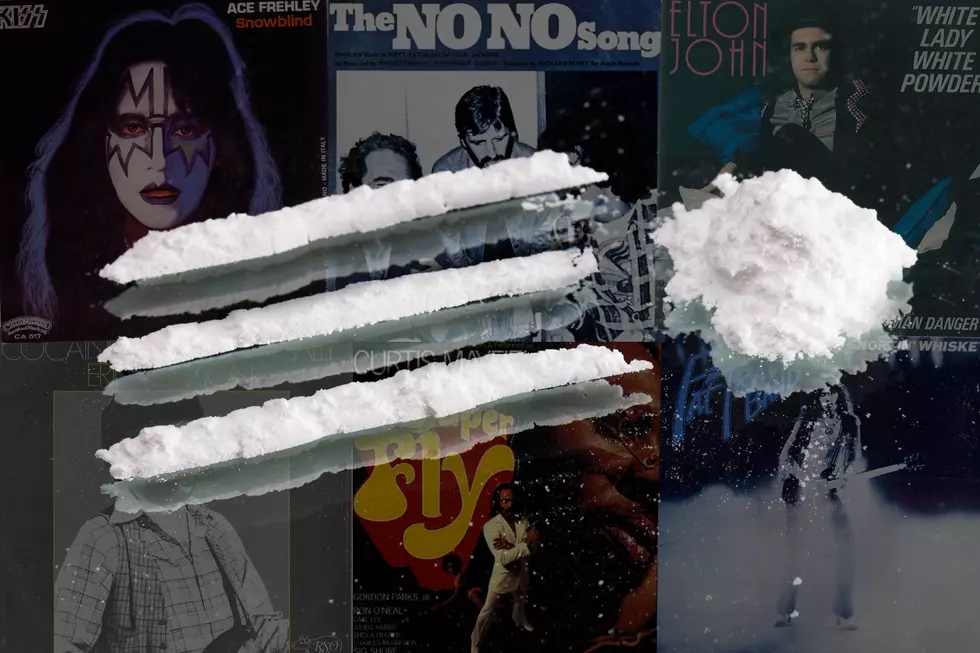 UCR / Getty Images
Over the years, many of rock's biggest acts have written songs about cocaine. When you listen to their stories all at once, a clear pattern emerges. First there's the fleeting early thrills, the ability to focus and keep the good times going while still performing at a high level on grueling tours night after night. Then it gets harder and harder to maintain that same high, and eventually it becomes clear that addiction has set in and that it's time to stare down some demons. But don't take our word for it, see for yourself in this list of the Top 20 Cocaine Songs.
20. Stevie Nicks, "Mabel Normand"
From: 24 Karat Gold: Songs from the Vault (2014)
A documentary on the tragic life of silent film-era star Mabel Normand inspired Stevie Nicks to write a song. It also helped the Fleetwood Mac star turn her life around. "Mabel was an amazing actress and comedian from the '20s, and she was a terrible cocaine addict," Nicks told Billboard in 2014. "She eventually died of tuberculosis, but it was really her drug addiction that killed her. I saw a documentary of her in 1985, when I was at my lowest point with the blow ... and I really felt a connection with her. That's when I wrote the song. Less than a year later, I went to rehab at Betty Ford." "Mabel Normand" remained unreleased for nearly three decades before finally arriving on 24 Karat Gold. (Matthew Wilkening)
19. The Clash, "Koka Kola"
From: London Calling (1979)
The full-length title of this song was finally listed in the 25th anniversary edition of the Clash's London Calling: "Koka Kola, Advertising & Cocaine." The Clash's lyrics directly reference Coca Cola, which once had cocaine as an ingredient. "Koka adds life where there isn't any," sings Joe Strummer, who co-wrote the track with Mick Jones. The "coca" portion of the soft drink's name was inspired by a process invented in 1885 by John Pemberton, a pharmacist from Atlanta, Ga., who added a small amount of cocaine taken from the extract of the coca leaf. At the time, cocaine was legal and assumed to be safe in small doses, though it was removed from the product around the turn of the century. "Cola" came from the kola nut, which contains caffeine. (Allison Rapp)
18. Humble Pie, "Cocaine"
From: I Need a Star in My Life  (2022)
Excavated from decades before, "Cocaine" is a funky jam which dates back to the period when Humble Pie was in the studio working to follow up 1974's Thunderbox. As drummer Jerry Shirley tells UCR, however, this song's subject matter is still a heartbreakingly painful subject. "The inclusion of that drug into our group's life is what destroyed the band more so than suspect management or even bad fights between us," he said. "Everything went wrong when that drug entered our life and in particular Steve Marriott's life. It changed him into someone who was unrecognizable compared to the kind, caring person he was before coke took over his life." Still, Shirley calls Marriott a "brother in arms" who was "the most talented singer this country ever produced." (Matt Wardlaw)
17. Pat Travers Band, "Snortin' Whiskey"
From: Crash and Burn (1980)
The idea of snortin' whiskey and drinking cocaine feels a bit out of order. But when you hear Pat Travers deliver the line in "Snortin' Whiskey," it somehow makes perfect sense. He wrote this barn burner in a matter of minutes and from the opening guitar riff forward, the song simply cooks. Decades on, Travers is still proud of what he did – though he cautions listeners not to look too deeply into "Snortin' Whiskey." "I'm totally good with it," Travers told Guitar Player. "It's a really cool and solid rock song. It's not supposed to be profound. In fact, its silliness is one of the great things about it." (Wardlaw)
16. Ringo Starr, "No No Song"
From: Goodnight Vienna (1974)
Ringo Starr politely turns down cocaine, marijuana and moonshine during this Top 5 single, arguing that the white powder "only makes him sneeze." In reality, however, more than another decade would pass before he finally got his addiction issues in check. "I've got photographs of me playing all over the world but I've got absolutely no memory of it," Starr once explained. After a 1988 blackout during which he "trashed the house so badly [the staff] thought there had been burglars," the former Beatles star went to rehab and got his life and career back on track. (Wilkening)
15. Oasis, "Morning Glory"
From: (What's the Story) Morning Glory (1995)
"All your dreams are made / When you're chained to the mirror and the razor blade," Liam Gallagher sings on the song that gave (What's the Story) Morning Glory? its name. Tunes from the Manchester group like "Wonderwall," "Champagne Supernova" and "Live Forever" leaned stylistically toward anthemic pop, but "Morning Glory" is a full-throttled rocker. Its distorted guitar parts give the session a frenzied vibe, while the whole song simmers with a frantic energy. "Morning Glory" was the first Oasis song to get substantial radio airplay in the U.S., peaking at No. 24 on the alternative chart, but that achievement was soon eclipsed by singles that helped push (What's the Story) Morning Glory? to multi-platinum sales. (Corey Irwin)
14. Styx, "Snowblind"
From: Paradise Theatre (1981)
With "Snowblind," Styx painted a haunting portrait of cocaine addiction: "You stole my will without a fight / You filled me with confidence, but you blinded my eyes." "Everybody was doing it back then. It's not my excuse, but it was just what you did," Tommy Shaw told the Philadelphia Inquirer in 1981, while sharing his own experiences with drugs. "I never did heroin, because I thought that meant I was doing heavy drugs. I probably should have just done heroin, because I understand heroin actually makes you feel good. Cocaine just makes you stupid." (Wilkening)
13. Elton John, "White Lady White Powder"
From: 21 at 33 (1980)
If Elton John and longtime collaborator Bernie Taupin were distressed by their Herculean cocaine consumption circa 1980, they certainly didn't show it on the relentlessly peppy "White Lady White Powder." Equating a woman to a drug is hardly a novel songwriting device, but Taupin keeps the formula fresh by slinging tongue-twisting, morbidly clever one-liners like, "I feel I'm dry-docked and tongue-tied / Heaven sends a stretcher for the kids to ride." Meanwhile, John confesses to being a "catatonic son of a bitch who's had a touch too much of white powder," and he sounds less disconsolate than matter-of-fact. (Bryan Rolli)
12. Curtis Mayfield, "Pusherman"
From: Superfly (1972)
After being hired to craft his first movie soundtrack, Curtis Mayfield immediately began searching for the deeper humanity in Superfly's characters. The lyrics for "Pusherman" may initially seem to glorify drug dealing, but Mayfield's delivery adds a world-weary bittersweet tone that undercuts the macho posturing. "I didn't know too many drug dealers," Mayfield told Wax Poetics, but "one of the things that impressed me about the [main] character Priest, in spite of what he did for a living, was the fact that he wanted to get out. It all locked in when you found out he was a very small [fish] in a very large ocean. That allowed me to speak of this man lyrically as to how people who are fly really behave. I wanted to express things lyrically for what they really were." (Wilkening)
11. Curtis Mayfield, "No Thing on Me (Cocaine Song)"
From: Superfly (1972)
Mayfield became disillusioned with the way drug use was being portrayed as filming progressed on Superfly, describing it as either casual or celebratory. "Reading the script didn't tell you 'and then he took another hit of cocaine' and then about a minute later 'he took another hit.' So when I saw it visually, I thought, 'This is a cocaine infomercial,'" Mayfield's son Todd recalled his father saying in the 2016 book Traveling Soul. Mayfield was determined to present the other side of the picture, so he created "No Thing on Me" as a chronicle of the damage drugs can do: "It's a terrible thing inside / When your natural high has died / The weaker turn to dope / And put aside all their hope." (Wilkening)
10. Johnny Cash, "Cocaine Blues"
From: At Folsom Prison (1968)
Folk songs are known for evolving over time, and this one is no different. "Cocaine Blues" began life as "Little Sadie," a ballad first recorded in 1922. Lyrically, that song was about murder, but T.J. Arnall tweaked the narrative. "Cocaine Blues" would be less about a cold-blooded killing and more about an intoxicated rampage, then the arrest and trial that followed. Country singer Roy Hogsed initially released the track in 1944. More than two decades later, Johnny Cash performed "Cocaine Blues" during one of his most famous prison concerts. Versions would appear on multiple releases, including two live albums – At Folsom Prison and 2022's Johnny Cash at Madison Square Garden – as well as the 1979 studio LP Silver. (Irwin)
9. Ace Frehley, "Snowblind"
From: Ace Frehley (1978)
Ace Frehley's first cocaine experience happened in 1975 while Kiss was recording Destroyer. "I felt like I'd discovered something almost as good as sex. My whole body came to life," he said in the 2011 autobiography No Regrets. "In the beginning at least, I thought it was a wonder drug." Three years later, Frehley chronicled the downsides of withdrawal and addiction on "Snowblind." "I stopped enjoying the pleasures of drugs really quickly," he added in No Regrets. "All I was doing was maintaining my addiction, and I always lived with the fear that if I ran out, I'd become ill." (Wilkening)
8. Neil Young, "Cocaine Eyes"
From: Eldorado (1989)
There's a dark side to any drug, as most musicians who have struggled with addiction will tell you. "Ain't a day goes by, I don't burn a little bit of my soul," Neil Young sings in "Cocaine Eyes." There was a time he believed cocaine could be a "good writing tool," Young admitted in 2002's Shakey: Neil Young's Biography, before he realized that "drugs are great until you discover that they work against you." There's also a very real, permanent risk that comes along with this tool, as Young grimly relays in "Cocaine Eyes": "Some just go to sleep at night / And forget to wake up." (Rapp)
7. Led Zeppelin, "For Your Life"
From: Presence (1976)
Recorded in a whirlwind 18 days while Robert Plant was wheelchair-bound and Jimmy Page's heroin use was escalating, Presence marked the most brooding, abrasive album of Led Zeppelin's career. Loneliness and desperation radiate from "For Your Life," a grinding blues epic inspired by a friend of Plant's who lost herself to drug addiction. He warns of the perils of a decadent lifestyle ("In the pits you go no lower / The next stop's underground") but takes no sympathy, observing in the song's final verse, "And now your stage is empty / Bring down the curtain, baby, please." (Rolli)
6. Jackson Browne, "Cocaine"
From: Running on Empty (1977)
Jackson Browne wasn't the first to record "Cocaine," a traditional song penned by the Rev. Gary Davis. In fact, it's been covered by a litany of artists, including Johnny Cash, Bob Dylan and Nick Drake. But Browne added a notable lyrical twist, with help from Glenn Frey. Credit the setting: Browne's version was taped on Aug. 17, 1977, in Room 124 at the Holiday Inn in Edwardsville, Ill., where he was performing at the nearby Mississippi River Festival. So he naturally added the lines: "Somebody come knockin' down my hotel room door, where's the cocaine? / I said it's runnin' all 'round my brain." (Listen for a sniffle at the end.) (Rapp)
5. Grateful Dead, "Casey Jones"
From: Workingman's Dead (1970)
"Casey Jones" starts with the sound of a big sniff and it's not someone battling a cold. Grateful Dead lyricist Robert Hunter began with the opening line, "Driving that train / High on cocaine / Casey Jones, you'd better watch your speed" and said the rest of the song fell together quickly from that point. Jerry Garcia had a love/hate relationship with "Casey Jones" in its final form, but had to admit that "it's a pretty good picture of what cocaine is like." As addictive as its subject, "Casey Jones" boasts a "singy-songy" element that he said was one of the biggest reasons it became such an inescapable earworm. (Wardlaw)
4. David Bowie, "Station to Station"
From: Station to Station (1976)
The longest song David Bowie ever released offers a frank discussion about the way he feels: "It's not the side-effects of the cocaine / I'm thinking that it must be love." By the mid '70s, Bowie's addiction was so severe that it left him sleepless and dangerously underweight. (For a time, Bowie's diet reportedly consisted of nothing but cocaine, milk, red peppers and Marlboro cigarettes.) There are also references in "Station to Station" to occultism and his own paranoia, but Bowie would later recall that he could scarcely remember recording this track: "I have only flashes of making it." (Rapp)
3. Black Sabbath, "Snowblind"
From: Vol. 4 (1972)
This lumbering cocaine dirge might be poetic, but it's certainly not subtle. "Feeling happy in my pain / icicles within my brain," Ozzy Osbourne wails in the first verse, punctuated by a whispered "cocaine" for anyone who still didn't connect the dots. Tony Iommi's confoundingly out-of-tune guitar arpeggios and the lurching, mid-tempo groove from Geezer Butler and Bill Ward provide a fittingly creepy backdrop for this descent into crystal-flecked madness — not that Osbourne sees it that way. "You're the one that's really the loser / This is where I feel I belong," he barks in the double-time bridge, a master of both debauchery and denial. (Rolli)
2. Eric Clapton, "Cocaine"
From: Just One Night (1980)
J.J. Cale wrote and released "Cocaine" in 1976, but the single failed to garner attention in the U.K. or America. A year later, Clapton recorded his version for Slowhand. "Cocaine" didn't become a hit, however, until he included a live update on 1980's Just One Night. Lyrics like "if you want to hang out, you've gotta take her out – cocaine" make this feel like an ode to the narcotic, but Clapton insisted "Cocaine" actually offered a veiled message. "It's no good to write a deliberate anti-drug song and hope that it will catch," he told Dan Neer. "So the best thing to do is offer something that seems ambiguous — that on study or on reflection actually can be seen to be 'anti' – which the song 'Cocaine' is actually, an anti-cocaine song." (Irwin)
1. Fleetwood Mac, "Gold Dust Woman"
From: Rumours (1977)
Stevie Nicks has been open about her struggle with addiction, checking into rehab twice before finally achieving sobriety. But she and her Fleetwood Mac bandmates actually had little experience with coke when she penned "Gold Dust Woman." "The whole thing about how we all love the ritual of it – the little bottle, the little diamond-studded spoons, the fabulous velvet bags – for me, it fit right into the incense and candles and that stuff," Nicks told Spin in 1997. "I never imagined that it could overtake everything, never thinking a million years that it would overtake me. I must have met a couple of people that I thought did too much coke and I must have been impressed by that – because I made it into a whole story." (Rapp)
The '80s Most Outrageous Rock Fashions
In the same way that ducktails defined the '50s and bell bottoms became shorthand for the '70s, neon-lit sartorial choices can be firmly placed in the Reagan years.
Stevie Nicks Talks About Life After Music
More From Ultimate Classic Rock