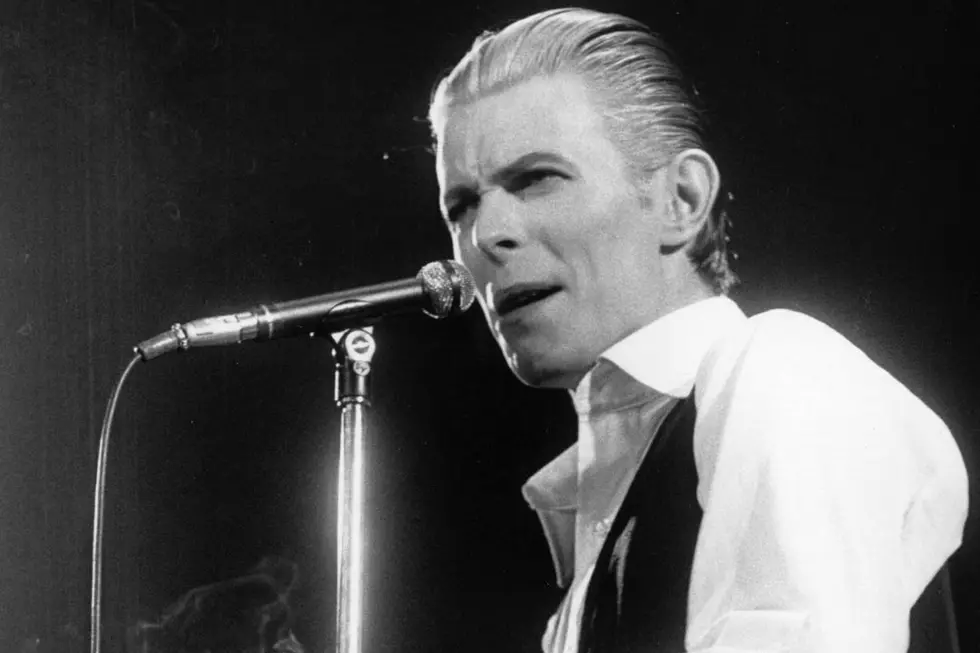 How David Bowie Made 'Station to Station' Into an Art-Funk Classic
Evening Standard / Hulton Archive, Getty Images
David Bowie was coming off his first No. 1 single in the U.S. and was snagged in a hellish coke habit when he started recording Station to Station in 1975. Both influenced the creation of one of his best-ever albums.
He had also recently wrapped filming on his first starring movie role, in Nicolas Roeg's existential sci-fi head-scratcher The Man Who Fell to Earth (which would open in the summer of 1976). It, too, had a profound influence on what would become the first of many artsy detours Bowie took during his career, setting the template for a new era right around the corner: the celebrated Berlin Trilogy.
But first he needed to shake off the dust from his previous album, Young Americans, a tribute to the Philly soul music that was dominating urban, and even select sections of Top 40, radio at the time. Station to Station was the bridge between that LP – which gave Bowie his first No. 1 with "Fame" in 1975 – and Low, the first of three records he made with Brian Eno while cleaning up in Berlin.
Recorded in Los Angeles, the album was a reaction against the city and, in a way, the U.S. itself. Young Americans was Bowie's most American-sounding album, an exploration of the R&B that was mostly absent from his earlier records. Station to Station was a marked return to European sounds and the exploration of some new ones from the continent – primarily the krautrock electronica of German bands like Kraftwerk and Neu!
The 10-minute opening title track is the most obvious example of this new influence, but other songs – like "TVC 15" and the closing cover of Ned Washington and Dimitri Tiomkin's "Wild Is the Wind" – display it, too. Bowie himself played the Moog and Mellotron, while the more traditional rock instruments were handled by studio pros like guitarist Carlos Alomar and E Street Band piano player Roy Bittan. Once again, Bowie was steps ahead of everyone else.
Listen to David Bowie's 'Golden Years'
But he still was caught in the soulful sway of his previous experiment, and half of Station to Station's six cuts take on art-funk shades. "Golden Years," the album's biggest single, is the closest the album gets to Young Americans' soul kiss, but "Word on a Wing" and "Stay" – both clocking in at more than six minutes – also get in on the action.
It's a significant album in Bowie's catalog, the moment where his most unabashed commercial move gave way to his most don't-give-a-damn experimental period. All these years later, it stands as a milestone record – when Bowie transitioned from Rock Star to Artist. But first he needed to rid himself of the cocaine addiction that was at its apex during the album's creation.
Berlin cleaned him up. It wiped away the drugs and the ego, and the Bowie that emerged of Low, Heroes and Lodger had little in common with the preening superstar moves on The Rise and Fall of Ziggy Stardust and the Spiders From Mars and Aladdin Sane. Station to Station falls somewhere between all that, with a new persona – the Thin White Duke – taking on some new, and old, sounds.
The record made it to No. 3 on the U.S. album chart, a better showing than Young Americans' No. 9 spot, and Bowie's highest-charting LP until The Next Day made it to No. 2 in 2013 and then Blackstar's No. 1 debut in 2016.
Not long after Station to Station was released on Jan. 23, 1976, Bowie went on the road in support of it. Later in the year, he was in Berlin cleaning up and finding new inspirations; 12 months after Station's release, a resurrected Bowie emerged on Low. And he wasn't through yet. Not even close.
David Bowie Year by Year: 1965-2016 Photographs
David Bowie's fashion sense fueled his chameleon-like career, from the early days as a mod and a folksinger through Ziggy Stardust, the Thin White Duke and beyond.
More From Ultimate Classic Rock