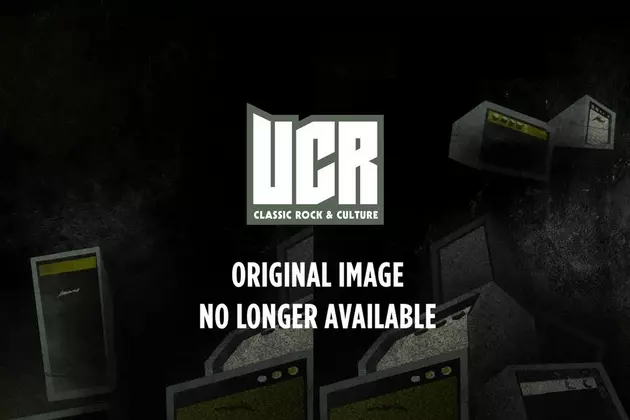 From AC/DC to Bruce Springsteen: 14 Classic Rock Covers of Chuck Berry's 'Johnny B. Goode'
You could look at the dozens and dozens of fellow legends who have taken to social media to pay their respects since the news of his death broke - in fact, we've spent much of the last 24 hours updating that list.
Or, if you wanted to get very specific, you could look at the wide variety of classic rock artists who have recorded or performed their own version of Berry's classic 1958 anthem "Johnny B. Goode." Which is what you'll find below, from an impressive roster including Jimi Hendrix, Motorhead, AC/DC and Cheap Trick (together!) and Ted Nugent.
Berry's songwriting - including his often underrated lyrical skills - set the template for rock music, becoming the international language followed and expanded on by future generations of musicians such as the Beatles, the Rolling Stones and the Beach Boys. It may be cliche to say that without Chuck Berry the explosion of youth culture of the '60s may never have happened, it's also very true.
"If you had to give rock 'n' roll another name, you might call it Chuck Berry," John Lennon famously said back in 1972. These 14 versions of "Johnny B. Goode" more than prove his point.
Jimi Hendrix - From 'Hendrix in the West' (1970)

Cheap Trick w/ AC/DC's Bon Scott, Angus and Malcolm Young (1979)

John Lennon, Yoko Ono & Chuck Berry - From the Mike Douglas Show (1972)

Motorhead - From 'Late Night With David Letterman' (1991)

The Beach Boys - From 'Beach Boys Concert' (1964)

Judas Priest - From 'Ram It Down' (1988)

Bruce Springsteen and Chuck Berry (1995)

The Grateful Dead - From the Album 'Grateful Dead' (1971)

Johnny Winter - From the album 'Second Winter' (1969)

George Thorogood featuring Johnny Johnson - From 'Live: Let's Work Together' (1995)

Micky Dolenz - From 'Remember' (2012)
More From Ultimate Classic Rock