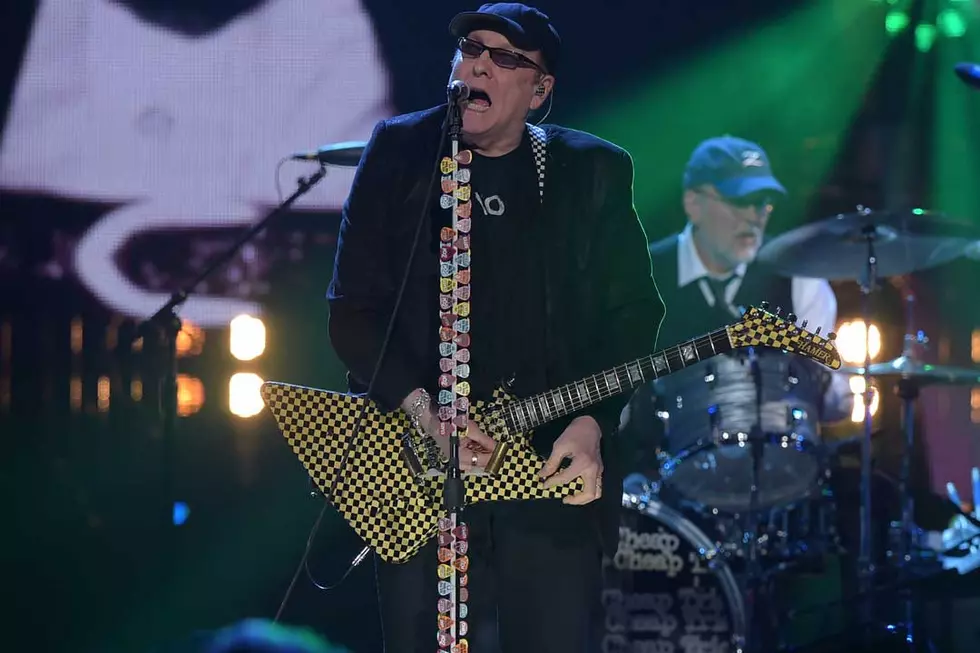 Cheap Trick Celebrate Induction at Rock Hall Ceremony
Theo Wargo, Getty Images
It showed: Not only were there a few of Rick Nielsen's guitars and the band's trademark black-and-white-checked stage gear as décor, but the band positively roared through a set of hits.
"I want you … to want me!" Robin Zander sang, drawing out the start of the titular song to usher the rest of the band into the always-rollicking tune. For one night, the band was performing again with Bun E Carlos behind the kit. The drummer leaped back into the music with no hiccups, lending his signature rhythmic style, which manage to be both precise and loose, to the songs.
Next up was "Dream Police," which had a little something extra — both in volume and intensity — on this night. For the bridge, Nielsen went to the center of the stage with his mic stand lined with picks to sing his part, which amplified the paranoia of the tune.
In the middle of the song, Zander took off his suit coat to reveal a white wife-beater shirt with an icon of a skeleton — a precursor to him crouching on the stage and holding out the song's "insaaaaaane" lyric, which drew impressed applause and cheers from the audience.
The set ended with a shambling take on "Surrender," which carried on the loud-and-fast approach of the previous tune. Bassist Tom Petersson and Nielsen cranked up the aggression and volume even more, amplifying the song's us-against-the-world vibe — and highlighting exactly why Cheap Trick are still one of rock's best bands.
On this night, that Carlos was on the kit was a treat: The original drummer has been estranged from the group for the past few years, but Nielsen recently stated that he belongs in the Rock Hall with the rest of the founding members.
The 2016 Rock and Roll Hall of Fame induction ceremony will be broadcast on HBO on April 30.
Watch Cheap Trick Play "Dream Police"
Watch Cheap Trick Play "Surrender"
Cheap Trick Albums Ranked Worst to Best
More From Ultimate Classic Rock