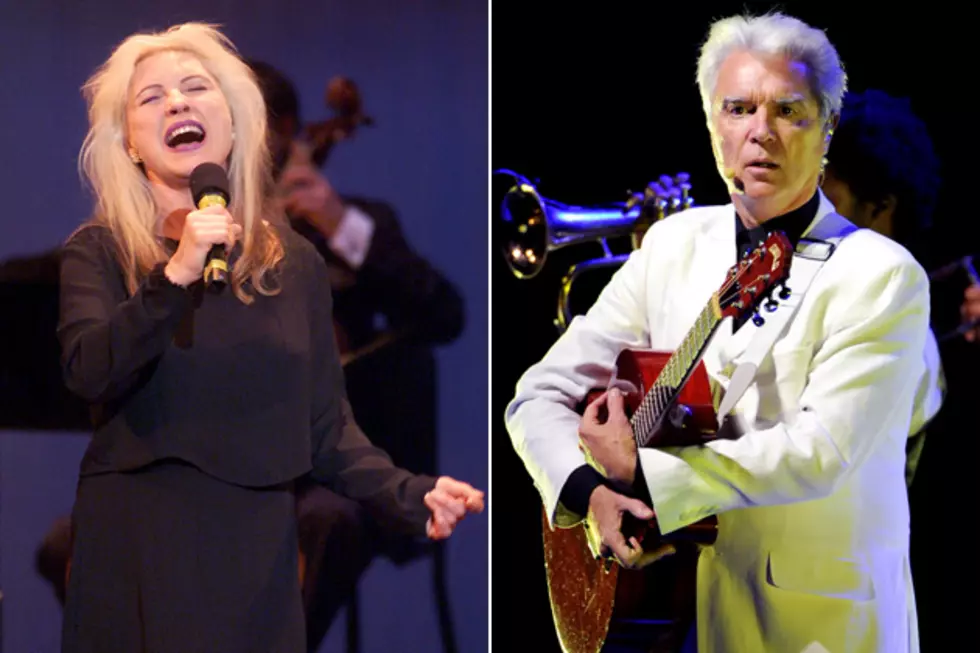 Blondie, Talking Heads + More Featured on 'CBGB' Soundtrack
Kevin Winter (2), Getty Images
This October will see the premiere of 'CBGB," a movie about the legendary Manhattan club that witnessed the birth of punk. Yesterday (Aug. 2), the contents of the soundtrack were released, and it contains some of that scene's most familiar names.
Talking Heads and Blondie are the biggest names on 'CBGB: Original Motion Picture Soundtrack,' with the former giving their 1979 single 'Life During Wartime' and the latter contributing a new take on their classic 'Sunday Girl.' Rolling Stone reports that other New York punk legends such as Television ('Careful'), the New York Dolls ('Chatterbox') and Johnny Thunders and the Heartbreakers ('All By Myself') are also represented.
A couple of bands whose work preceded the mid-to-late-'70s heyday of CBGB but whose work was influential to punk - the Velvet Underground ('I Can't Stand It'), the MC5 ('Kick Out the Jams') and the Stooges ('I Wanna Be Your Dog') - are also included on the soundtrack, as are the Police, who played their first American gigs at the club in October 1978.
The soundtrack will be released Oct. 8, three days before the film, which stars Alan Rickman as CBGB's founder, Hilly Crystal, is set to open in select cities across the country. The first pressing of the LP will be on translucent pink vinyl.
'CBGB: Original Motion Picture Soundtrack' Track Listing
'Life During Wartime' – Talking Heads
'Kick Out the Jams' – MC5
'Chatterbox' – New York Dolls
'Careful' – Television
'Blank Generation' – Richard Hell and the Voidoids
'Slow Death' – Flamin' Groovies
'I Can't Stand It' – The Velvet Underground
'Out of Control' – Wayne County and the Electric Chairs
'Psychotic Reaction' – The Count Five
'All For the Love of Rock 'n' Roll (Live)' – Tuff Darts
'All By Myself' – Johnny Thunders and the Heartbreakers
'California Sun' (Original Demo) – The Dictators
'Caught With the Meat in Your Mouth' – Dead Boys
'I Got Knocked Down (But I'll Get Up)' – Joey Ramone
'Get Outta My Way' – The Laughing Dogs
'Sunday Girl' (2013 Version) – Blondie
'I Wanna Be Your Dog' – The Stooges
'Sonic Reducer' – Dead Boys
'Roxanne' – The Police
'Birds and the Bees' – Hilly Kristal
More From Ultimate Classic Rock