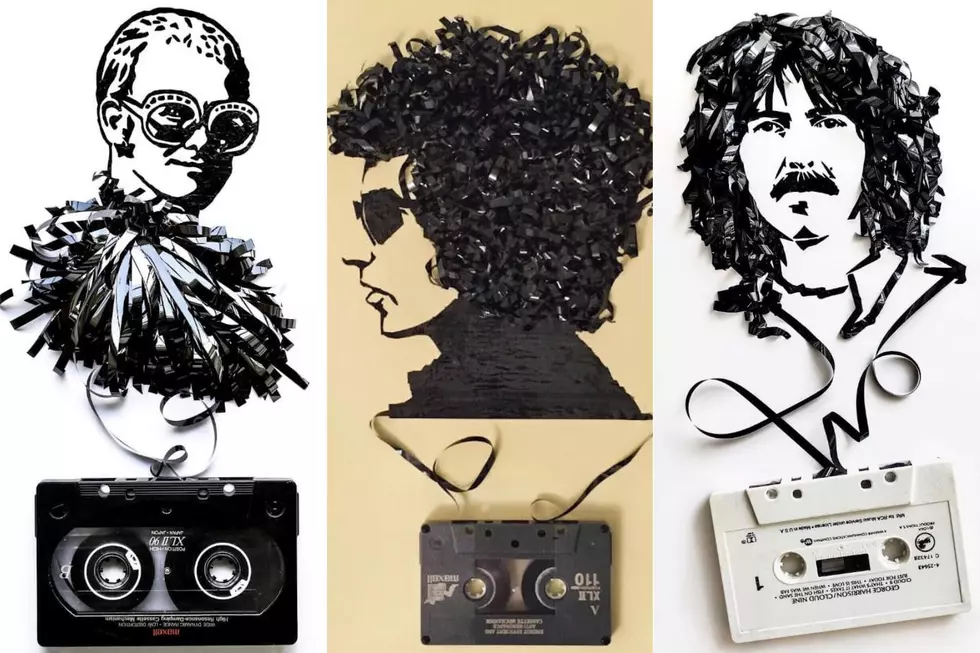 Cassette Canvases: Artist Amy Corson Makes Portraits With Tapes
Amy Corson
Artist Amy Corson has developed a unique medium over the last decade: portraiture with cassette tape.
It all began one day when she picked up a cassette of Bob Dylan's Blood on the Tracks and pulled out some of the tape. It reminded her of Dylan's own dark curly locks and she set to work creating his image with the tape. Roughly 10 years later, she's made portraits of countless famous musicians: Elton John, Dolly Parton, George Harrison, John Lennon, Bruce Springsteen and Jerry Garcia, to name a few.
"I have hoarder tendencies so I still have a bunch of my old cassette tapes from when I was younger," Corson tells UCR. "I always keep an eye out for tapes in antique or record stores though. If I see one that I think I'd want to eventually make into a portrait, I'll get it."
You can view a small collection of her work, which she often posts to her Instagram page, below.
Corson has had a creative streak in her since childhood. "Growing up, I made things out of whatever I could find around the house or in nature," she says. "Making origami paper flowers and gluing them onto branches that I would then put into a vase. Things like that. I love the idea of creating something beautiful out of everyday objects so making these cassette portraits just sort of happened naturally."
She says that depending on the size and amount of detail, a portrait can take anywhere from one to four weeks to complete: "It's a very time consuming and tedious process. You have to have a lot of patience."
Cassette Canvases: Musical Portraits Made With Tape
Artist Amy Corson started with Dylan a decade ago and has made countless since.
More From Ultimate Classic Rock