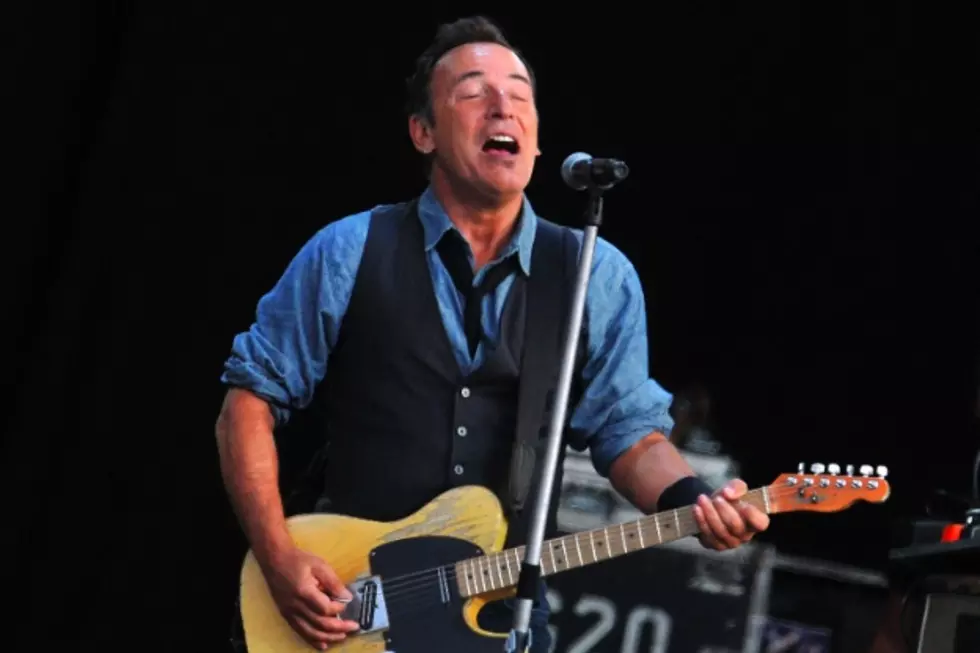 Bruce Springsteen Ends European Tour With Four-Hour Show
As they rose to mega-stardom in the '80s, Bruce Springsteen and the E Street Band's four-hour concerts became a part of his own mythology. However, the concerts weren't actually four hours long. In reality, they ran about three-and-a-half hours of music, with a 20-25 minute break in the middle.
The concert at the Nassau Coliseum on Dec. 31, 1980 had, for years, been acknowledged among those of us who track these things to be his longest-ever show, running 3:42:33. On June 17 of this year in Madrid, Spain, Springsteen set a personal record when his show clocked in at 3:45:32.
That record lasted only six weeks, as Springsteen, who turns 63 in less than two months, closed out the European leg of his 'Wrecking Ball' Tour at the Olympic Stadium in Helsinki, Finland by performing non-stop for four hours and six minutes, according to Stan Goldstein of nj.com. At least this now helps to bring Springsteen's famous fitness regimen into perspective. It prevents the other members of the E Street Band, especially drummer Max Weinberg, from beating him up after the gig.
Fans should have expected this was going to be a special show when, nearly two hours before the announced start, Springsteen took to the stage and performed five songs with his acoustic guitar for those in the pit. He then climbed down to the audience, shook hands and collected request signs. "Thanks to all you regulars and thanks for making it a lovely summer for us," he said as he left the stage. "And we'll see you in a little while!"
The main set opened with a cover of John Fogerty's 'Rockin' All Over The World' and featured five debuts and a guest appearance by his old friend Southside Johnny for his hit, 'I Don't Want to Go Home.' Several rarely performed songs, such as 'Loose Ends' and 'Be True' were also performed.
1. 'I'll Work for Your Love' (tour debut)
2. 'Leap of Faith' (tour debut)
3. 'No Surrender'
4. 'For You'
5. 'Blinded by the Light' (tour debut)
1. 'Rockin' All Over the World' (tour debut)
2. 'Night'
3. 'Out in the Street'
4. 'Loose Ends'
5. 'We Take Care of Our Own'
6. 'Prove It All Night'
7. 'Wrecking Ball'
8. 'Death to My Hometown'
9. 'My City of Ruins'
10. 'Does This Bus Stop at 82nd Street?'
11. 'Be True'
12. 'Jack of All Trades'
13. 'Downbound Train'
14. 'Because the Night'
15. 'Lonesome Day'
16. 'Darlington County'
17. 'Light of Day'
18. 'Shackled and Drawn'
19. 'Waitin' On a Sunny Day'
20. 'Back in Your Arms' (tour debut)
21. 'The Rising'
22. 'Badlands'
23. 'Land of Hope and Dreams'
24. 'We Are Alive'
25. 'Born in the U.S.A.'
26. 'Born to Run'
27. 'Detroit Medley' (tour debut)
28. 'Glory Days'
29. 'Dancing in the Dark'
30. 'Tenth Avenue Freeze-Out'
31. 'I Don't Want to Go Home' (with Southside Johnny) (tour debut)
32. 'Higher and Higher' (tour debut)
33. 'Twist And Shout'
More From Ultimate Classic Rock