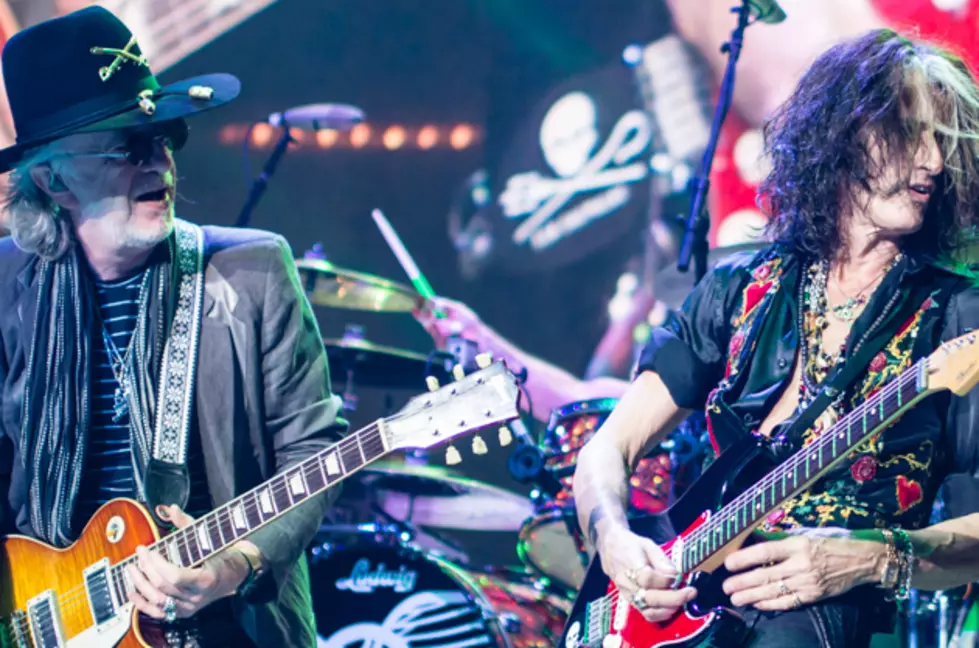 Aerosmith's Brad Whitford: 'We Always Seem to Make Plenty of Our Own Drama'
Zack Whitford, Aerosmith.com
In more than four decades of being a band, Aerosmith had made many trips to Japan, but their visit in December 2011 was special on a number of levels. The Boston-bred group arrived in Japan as the country was in the middle of regrouping from a year filled with tragedy. An earthquake and tsunami coupled with a nuclear meltdown at the Fukushima plant (the largest of its kind since the Chernobyl incident in 1986) had left the residents of Japan with a lengthy list of issues and uncertainties to contend with.
Outsiders were being urged to stay away because of the disorder and radiation-related health concerns, but that was hardly a deterrent for Aerosmith, who decided to push forward and bring their gift of music to Japan.
The band had faced its own series of challenges in the recent few years -- perhaps more accurately described as "just another day in the life of Aerosmith." But as the new DVD and Blu-ray 'Rock for the Rising Sun' reveals, the Japanese shows found the veteran band in the middle of a creative rebirth and looking good despite the health issues and internal strife that had seemingly threatened to drive them apart for what could be the last time.
The return to action ultimately produced an album's worth of long-awaited new music after a lengthy drought from recording (last year's 'Music From Another Dimension'), continued touring and, most recently, some rumblings that even more new music might be lurking around the corner.
These are good times for Aerosmith, even with every set of odds that might seem stacked against them. Guitarist Brad Whitford took a few minutes to dig into things a bit and let us know the current lay of the land and what might be ahead for the group.
Over the years, Aerosmith have done concert films and documentaries --- this one is a mixture of the two. What was the stimulating factor behind documenting this particular trip and the related shows?
It was really because we were coming [to play shows] so soon after the tragedies in Japan. We thought that it was going to be an interesting time to be there. Most of the stuff [that was filmed for the documentary] is from Japan. It felt like a small musical historical moment for us. We've been going to Japan for years and years and just have a really faithful following there. We hadn't really done any concert videos in a long time, so we just thought it would make an interesting video to [capture] some of these live performances and include a little bit more [video] behind the scenes. We've always kind of done that and people seem to find that interesting.
This film documents an interesting period for the band, because you guys were in a bit of a rebuilding phase, taking things back out on the road and also at the same time, working on a new album. What are your thoughts as you look back at that time period?
Oh, wow. I don't know, it's more of the same thing. [With] Aerosmith, we always seem to make plenty of our own drama. I guess we've always been really good at that. We went through some strange times when Steven [Tyler] was putting together this deal to be on 'American Idol,' and we'd never been faced with a situation where somebody was going to be really unavailable for quite some time. So it was like, "Oh, what's going on?" We didn't really know what to make of it at first. It created a lot of weird moments for us. So it was after going through all of that and we were just going back to [being a band again]. It's easy for us, you know? Aerosmith is kind of just like getting in a car and turning the key -- you don't have to do much -- just get the guys together and start playing and there you are!
I know that you kept busy during that time period where things were strange, with doing the Experience Hendrix tour and some other things like that. Was there ever a point for you where you thought that perhaps you had done your last show as a member of Aerosmith? Did you have those kind of thoughts?
I have those thoughts on a routine basis, actually! You never know. I think at times you might think that, but I don't know when we're going to get to that chapter of our history. We always seem to make it come back.. Because like I said, it's easy to do. But yeah, I guess there are certain times where I've certainly had those thoughts. But it doesn't seem to linger too long.
One of the best things about this touring run has been not only how great the band sounds, more than 40 years on, but also, how deep you guys are going into the catalog, pulling out some really nice album cuts. For you, what are the songs that you've really enjoyed playing on this run?
I enjoy playing all of it, I really do. Whether it's something we haven't played in a long time or we're playing 'Walk This Way,' [with] how many ever times we've performed that. I truly enjoy playing all of the music. It's fun to pull out some of the ones that haven't been around for a while and you kind of have to revisit, "Oh gosh, what key is that in?" and "What happens during the chorus? Oh yeah, yeah, yeah ... "
So it's fun to at least challenge yourself a little bit because a lot of the stuff that we do in Aerosmith we know awfully well. It's fun to pull out something you haven't done in a while and whenever you do something for the first time or something that you haven't done in a while, there's always a special kind of energy that surrounds that. It's kind of like the first take that you do in the recording studio that always seems to have the most natural feeling to it.
When you start thinking about it too much, you lose some of the spontaneity that comes with doing something for the first time. It's just great. It helps us spice up our performance a little bit for us and the audience. There's so many deep cuts that we have which we have so many requests for all of the time, and we don't always get to satisfy all of those needs of the fans because we'd have to do a four-hour show, I think!
Is there one that you'd really love to pull out that you guys haven't gotten to yet?
I think probably some of the older stuff that we never seem to get to. We go through it in rehearsal and it never makes it to the stage, like some of the old rockers, even off of the first album. There's a song called 'Somebody' on the first album that always kind of gets overlooked. It wasn't a hit or anything, but the way the band plays it now, it's just such a great rock song and it has a very clever solo by Joe Perry with the harmony that Steven does with him.
It's just a nice rock song -- I love playing it and like I said, we do it in rehearsal and then it never makes it to the stage! I guess we feel that maybe too many people will go "What's that?" Which I don't think that matters -- I think there's always a certain element in the audience that's going to go "Oh man, that's so cool -- I can't believe they're playing that one!" That's fun, and I think that's when you're really getting into it.
I think that's what has been cool about this tour though is that there are some good "what's that?" moments in the set for folks who are maybe more casual Aerosmith fans. But you talked about the energy and I think there's a lot of energy that was captured in this film. One moment that I love in the film is where the band is discussing playing 'Hangman Jury' despite a lack of rehearsal and somebody points out that the fans don't care about the mistakes -- they're just happy the song is being played. I think that's a good reminder to not be too analytical about things, but at the same time I'm sure that is hard for you guys to do sometimes.
You know what, we definitely think it out and too much deep thought goes into something that's pretty straight forward. Despite the worries about mistakes [on 'Hangman Jury'], I don't think we actually made any. But yeah, it is more important to just jump into it, and a lot of people love that spontaneity -- I mean, I do. I love it when we play something like that we haven't done in a while.
We're not going to play anything we really don't like, and we have a few of those duds in our arsenal that we kind of look back and go "Why did we ever record that song?" But you know, we'll pull those out ... there's always some kind of a little gem in some parts of the song that made it what it is and it's great to revisit.
If you had to point to one of those duds, what would one of those be?
There's just some of them that I look back and think that some of the stuff, like on 'Done With Mirrors,' when I listen back to it, it doesn't sound like we really finished it. It's kind of like, "Oh well, this is good enough!" Now I look back and go "Man, we shouldn't have done it" or "We could have done a lot more with that," but that happens over a career that spans 40 years. If they were all hits, we'd be up there in the Beatles league!
There's been talk about a new Aerosmith album, which suggests we might not have to wait as long for the next one as we did for the latest one. What sort of discussions have there been about a new album?
Every time you do a record, the first thing that we do shortly after it's completed is to start picking it apart [with] a lot of song criticism, "We should have done this" and "We should have done that." You're always trying to do the best you can, and I know it's Monday-morning quarterbacking, but we always think we can do a better job and maybe go in some different directions [with the next album] that we haven't [done before].
So we were talking about it while we were doing this record, because we were accumulating so much material. It was a very creative time, and I think we're still in that space although we have no current plans on the calendar to get into the studio and start again. But those kind of things can happen with a single phone call, and then [after that] we'll be in the studio and start doing something.
The new album is out there, but you guys haven't had the chance to play a lot of material from it live, for one thing, because the band is so busy and has been on the road fairly nonstop. I'm curious to know how you guys feel collectively as far as how the album has been received?
I think we were genuinely disappointed. We're old-school and albums just aren't what they were. The whole process has changed, and they don't sell like they used to for almost all bands. So everybody's kind of rethinking about what is the best way to get your music out there and what's the best way to present it? It's not like you have to do an old-school album anymore. You can simply get tracks onto iTunes and see what happens to them. But yeah, we're still in that old-school mode, so it's all new territory for us and we still haven't gotten accustomed to it.
More From Ultimate Classic Rock