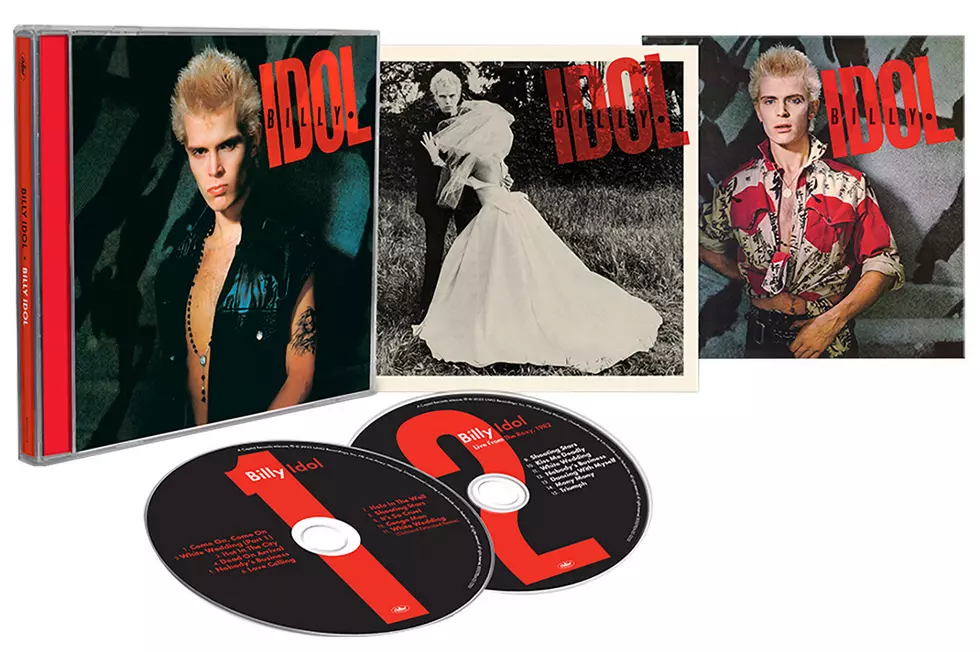 Billy Idol Adds 1982 Live Album to Expanded Edition of His Debut
BillyIdol.net
Billy Idol announced an expanded version of his self-titled 1982 debut solo album, complete with a previously-unreleased live concert from the same year.
The 15-track show, recorded at the Roxy in West Hollywood, will only be available in the limited-edition 2CD set with orders limited to two copies. The package also includes an unreleased 12-minute version of classic track "White Wedding."
The set is available for pre-order now with delivery predicted around July 28. It comes with two exclusive double-sided postcard inserts. The complete track list can be seen below.
"White Wedding" became one of Idol's most recognizable hits after its release as the second solo single. He previously reported he'd put the track together in 20 minutes after his producer left him alone in a studio and told him to see what he could come up with. "I stared at the blank piece of scrap paper in front of me," he said. "Taking the pen sitting alongside it in hand, I wrote 'White Wedding' at the top."
"What made me think of that? Well, my sister had recently gone to the altar pregnant. And while that fact was perfectly all right with everyone, seeing as how she loved the guy, I started thinking about how, in the more recent past, this would have been called a 'shotgun wedding.' I started to imagine an alternative reality, one in which I was pissed off at this violation of my sister, and I arrive at the wedding hellbent on revenge."
Idol is currently touring Europe with Generation Sex, a supergroup featuring members of Generation X and the Sex Pistols.
Billy Idol - 'Billy Idol' Extended Edition Track List
Disc 1 – 'Billy Idol'
1. "Come On, Come On"
2. "White Wedding (Part 1)"
3. "Hot In The City"
4. "Dead On Arrival"
5. "Nobody's Business"
6. "Love Calling"
7. "Hole In The Wall"
8. "Shooting Stars"
9. "It's So Cruel"
10. "Congo Man"
11. "White Wedding (Clubland Extended Remix)" – previously unreleased
Disc 2 – 'Live At The Roxy, 1982' (Previously Unreleased)
1. "Baby Talk"
2. "Untouchables"
3. "Come On, Come On"
4. "Hot In the City"
5. "Dead On Arrival"
6. "Heavens Inside"
7. "Ready Steady Go"
8. "Hole In The Wall"
9. "Shooting Stars"
10. "Kiss Me Deadly"
11. "White Wedding"
12. "Nobody's Business"
13. "Dancing With Myself"
14. "Mony Mony"
15. "Triumph"
Billy Idol Albums Ranked
A stage name like Billy Idol isn't chosen just because it sounds cool.
More From Ultimate Classic Rock