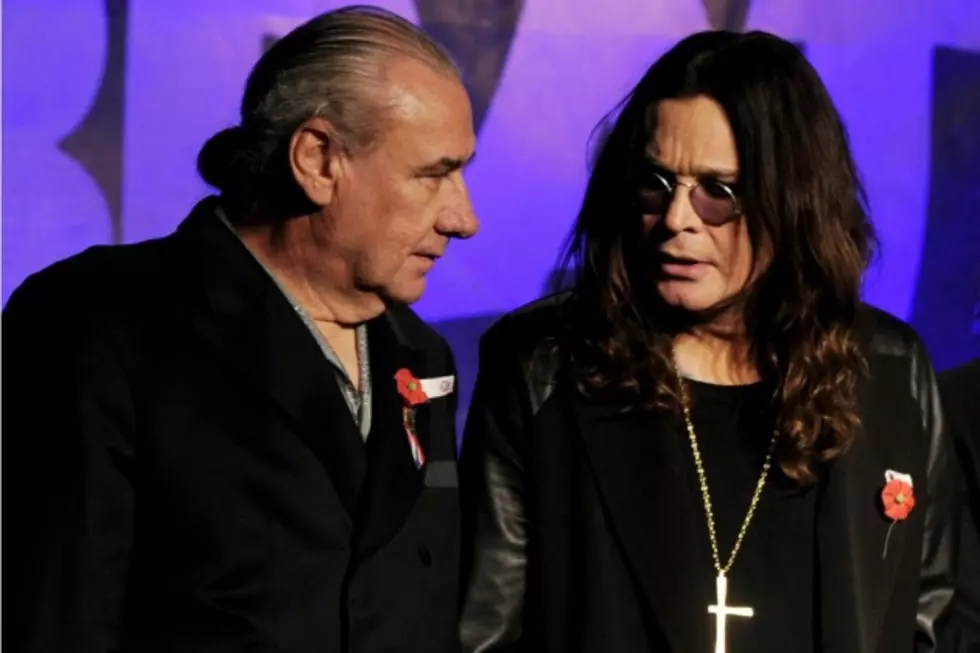 Bill Ward Talks New Solo Albums, Admits 'Grieving the Loss' of His Friendship With Ozzy
Kevin Winter, Getty Images
Whatever the final outcome of Bill Ward's sad public feud with his Black Sabbath bandmates, the veteran drummer definitely isn't wasting his time away from the group.
As he told Joel Gausten during their recent conversation, Ward is working on a pair of musical projects: a new Bill Ward Band Album, to be titled Accountable Beasts, as well as a long-in-the-works solo LP he's calling Beyond Aston. Still, he admits that before he could fully throw himself back into his own music, he needed to deal with the emotional fallout of his Sabbath split.
"I was still in a lot of grief. I was grieving the loss of one of my best friends – Ozzy Osbourne," said Ward. "I missed him so much it was devastating to me. ... There was my loyalty and love for the band. I was in the grief of recognizing that I was no longer part of that."
That being said, Ward was quick to add, "I'm not saying that I've been a victim, as I've been told just recently. I wasn't in any self-pity either."
While Sabbath fans pining for Ward's return to the lineup may never get their wish, he says Beyond Aston is "one of the best" records he's played on since Sabbath's Master of Reality, and promises that of the two projects he's got in the pipeline, Accountable Beasts may pack a bit of his old band's heavy metal punch.
Calling it "much tougher" and saying "it kicks harder" than his previous solo outings, Ward muses, "Most of the stuff is pretty heavy on it. ... We got pretty crazy on this one. We just played; it was like, 'F--- everything.' I wanted to go back to a place that I really know well, and that's playing hard."
And as for the surgery and overall ill health that reportedly sidelined Ward from Sabbath's last tour? He claims it's absolutely no longer a factor. "My [current] activity levels are very high; they have to be," he said, adding that he's currently playing four to six hours every day. "I did have something of a busted-up wing, if you like, I've really worked hard on that. But I'm playing at full capacity. By May of last year, I was definitely in shape to be able to play for sustaining amounts of time."
See Black Sabbath and Other Rockers in the Top 100 Rock Albums of the '70s
Here's a Look at Rock's Nastiest Feuds
More From Ultimate Classic Rock