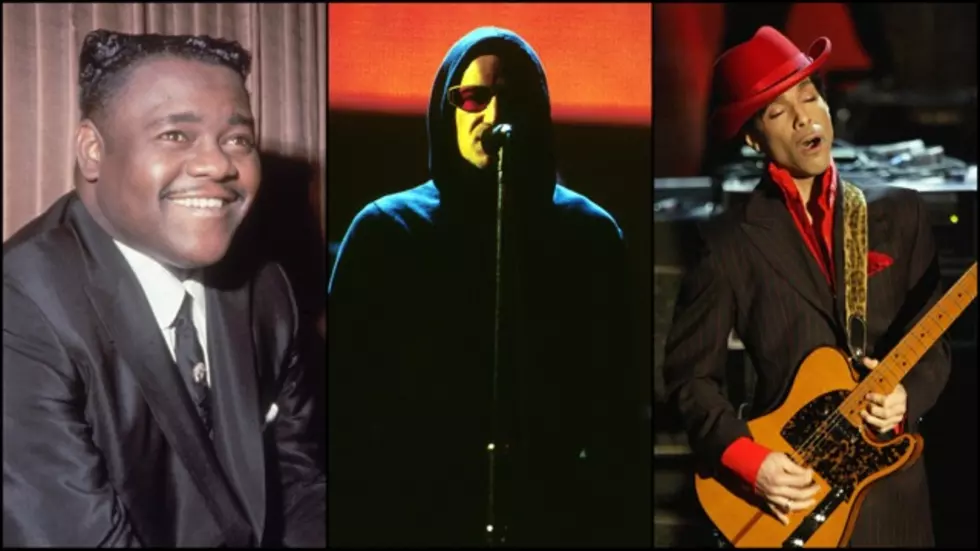 Top 10 Covers of Beatles 'White Album' Songs
Frank Micelotta, Getty Images / Keystone, Getty Images / YouTube
It's not even a contest. There's no band that's been covered more than the Beatles. No less an authority than the Guinness Book of World Records lists 'Yesterday' as the most covered song of all time; a 2008 list of most-covered tunes compiled by UK's The Independent placed four Beatle cuts in the top ten.
Perhaps less popular are covers from the Beatles' most divisive record, the self-titled effort known as 'The White Album.' While Paul McCartney's 'Blackbird' is a perennial favorite (and makes our own top ten list), other tunes seem too esoteric to lend themselves to an easy cover. Not that bands haven't tried; the Pixies tackled the eccentric album filler 'Wild Honey Pie,' and there's even been a cover or two of the cacophonous noise collage 'Revolution #9.'
As eccentric as the tunes on 'The White Album' tend to be, there's still some artists who have managed to find unique and rocking takes on these classic tunes. Click below to make sure these killer covers don't pass you by.
10

'Rocky Raccoon'

Lena Horne & Gabor Szabo

From: 'Lena & Gabor' (1969)

It's easily the most unlikely cover on the list; legendary jazz vocalist teams with Hungarian guitarist to record a funky, loose cover of one of McCartney's most trivial songs. Against all odds, it works; propelled by a tight rhythm section, the song finds a sinister layer lurking within a song played as tossed-off folk nonsense by the Beatles.

The cover opened Horne's 1970 album 'Lena & Gabor,' which contained three other Beatles covers alongside the pair's take on Harry Nilsson's "Everybody's Talking." It delivered a hit single for Horne in "Watch What Happens." It also delivered one of the most unexpected and groovy Beatle covers of all time.

9

'Dear Prudence'

Siouxsie and the Banshees

From: 'Hyena' (1984)

On the original 'White Album,' John Lennon's 'Dear Prudence' led listeners into a wistful dream state after the thundering Beach Boys homage 'Back in the U.S.S.R.' In the hands of Siouxsie and the Banshees, the song gains a bit more muscle from the start, more of a steady rain of sound against the original's gentle downpour. Siouxsie Sioux's lead vocals carry the tune with an accompaniment that's the platonic ideal of a new wave rock single.

Issued in the UK as a stand-alone single, 'Dear Prudence' was issued in the US in 1984 on the band's album 'Hyena,' their first major label release on Geffen Records. Robert Smith of the Cure contributed as both songwriter and lead guitarist; it's his signature sound that weaves through this cover of a Lennon standout from the 'White Album.'

8

From: Various Live Performances

"Yes, I'm lonely...wanna die..." In the hands of Lennon, the song's composer, the words come off as half-earnest and half-joking, a white British smartass taking on the music of black American bluesmen.

As sung by Elliott Smith, they take on an added dimension of sadness. Smith was a singer-songwriter based in the pacific northwest who recorded a handful of heartbreakingly beautiful folk-pop records in the late nineties and early 2000s. When this live cover was recorded, he was deep in the throes of addiction to heroin and other drugs, which Lennon and wife Yoko Ono began using during the sessions for 'The White Album.' With a single cover, the pain of addiction and its devastating effects echo across the decades.

7

From: 'Open All Night' (1988)

There's definitely a hint of twang to Ringo Starr's first solo composition, 'Don't Pass Me By,' but when the Georgia Satellites tackled it, they squeezed out all the blues and twang and ev'ry other lil' thang they could find in it. Propelled by Starr's signature 4/4 drum beat, the original has an air of genteel politeness about it, as though the singer wants to request the pleasure of a lady's company, but of course, would never want to presume to impose.

The Georgia Satellites are ready to kick down the door if they don't hear a knock pretty soon, goldarnit. That's former Faces member and Rolling Stones sideman Ian McLagan on keys, singlehandedly dragging the song from Abbey Road studios to the lowest down dirty roadhouse saloon in the American south.

6

From: 'Wild Seed - Wild Flower' (1994)

If the Georgia Satellites took 'The White Album' to the back room of a saloon, then Dionne Farris takes it to the front porch, in a cover that showcases her sultry vocals and some mean acoustic guitar picking.

Farris hit the top ten in 1994 with the inescapable "I Know" after featuring as a vocalist on Arrested Development's "Tennessee." Here McCartney's gentleness is given a bit more bite from the instrumentation while Farris' vocals are elevated by amazing backing arrangements which she herself composed.

5

From: 'Harry' (1969)

Although he only covered a handful of their tunes, no Beatles covers list seems complete without Harry Nilsson. Maybe that's because he's one of a handful of folks to be annointed with the honorary "fifth Beatle" title. After impressing Beatle PR maven Derek Taylor, he became the Beatles' favorite American artist, earning invitations to London recording sessions and blossoming into many drunken nights over the course of the 1970s with Lennon and Starr.

His cover of 'Mother Nature's Son' is from his 1969 LP 'Harry,' which also spawned the top 40 single 'I Guess the Lord Must Be in New York City.' Although the arrangement on this tune doesn't dramatically veer away from the original, Nilsson's perfect instrument of a voice and the sumptuous vocal beds he created in the studio surpass the original version for sumptuous beauty.

4

From: 'Kohuept' (1987)

If you're going to tackle a live cover of 'Back in the USSR,' it doesn't hurt to actually perform it in the USSR. That's exactly what Billy Joel managed to pull off in 1987, when he performed the track in the Soviet Union during the waning days of the Cold War.

Joel's performance was the first rock concert ever broadcast live on Soviet radio, and the electricity is palpable. The band is on fire and the crowd is beyond excited. It's a rare perfect moment of live rock synchronicity; the ideal song for the ideal crowd at the ideal time.

3

'Everybody's Got Something to Hide Except Me and My Monkey'

Fats Domino

From: Single Release in 1969

There's something otherworldly about the way that opening guitar riff slices on 'Everybody's Got Something To Hide,' as though it somehow emanated from another dimension through a tiny gap in the fabric of spacetime. Fats Domino substitutes boogie-woogie piano for a wah-wah guitar and suddenly you've got an instant house party anthem.

Domino released his version as a single in 1969 after covering 'Lady Madonna' and 'Lovely Rita' on a previous LP. Lennon himself is on record as saying this 'White Album' cover is among his all-time favorites.

2

From: 'Rattle and Hum' (1988)

With 14 million copies of 'Rattle and Hum' sold worldwide, U2's version of 'Helter Skelter' may be the most successful 'White Album' cover of all time. The band sticks pretty closely to the Beatles' arrangement but the live setting amps up the energy, and if anyone is able to at least match McCartney's filthy rock wail, it's Bono.

'Rattle and Hum' was U2's 1988 live album and concert/film documentary. The version used in the film and on record was shot in November 1987 in Denver, CO. It was a song Charles Manson stole from the Beatles...and U2 stole it back.

1

'While My Guitar Gently Weeps'

Tom Petty, Jeff Lynne, Steve Winwood, Prince and More

From: Rock and Roll Hall of Fame Induction in 2004

Prepare for the hairs on the back of your neck to stand at attention.

It's March 2004 and the 19th annual Rock and Roll Hall of Fame awards ceremony is in hour three. Time for a tribute to George Harrison, featuring such luminaries as Tom Petty, Jeff Lynne, and Steve Winwood on 'While My Guitar Gently Weeps.' Standing as unassuming as one can in a red fedora to stage right, Prince casually plays rhythm guitar near Harrison's son Dhani while Winwood takes the first solo. About three and a half minutes in, you can catch Dhani nodding at Prince with a gleeful grin on his face over Petty's shoulder.

Prince strides to center stage and...well, watch it. No, seriously. Watch it. If you're not grinning as goofily as Dhani was, you're not breathing. Spoiler alert: The guitar never lands.

BONUS

You Think You Know The Beatles?
More From Ultimate Classic Rock