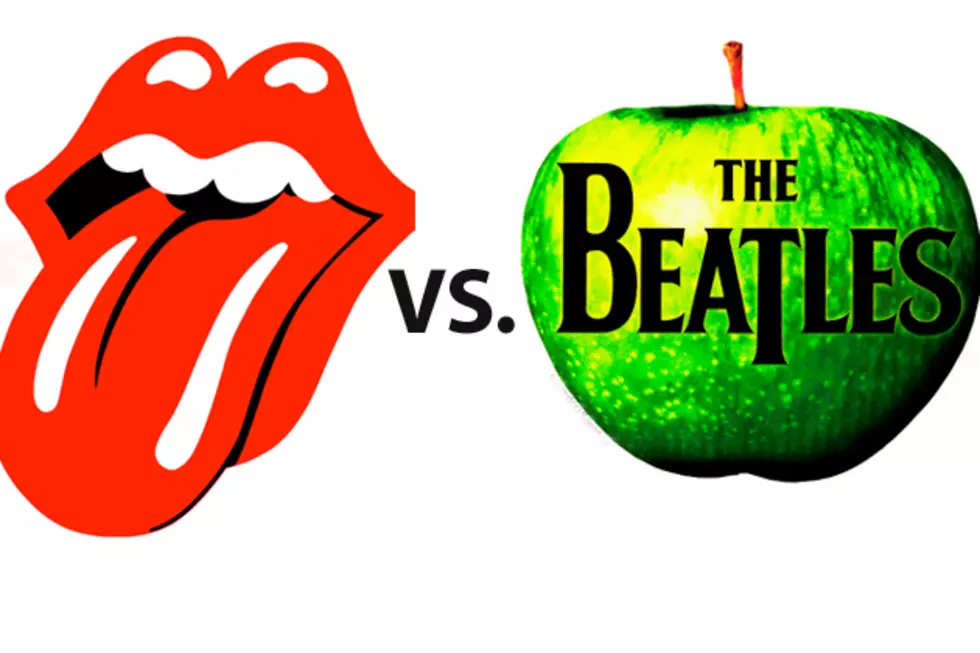 The Beatles vs. the Rolling Stones – Classic Rock's Greatest Debates
Rolling Stones Records / Apple
The battle between the Beatles and the Rolling Stones has been going on ever since they first crossed paths on the charts almost 50 years ago. The argument at the time, and one that still persists, was that the Beatles were a pop group and the Stones were a rock band: the boys next next door vs. the bad boys of rock. But it's not that clear cut, and never has been. So who's better? We asked two of our writers to choose side and make their arguments. Then we give you the final word. Here goes ...
The Beatles Are Better Than The Rolling Stones
These bands have more in common than their respective critics acknowledge: They're both British, they both grew up with American rock 'n' roll records that made up their early repertoires and they both shaped 20th-century music as we know it. But only one group continued to cut new paths at every step: the Beatles.
That's not to take anything away from the Rolling Stones' greatest achievements of the '60s and '70s. Indeed, the band's four-year string of classic records starting with 'Beggars Banquet' and ending with 'Exile on Main St.' has never been, and probably will never be, matched. They were often called "the best rock 'n' roll band in the world," and for a long stretch there, there was no denying that claim.
But the Beatles got there first. They were innovators where the Stones were practitioners. The Stones covered Chuck Berry, but so did the Beatles ... a couple of years earlier. The Stones perfected the art of the rock 'n' roll single in the mid '60s, just as the Beatles did several months before.  And the Stones dabbled in psychedelic music on the clumsily executed 'Their Satanic Majesties Request' album, following a template laid out on the Beatles' revelatory 'Sgt. Pepper's Lonely Hearts Club Band.'
In a way, the Beatles' breakup in 1970 sealed their legend. They went out just as they began to stumble creatively. Had the Stones broken up after they made 'Exile on Main St.,' this debate may be leaning in the other direction. But they've trudged on for 40 more years. Granted, calling it quits in 1972 would have robbed fans of classic records like 'Some Girls' and 'Tattoo You.' But it would have also spared us such career-blotting albums as 'Black and Blue' and 'Voodoo Lounge.' The Beatles never got to the point where they made an album as pointless as 'Bridges to Babylon.' We can all be thankful for that.
The Rolling Stones Are Better Than The Beatles

Well, now we have two disagreements. If, as you suggest, we limit this debate to the end of each band's undisputed golden era, the Beatles get the nod -- even giving the Stones two extra years in their prime, and therefore the classic 'Sticky Fingers' and 'Exile on Main Street' albums.
It's adding what the Stones have done in the rest of the 43 (!) years since the breakup of the Beatles that gives them an ever-so slight edge in this race. You're right, 'Some Girls' and 'Tattoo You' are the only front-to-back classics from this long span of time. But those albums -- and a slew of fantastic singles from lesser but often still very good albums -- prove that Mick Jagger and Keith Richards have been able to do one very important thing John Lennon and Paul McCartney couldn't: keep merging their talents and personalities to make culturally relevant music for a much longer time than their competitors from Liverpool.
Could the Beatles have incorporated reggae and disco and punk into their sound? Or found another way to lead rock music through the changing times as well as the Stones did twice, as far into their career on 'Miss You,' 'Start Me Up' or 'Respectable?' On paper, sure. But in real life they didn't and the Stones did, and that counts for a lot.
There's one other crucial thing the Stones have done time and time again that the Beatles never did -- perform their best music successfully live onstage. Again, it's entirely possible, likely even, that the Beatles could have returned from their self-imposed 1966 stage exile and delivered great versions of 'Hey Jude' or 'Come Together' night after night. After all, McCartney's been doing an incredible job of it with his solo band for decades. But again, for the Beatles that's theoretical, and for the Stones it's proven fact.
Oh, and if we're gonna discuss pointless music from the mid-'90s, I'm gonna have to bring up 'Real Love' and the second-rate Traveling Wilburys slab of blah 'Free As a Bird.' But really it comes down to this: Maybe it's more romantic, a better story, to burn out like the Beatles did. But it's much harder and more impressive to do what the Stones have done: not fade away.
You Think You Know The Beatles?
More From Ultimate Classic Rock