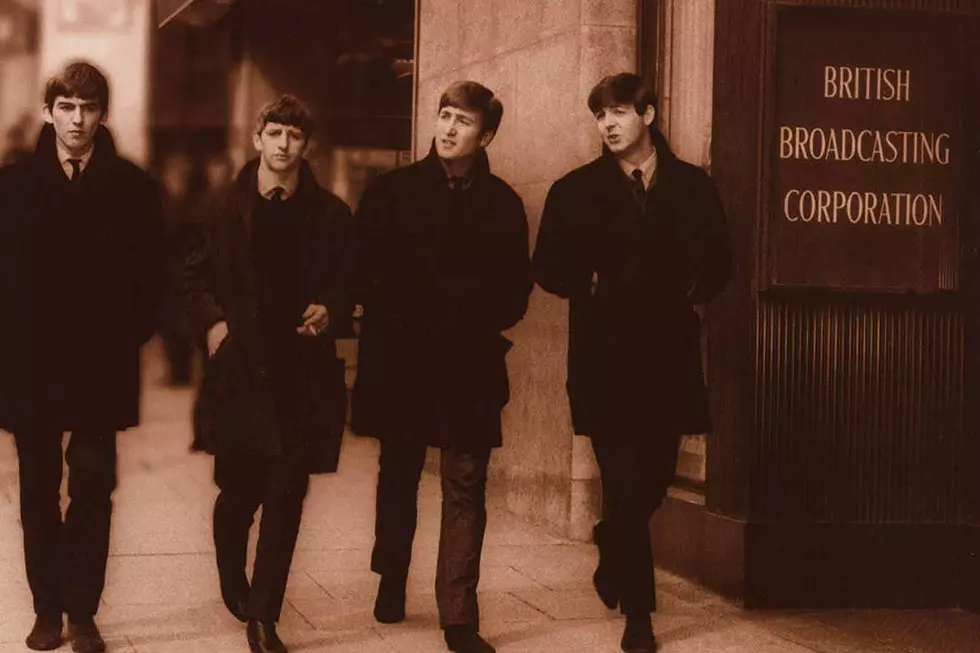 25 Years Ago: 'Live at the BBC' Unearths Beatles Rarities
Capitol / Apple
In February of 1962, Beatles manager Brian Epstein arranged an audition for the band in front of BBC Radio executives. After struggling to find the then-unknown mop tops a record deal, Epstein hoped that some radio exposure would lead the group to a contract.
BBC producer Peter Pilbeam was impressed with the group's four-song audition and booked them to appear on the program Teenagers Turn (Here We Go), to be taped on March 7. The line-up for that initial broadcast featured John Lennon, Paul McCartney, George Harrison and Pete Best (Ringo Starr wouldn't join the group until August that year).
"They were very nervous, obviously," Pilbeam later recalled on a radio interview. "I was very impressed with them. I booked them straight away for another date after that first show."
Thus began a relationship that would span roughly three years, with the Beatles delivering 52 performances for the BBC between 1962 and 1965. Decades later, recordings from these shows would make up the compilation album Live at the BBC.
As the group evolved from fledgling rockers to the biggest band on the planet, the BBC Radio recordings became more valuable. The demand only increased as the Beatles disbanded and went their separate ways. For years, bootlegged copies of the broadcast performances were exchanged among fans, often times with less than ideal audio quality.
Conversations regarding an official album of BBC material began as early as 1982, when the network presented a two-hour special entitled The Beatles at the Beeb. Still, it wasn't until 1991 that the project really began picking up steam.
BBC producer Kevin Howlett - who also helmed the aforementioned radio special - was tasked with tracking down the band's various recordings. Assembling a comprehensive collection of the Beatles' BBC performances was a daunting proposition, especially considering the network's previous mandate to destroy old tapes that were taking up space.
"Today that may seem ludicrous," Howlett admitted in a conversation with Sound on Sound magazine. "In fairness, there was so much live recording done in those days -- because there weren't all that many records being played -- that if they had kept absolutely everything, it would have got completely out of control."
Thankfully, as Howlett discovered, several BBC employees were early converts of Beatlemania and thus saved an assortment of the band's performance tapes.
Combing through the network's various archives produced an abundance of recordings, but there were still many performances that couldn't be found in their vaults. For those, Howlett turned to alternative means, working with ardent fans who had saved their own bootlegged copies of radio shows.
Assembling the mass of material was merely step one in this exhaustive process. Step two required the careful selection of which tracks to include on the album. For this, longtime Beatles producer George Martin was brought on board.
Martin carefully listened to every track and take, judging the recording for both technical quality and the standard of performance. From there, he and a team of engineers worked to digitally enhance and remaster the tunes to the best possible condition. Eventually, 56 songs, as well as some of the interview segments, would be deemed worthy of inclusion on the LP.
Released in the U.K. on Nov. 30, 1994, and in the U.S. one week later, Live at the BBC boasted a bevy of material that was previously commercially unavailable. Thirty of the songs had never been performed on the band's studio LPs, including the Lennon-McCartney tune "I'll Be on My Way," which the songwriting duo had originally given to Billy J. Kramer and the Dakotas back in 1963.
Many of the tracks captured the Beatles paying tribute to their musical heroes, covering such artists as Buddy Holly, Ray Charles and Chuck Berry. Of course, several the group's beloved originals also made the cut, including rare renditions of "Love Me Do," "Can't Buy Me Love," "I Saw Her Standing There" and "A Hard Day's Night."
Live at the BBC sold eight million copies in its first year of release. In its liner notes, Howlett describes the recordings as "aural snapshots of a group that had served its musical apprenticeship and was now irresistible and all-conquering."
In 2013, Live at the BBC was remastered and repackaged once again and sold alongside On Air – Live at the BBC Volume 2, which included an additional 40 recordings from those  sessions.
Beatles Albums Ranked
More From Ultimate Classic Rock