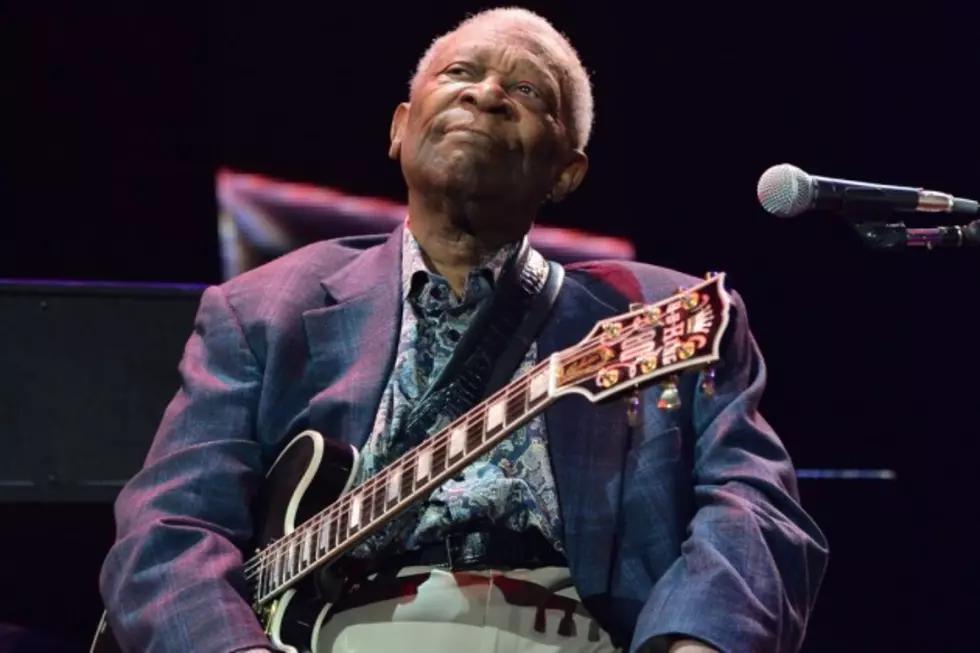 B.B. King Remembered by Ringo Starr, Joe Perry, Gene Simmons and More
Larry Busacca, Getty Images
The news of blues legend B.B. King's death at 89 is already reverberating throughout the rock community, with many of the artists he worked with and inspired taking to social media to pay their public respects.
Eric Clapton, who openly revered King throughout his career and was fortunate to record an album, Riding with the King, alongside him in 2000, has posted a video tribute.
"I want to thank him for all the inspiration and encouragement he gave me as a player over the years and the friendship we enjoyed," Clapton says. "There is not a lot left to say, because this music is almost a thing of the past now and there are not many left who play it in the pure way that B.B. did. He was a beacon for all of us who love this kind of music, and I thank him from the bottom of my heart."
For Billy Gibbons of ZZ Top, the loss is equally personal. "It's difficult to fathom a world without B.B. King," Gibbons told Rolling Stone. "He's been with me literally since the dawn of my musical consciousness."
Tom Johnston, co-founding member of the Doobie Brothers, has also shared his condolences in an official statement. "B.B. King influenced everyone in this band, and on a much wider spectrum, rock, blues and jazz," Johnston says. "Every guitarist studied B.B.'s playing style, and singers of every genre studied his voice. He is a legend that leaves a legacy of great music and hard work we can only aspire to. He was an incredible man! Gonna miss you, B. The music world is a poorer place for your passing."
Watch Eric Clapton's Tribute to B.B. King
 
Former Eagles guitarist Don Felder also grew up with B.B. King's music. A special concert experience, he says, has stuck with Felder all of those years – because of the music, and also because of King's generosity.
"I had heard that B.B. King was going to be playing live outside of town in an old barn," he says in an official statement. "During one of his breaks, he just left the stage and went back to one of the horse stalls and sat on a bale of hay. I walked around the outside of the building and walked up to him to tell him how much I loved his music, and how it had influenced me. I had never approached an artist before and was frozen with both fear and admiration. He held out his hand and had me sit beside him, smiled and listened to me stammer on about him with a very generous humble attitude and twinkle in his eye. I stayed until 2 a.m., when he finished his last set and watched as he packed up his own guitar and left the building. Being 14 years old at the time it left an indelible impression on my soul that still shines today. His music, kindness and humility were the best role model any young man could have ever experienced from an artist."
Clapton, Felder, Gibbons and Johnston have been joined by a growing list of artists, including Ringo Starr, Gene Simmons, Joe Perry, Nikki Sixx, Peter Frampton, Bryan Adams, Vince Neil and Richie Sambora, all of whom have posted messages you can read below.
See 2015's Biggest Rock News Stories
You Think You Know the Beatles?
More From Ultimate Classic Rock