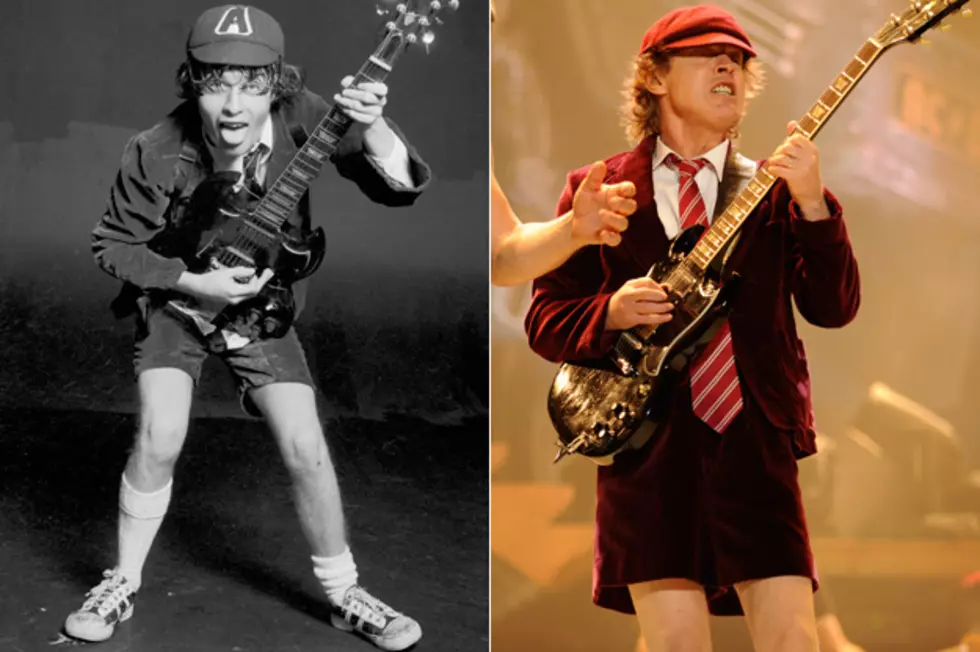 Angus Young – Then and Now
Maybe it's because he's always bouncing around the stage with the energy of the schoolboy whose uniform he wears, but it's hard to believe Angus Young of AC/DC was born on this day in 1955. So let's wish a happy 57th birthday to the man responsible for some of the greatest riffs in rock history, including 'Thunderstruck,' 'Dirty Deeds Done Dirt Cheap' and 'Back in Black.'
The youngest of seven children, Young was born into a musical family and began playing guitar at young age. His brother George was the guitarist and songwriter of the Easybeats ('Friday on My Mind'). But it's another brother, Malcolm, with whom he formed AC/DC in Sydney, Australia in 1973. A year later, through George, they met singer Bon Scott and their career took off, with George co-producing their first few albums.
Unfortunately, six months after the 1979 release of 'Highway to Hell,' their commercial breakthrough in America, Scott died followed a night of binge drinking. But the band carried on with new singer Brian Johnson and recorded 'Back in Black,'which features the anthems 'Hell's Bells,''You Shook Me All Night Long' and the title track. 'Back in Black' is the best-selling hard rock album of all-time, with nearly 50 million copies sold to date.
Since then, AC/DC have remained one of rock's top acts, both at the stores and on the road, and were inducted into the Rock and Roll Hall of Fame in 2003. Plans for a new album have been temporarily put on hold due to an unspecified health issue with one of its members. We hope it's nothing serious, and that the men, with Angus and his trademark Gibson SG front-and-center, will be on the road to celebrate their 40th anniversary in 2013.
More From Ultimate Classic Rock