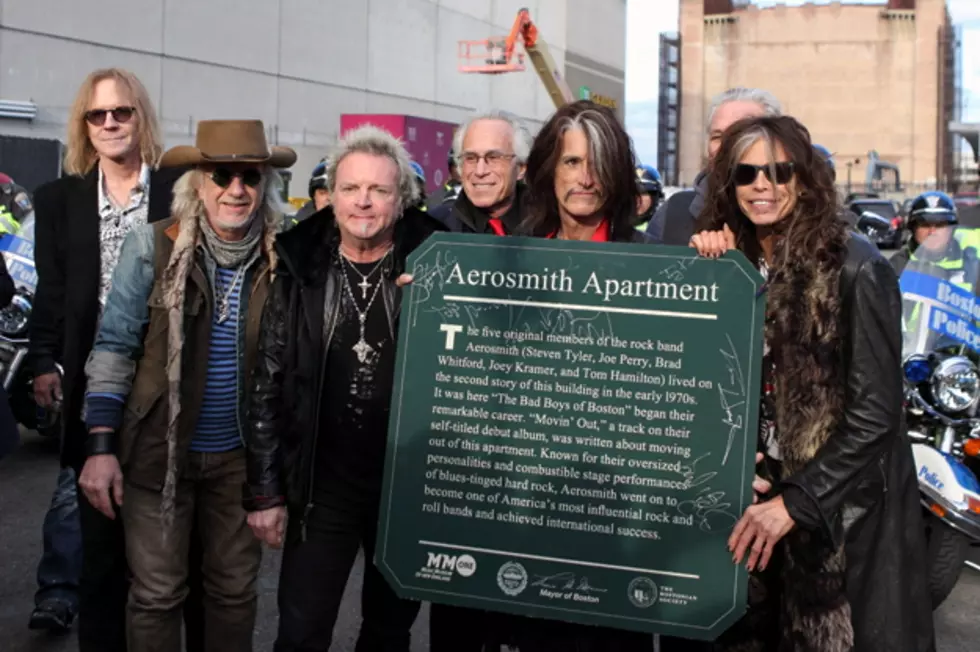 Aerosmith Invade Boston Street for Free Concert – Live Photos
Mary Ouellette, SheWillShootYou.com
Bringing it back to where it all started, Aerosmith staged a takeover of 1325 Commonwealth Ave. in Allston, Mass. today, Nov. 5, playing a free show outside the apartment where they crafted many of their early songs.
The show, just a day before the band is set to release their new disc 'Music From Another Dimension!' tomorrow (Nov. 6) served as both a celebration of the band's history and a preview of what's yet to come.
Arriving via duck boat, the only way to arrive in style in Boston, the band rolled up to greet a crowd of thousands who piled into the streets, poured out windows, and sat on rooftops, waiting for the free 'Pre-Election Party' show to get underway. After a short ceremony in front of their old home, it was time for the main event.
As if poised for a championship, Aerosmith was introduced by New England Patriots owner Robert Kraft and his son Jonathan. The Kraft's brought star quarterback Tom Brady and linebacker Jerod Mayo out on stage as well – making it a true New England affair.
The band finally took to the stage around noon and wasted no time getting right into their groove. A large flatbed truck served as their stage and the bad boys from Boston kicked it off with 'Walkin' the Dog.'
Steven Tyler, Joe Perry, Tom Hamilton, Joey Kramer and Brad Whitford cranked out classics like 'Walk This Way' and 'Sweet Emotion' to the but enthusiastic crowd who had been waiting hours for it. In between songs, the 'Toxic Twins' Steven Tyler and Joe Perry took turns talking about their memories from the neighborhood, all those years ago.
For anyone still on the fence about the new disc, they also showcased a few new tracks including 'Oh Yeah' and 'Lover Alot,' but kept to their hits for the most part. Closing out the gig with a burst of confetti into the Allston air, the bad boys from Boston wrapped up their set with 'Train Kept-A-Rollin.'
Check out some of the photos from the historic day below, and read our review of the new disc here.
Photos of Aerosmith's Free Show in Boston, Mass.
More From Ultimate Classic Rock