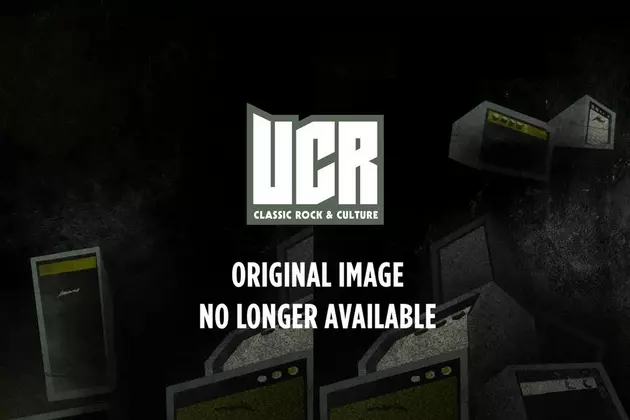 How ZZ Top Survived the '80s
After having established a dedicated following with a five-album run that kicked off with their 1971 debut, ZZ Top entered the '80s with no idea that their fortunes would turn in a big way over the next several years.
The group's 1979 album, Deguello, foreshadowed what was right around the corner. With that record, ZZ Top embarked on a journey of a new and polished radio-ready sound that didn't entirely abandon the dusty boogie groove fans had come to love.
Speaking with the Caller Times in 2005 about the making of Deguello, bassist Dusty Hill said, "We used [synths] as a tool, and the great thing about it is we did not know what we were doing. So, we didn't have any restrictions on ourselves. But that's the way we do things. We truly like to have a record dictate how we're going to record. We don't do that first."
ZZ Top's first album of the '80s, El Loco, was a relatively low-key entrance to the decade, as the group's flirtation with keyboards became distinctly more pronounced.
"This was a really interesting turning point," ZZ Top's Billy Gibbons told Music Radar in 2013. "We had befriended somebody who would become an influential associate, a guy named Linden Hudson. He was a gifted songwriter, and had production skills that were leading the pack at times. He brought some elements to the forefront that helped reshape what ZZ Top were doing, starting in the studio and eventually to the live stage. Linden had no fear and was eager to experiment in ways that would frighten most bands. But we followed suit, and the synthesizers started to show up on record. Manufacturers were looking for ways to stimulate sales, and these instruments started appearing on the market.
"One of our favorite tracks was 'Groovy Little Hippie Pad,'" he continued. "Right at the very opening, there it is – the heavy sound of a synthesizer. For us, there was no turning back."
Listen to ZZ Top's 'Groovy Little Hippie Pad'
In a 2014 interview, Hudson said he had known the group in the years before they worked together on El Loco. "At one point, [drummer] Frank Beard asked me to move in to his house with him and his wife. Frank and I were good friends at that time. It had nothing to do with me working for the band, they never asked me to work with them, and I never asked if I could be an employee. But I had 10 years of experience as a recording studio engineer, so Frank asked me to build a recording studio in his house for ZZ Top to experiment in, so I did."
Driven by the not-so-subtle double entendres of "Pearl Necklace" and "Tube Snake Boogie," El Loco ascended to the No. 17 on Billboard's album chart, eventually going gold. Not a bad start to the new decade.
Listen to ZZ Top's 'Tube Snake Boogie'
But bigger things were in store for ZZ Top as they headed back into the studio to begin work on their mainstream breakthrough, Eliminator. Citing a desire to expand the group's sound even more, Gibbons and producer Bill Ham set up synths, sequencers and drum machines in the studio.
"The wheels were turning, the scenery was changing and we were having a field day playing around with these crazy machines that were making wicked sounds," Gibbons later told Music Radar. "The funny thing was, we had no training at all; these instruments were popping up, and we just took to them. That's really the best way you can discover new sounds anyway. The first thing we did was throw away the instruction manuals, and then we started twisting knobs until we said, 'That's what ZZ Top should sound like.'"
"Eliminator also marked the point when we paid serious attention to timing and tempos," Gibbons continued. "This became a benchmark that we aspired to. Once the groove was laid down, we learned how to stand on it. That's one of the elements that makes Eliminator stand out in a classic sense; all of those tracks were timed and tuned very tight."
Even though longtime fans of the band were left feeling somewhat alienated by the slick studio gloss given to hit singles like "Gimme All Your Lovin'," "Sharp Dressed Man" and "Legs," Eliminator became the group's biggest-selling album, topping more than 10 million copies since its 1983 release. The album remained on the charts for more than three years, while the videos for its singles became MTV staples, exposing the group to millions of new fans all over the world.
Watch ZZ Top's Video for 'Gimme All Your Lovin''
Rooted in the "If it ain't broke, don't fix it" philosophy, ZZ Top's 1985 follow-up, Afterburner, continued the path laid down by the multi-platinum Eliminator.
The album's first single, "Sleeping Bag," became the group's highest-charting single, eventually claiming the No. 1 spot on the Mainstream Rock chart. Subsequent Afterburner singles "Stages," "Rough Boy" and "Velco Fly" helped the album sell more than five million copies in the U.S.
"The Eliminator and Afterburner days were actually big changes in every aspect of what we were unexpectedly encountering, both onstage and in the studio," Billy Gibbons told the Quad-City Times. "It was and is experimental 'this and that's' every day. And, of course, at the same time, some things never change as well. Pretty girls and hot rod cars go together, as always. That part doesn't have to change much at all."
"At the root of it all is still the blues – tried and true," Gibbons added. "Just when the effect seems simple, the complexion becomes quite complex. That's the keen mystery of this purely American art form. However, our go-to motto remains, 'You can't lose with the blues.'"
Watch ZZ Top's Video for 'Sleeping Bag'
The Afterburner tour ran from the end of January 1986 through late March 1987, covering the U.S., Europe, Japan, Australia and New Zealand, a testament to the superstar profile their flashy and constantly in-rotations had given the group.
But after a whirlwind half-decade of record-making and touring, ZZ Top took a break. It wouldn't be until the start of the '90s that ZZ Top would resurface with Recycler.
Arriving at the recording studio a couple of days before its equipment showed up, the band borrowed some gear and ended up playing some loose jams that helped them return to their long-ignored roots.
"We started playing the blues," Gibbons told the Associated Press in 1991. "Two days later, we had scrapped everything we had done up to that point and started writing all new material to do in a more traditional blues style. In just 48 hours, we had dramatically changed the direction, just because it was so natural for us."
ZZ Top's 10th album, released In October 1990, kept their platinum streak alive, while spinning off a trio of No. 1 hits on the Billboard Album Rock chart -- including "Doubleback," "Concrete and Steel" and "My Head's in Mississippi" -- and setting them up for a new decade on the horizon.
30 Most Outrageous '80s Rock Fashions
More From Ultimate Classic Rock