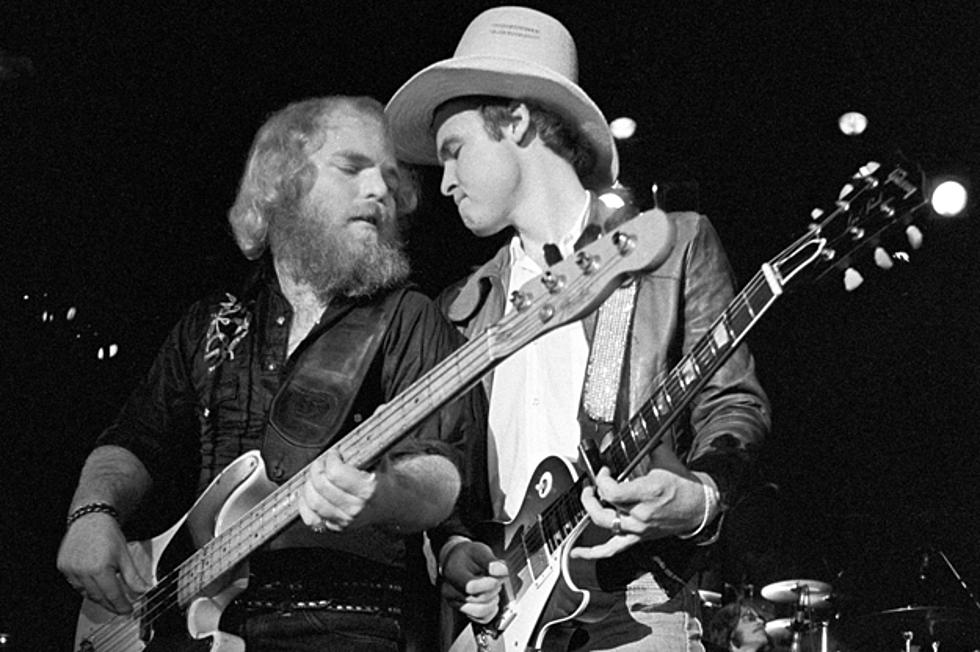 ZZ Top's Billy Gibbons Without a Beard – Pic of the Week
It seems hard to believe now, but as this photograph proves, there was indeed a time when ZZ Top guitarist Billy Gibbons did NOT have a foot-long beard.
This vintage picture finds Gibbons sharing a musical moment with his long-time bandmate Dusty Hill onstage at the Chattanooga Municipal Auditorium in the fall of 1973. That would put this concert just a few months after the release of their third album, the legendary 'Tres Hombres.'
The cover of the band's next album, 1975's half-live 'Fandango!,' finds Gibbons' handsome mug all covered up with hair, and, well... we know where things went from there. Nowadays, and tragically, there's probably more people in the world that know ZZ Top for their beards then for the way they so wonderfully weave blues and south-of-the-border influences into their rock music.
Still, don't expect to see Gibbons' actual face anytime soon. The group famously turned down a million bucks to shave their beards off from a razor company back in 1984, and the guitarist recently insisted there's no amount of money that would make him reconsider.
Instead, they're focusing on their craft, touring across the country and preparing to release their first new album in nearly a decade. It's one they promise will mark a change in approach from their last two, less-than-enthusiastically received efforts. Based on the greasy, hip-hop influenced first track from the sessions, 'I Gotsa Get Paid,' it seems they might be onto something good.
More From Ultimate Classic Rock