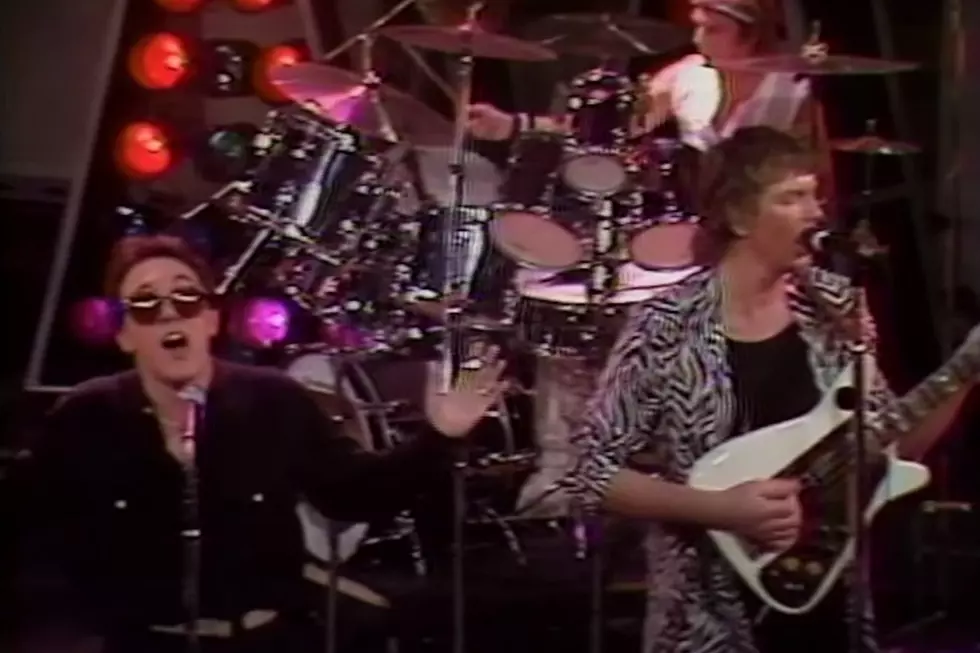 When Yes Recruited the Buggles to Rebuild Their Lineup
YouTube
The writing was on the wall – or at least the sleeve.
Yes' ninth album, 1978's Tormato, was the most divisive entry in the prog-rock legends' catalog. The internal discord was reflected by its cover: a tomato (reportedly thrown by disgusted keyboardist Rick Wakeman) splattered against a confusing Hipgnosis design. Though Tormato became Yes' first platinum-selling LP in the U.S. (based on the strength of lead single "Don't Kill the Whale"), its reputation tanked with hardcore fans, and it left the band scrambling to plot their next move.
After a period of disillusion, they split into two factions, with Wakeman and frontman Jon Anderson fleeing in March 1980. Yes had already survived a previous split from their caped keyboard wizard – but could they last without their iconic voice? The very unlikely answer – in the form of two New Wave hit makers – arrived that May.
The Buggles are still most famous for their 1979 single, "Video Killed the Radio Star," a hummable synth-pop gem that launched MTV into America's curious living rooms. But the British duo – producer-bassist Trevor Horn and producer-keyboardist Geoff Downes – made a radical departure for their next move by filling Yes' lineup gap.
The union took place after the Buggles introduced themselves to the remaining Yes members (bassist Chris Squire, guitarist Steve Howe and drummer Alan White), who'd been rehearsing in an adjacent studio. The two bands already shared a manager, Brian Lane, and had a mutual respect for each other's work. But that proposed blend still felt like a longshot: What could two glossy synth-pop dudes bring to a symphonic prog act, and vice-versa?
Plenty, as it turns out. This version of Yes on Drama was unlike any in the band's history, blending modern synth tones and vintage prog with a harder-edged attack that emphasized the rhythm section (see the Squire-driven concert staple "Tempus Fugit"). Fans had every reason to be skeptical – after all, this was the first Yes album without Anderson. But tracks like the opening epic "Machine Messiah" proved they hadn't softened, and Horn's similarly pitched vocals helped smooth the transition.
But it couldn't last. The band's subsequent U.K. tour met middling reviews, and Horn – who'd never put such daunting demands on his voice – found himself uncomfortable channeling the Anderson role onstage. The lineup splintered in early 1981, ending this strange but fulfilling chapter in the Yes story. 
"When I came out of that, I was pretty fearless musically," Horn told the Independent in 2014. "It was so difficult, it made everything else seem easy. My wife Jill [Sinclair] knew I wasn't frontman material. She thought I should concentrate on being a producer."
Listen to Yes Perform 'Tempus Fugit'
And that's what he did. Horn developed his groundbreaking production style throughout the following decades – first working with a re-formed Yes on 1983's polarizing 90125 (featuring the ubiquitous "Owner of a Lonely Heart"). Downes and Howe left the band to form the prog supergroup Asia, who skyrocketed to AOR stardom with their self-titled debut LP (and its iconic single "Heat of the Moment").
Though they'd both return to the fold at various points throughout the band's history, Anderson and Wakeman certainly didn't twiddle their thumbs during the Drama years: The former released his second solo LP, 1980's Song of Seven, before returning to the band for 90125, and the keyboard master crafted an ambitious concept album based around George Orwell's dystopian classic novel 1984.
"It was decided that we'd all keep pretty quiet until everybody'd got themselves all sorted out, to put it crudely, so that nobody gained any advantage by having themselves ready before anybody else," Wakeman told Melody Maker of the Yes split in 1980. Meanwhile, White and Squire kept busy prior to Yes' bold 90125 reinvention. The bass-drums duo released a Christmas-themed single, "Run With the Fox," in 1981, and formed a short-lived rehearsal supergroup called XYZ with Led Zeppelin guitarist Jimmy Page.
The Yes roster chronology is a wild beast – full of confounding feuds and illogical reunions. Anderson stayed with the band from 1983 to 2008, when respiratory problems prompted the other members to move forward with replacement singers. Downes re-joined for 2011's excellent Fly From Here and has remained in the fold since, also working on 2014's Heaven & Earth.
Yes have outlasted almost every other classic prog band, mostly because they've rolled with the punches. Without the stopgap players and temporary leaders – Trevor Horn and Geoff Downes, Trevor Rabin and Tony Kaye, among others – it's impossible that they'd last as long. But for most fans, it's difficult not to pine for a full-scale reunion of the definitive Anderson-Wakeman lineup.
"I can imagine when Journey went out with different singers that fans got very upset, but they loved the songs and still go see the band," Anderson told Miami New Times in 2013. "With Yes, it's kinda different in many ways because I was a very integral part of the music, as well as the songs that I wrote and the lyrics.
"So, it's a different set of energy when people go see Yes," Anderson added. "They'll hear the music, of course, and it's really great music, but it's going to feel different because I think I was this person to the band, leading the band. I had this certain energy, and it's missing. But that's not to say people don't enjoy going to see their show. I can't really fault them for anything other than they carried on doing the music without me, and it is very inspiring music anyway. So, I can see how the fans are upset in a way. I wish them all the best, and I hope that one day we will all get back together and do the tour everybody dreams of."
 
See Yes Among Rock's Hilariously Bad First Concerts
Steve Howe Released One of Rock's Most Hated Albums
More From Ultimate Classic Rock