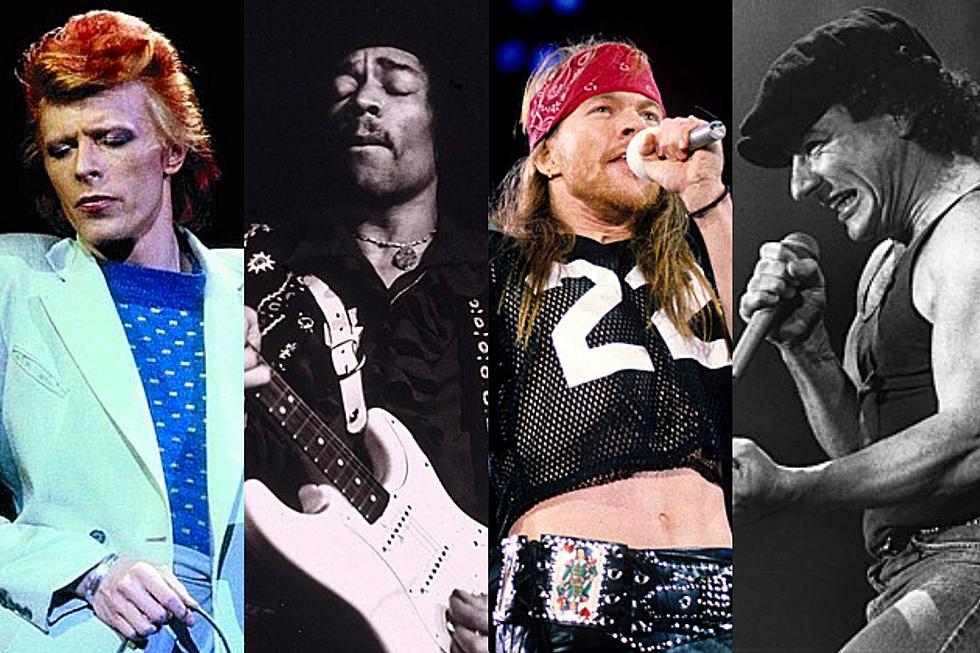 Here Are the Rock Walk-Up Songs You May Hear in the MLB Playoffs
RCA / Hulton Archive / Kevin Mazur / Rob Verhorst, Getty Images
Baseball playoffs are upon us.
This year, things have boiled down to the Texas Rangers, Houston Astros, Arizona Diamondbacks and the Philadelphia Phillies. By the beginning of November, one will be crowned a World Series champ.
If you're watching the games, you may notice snippets of some rock 'n' roll favorites as batters assume position at home plate. After all, what better way to get in the zone than with an electrifying walk-up song?
On the Texas Rangers — who have never won a World Series in their 63 seasons as a team — Mitch Garver walks to David Bowie's "Fame," Evan Carter to Led Zeppelin's "Kashmir," Josh Jung to Red Hot Chili Peppers' "Can't Stop," Dan Dunning to Motley Crue's "Kickstart My Heart," Austin Hedges to Queen's "Fat Bottomed Girls," Will Smith to Ted Nugent's "Stranglehold" and Nathan Eovaldi to Gary Clark Jr.'s cover of the Beatles' "Come Together."
Watch the Texas Rangers Explain Their Walk-up Songs
Over on the other Texan team, the Houston Astros, Hunter Brown also walks up to the Peppers' "Can't Stop," Seth Martinez walks to Jimi Hendrix's "Voodoo Child," Rafael Montero to Journey's "Don't Stop Believin'" Parker Mushinski to AC/DC's "For Those About to Rock" and Ryan Pressly to Johnny Cash's "God's Gonna Cut You Down." The Astros are this year's defending champions, having defeated the Philadelphia Phillies in six games in 2022.
Speaking of Phillies, leftie Kyle Schwarber has a couple of different walk-up songs, including Living Colour's "Cult of Personality," Craig Kimbrel has Guns N' Roses' "Welcome to the Jungle" and Zack Wheeler uses Alice in Chains' "Rooster."
READ MORE: Best Rock Super Bowl Commercials Year-by-Year 2000-22
And on the Arizona Diamondbacks, who have won the Series only once, Carson Kelly walks to "Purple Haze" by Hendrix, Jake McCarthy to "Tweezer-Reprise" by Phish and Mark Melancon to AC/DC's "Thunderstruck."
Watch Mark Melancon (Formerly of the Pittsburgh Pirates) Enter to AC/DC's 'Thunderstruck'
The 2023 best-of-seven series between the two teams that make it through will begin on Oct. 27.
Batter Up: 21 Rock Musicians and Their Love of Baseball
Some are more casual fans, others have been loud and proud rooting for their favorite team.
Gallery Credit: Allison Rapp
More From Ultimate Classic Rock