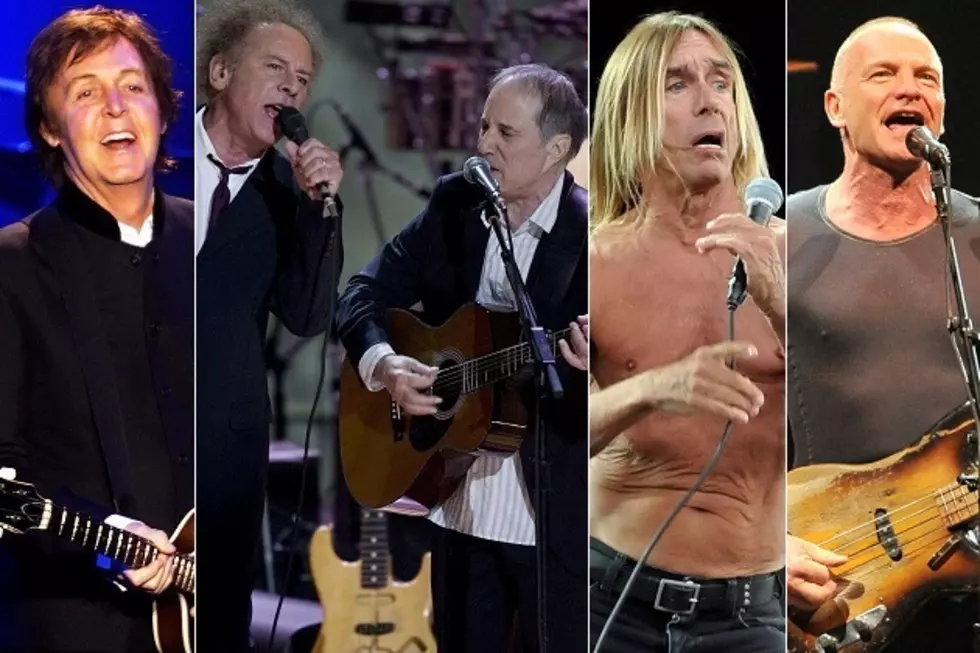 Roberto Serra/Brendan Smialowski/Jim Dyson/Brian Babineau, Getty Images
From the dawn of 'Tutti Frutti' to the advent of 'MMMBop' and beyond, placing actual words in your song has never been an impediment to scoring a hit record. We're focusing on those in this list, the Top 10 Wordless Lyrics in classic rock. Sure, a simple "na na na" or a tossed-off "doo doo doo" can help out a struggling songwriter by filling in some gaps. But in the songs below, the "whoa oh ohs," "sha la las" and other invented words have become the most memorable thing about them. Some songs even got by with plenty of singing and not one single word to be heard. So put your dictionaries away and enjoy some of the best nonsensical moments in rock and roll.
10

'Lovin', Touchin', Squeezin''

Journey

From: 'Evolution' (1979)

We'll get to the reigning champions of the "na na na" finale further down the list, but Journey did the syllables justice on this 1979 single. About halfway through this sway-along ballad, frontman Steve Perry does away with lyrics and rides a crest of "na na na-na na nas" all the way to finish line. It was a good move; 'Lovin', Touchin', Squeezin'' became Journey's first Top 20 hit. Perry, who can take full credit for the lyrics as the song's sole songwriter, would go the wordless route again in 'Faithfully,' which reaches an emotional zenith with the singer's echoing "whoa-oh-oh-oh."

9

From: 'Lust for Life' (1977)

It takes two of music's most beguiling figures to make a chorus of "la la, la la, la-la-la la" sound absolutely sinister, but that's what Iggy Pop and David Bowie did on this jangly classic from Pop's 'Lust for Life' album. The inspiration for the verses came to Iggy from a Jim Morrison poem as well as the experience of riding on the S-Bahn transit system in Berlin (where the song was recorded). Perhaps the wordless portion was Bowie's idea. After all, earlier in the year, the Thin White Duke had released 'Warszawa' – a song inspired by a Polish choir on which Bowie sings multiple tracks of indiscriminate sounds.

8

From: 'Focus II' (1971)

Although often considered an instrumental, this bizarre hit technically includes a fair amount of vocal work from Thijs van Leer. The keyboardist for Dutch prog band Focus, van Leer provides operatic yodeling, nimble whistling and some staccato gibberish that sounds like Munchkins doing a jig. According to co-writer/guitarist Jan Akkerman, 'Hocus Pocus' was intended as a send-up of self-important rock bands when the band recorded it in 1971. The next year, the band recorded a faster, shorter version that became a Top 10 hit in the U.S. in 1973. Focus's next trick was a disappearing act – the band failed to score a significant follow-up hit in the States.

7

'Brown-Eyed Girl'

Van Morrison

From: 'Blowin' Your Mind!' (1967)

You couldn't do the Top 10 Wordless Lyrics without "Sha-la la la la, la la la la, la-la di da." After the breakup of Them, Van Morrison announced his solo career with this sunny gem – originally titled 'Brown-Skinned Girl.' The sing-along portion of the tune propelled 'Brown-Eyed Girl' into the Top 10 in 1967 and helped it remain on the radio for years to come, eventually earning the distinction of being one of the 10 most-played radio songs in history. Singing those glorious "la's" with Van the Man are backing group the Sweet Inspirations who would gain plenty of experience with "oohs" and "aahs" by singing background on songs by Aretha Franklin, Dionne Warwick and Elvis Presley.

6

'Crocodile Rock'

Elton John

From: 'Don't Shoot Me I'm Only the Piano Player' (1973)

Nonsense and nostalgia go together like Elton John and Bernie Taupin. 'Crocodile Rock' is another song that reflects on the good old days and utilizes a wordless motif to capture those exciting memories. Writers John and Taupin were inspired by the early years of rock and roll, including the screeching "la, la-la-la-la-la" refrain from Pat Boone's 1962 novelty hit, 'Speedy Gonzales.' Elton and Bernie were later sued by the song's composer, Buddy Kaye, and reached an out-of-court settlement. Apparently, even "la la la" isn't safe from litigation.

5

'Do Wah Diddy Diddy'

Manfred Mann

From: 'The Manfred Mann Album' (1964)

The No. 1 smash 'Do Wah Diddy Diddy' began life as 'Do-Wah-Diddy,' a song by girl group the Exciters and written by Jeff Barry and Ellie Greenwich (who were attempting to recreate their success with 'Do Doo Ron Ron'). The Exciters' version was a bit of a flop, but not enough that it didn't make an impression on British rockers Manfred Mann, who decided to change the male pronouns to female ones, add an extra 'Diddy' to the title and record their own version. 'Do Wah Diddy Diddy,' which seems to capture the exuberance of young love with its goofy refrain, became one of the signature tunes of the British Invasion. They had another big hit with the follow-up, 'Sha La La.'

4

'The Boxer'

Simon & Garfunkel

From: 'Bridge Over Troubled Water' (1970)

Paul Simon has admitted that the famous "lie-la-lie" refrain heard in Simon & Garfunkel's 'The Boxer' was originally a placeholder. In a 1990 interview, he revealed "I didn't have any words… Every time I sing that part, I'm a little embarrassed." Yet, for listeners, the "lie-la-lie" portion of the song – along with Hal Blaine's crushing drum hit – became an expression of the titular character's struggle. These are the emotions that are too much for mere words to convey.

3

'De Do Do Do, De Da Da Da'

The Police

From: 'Zenyatta Mondatta' (1980)

This entry into the Top 10 Wordless Lyrics is a song that uses gobbledygook to make a point. Police frontman Sting said he began to write the song while thinking about the popularity of hits like 'Do Wah Diddy Diddy' and expanded to consider how people can be manipulated by a clever choice of words. Of course, they can also fall in love with a phrase that means nothing, which is exactly what happened with 'De Do Do Do, De Da Da Da,' which became a Top 10 hit on both sides of the Atlantic. Sting later deadpanned that his young son deserved credit for the title.

2

'The Great Gig in the Sky'

Pink Floyd

From: 'The Dark Side of the Moon' (1973)

When recording 'The Dark Side of the Moon,' keyboardist Rick Wright had come up with an instrumental piece that the band liked, but didn't know what to do with. Pink Floyd's members thought that a female vocalist might do the trick and engineer Alan Parsons remembered a session singer named Clare Torry, who he had worked with previously. Getting little direction from the band, Torry began to sing words like "Oh yeah, baby" on the first take, before the members instructed her to try and sing without any definable words. The epic wailing you hear on the final version was the result – something emotional, rather than analytical, to go with the song's theme of death. Decades later, Torry received co-writing credit on the song, seeing as she was the one who created the vocal melody for 'The Great Gig in the Sky.'

1

Single (1968)

Between "goo goo g'joob" and "ob-la-di, ob-la-da," the Beatles never shied away from injecting a little nonsense into their songs. But the seemingly endless coda of "na, na na na-na-na na"  – which runs for the majority of 'Hey Jude's' running time – is in a class by itself. The gargantuan tide of the final four minutes has, arguably, become more important than the "song" portion of the song. Case in point: when Paul McCartney closed the London Live 8 concert in 2005, he didn't even bother with the first three minutes of 'Hey Jude.' He finished 'The Long and Winding Road' and went straight for the "na na nas" as an all-star sing-along finale took shape. When a song is more than seven minutes long, why not skip to the good part?
More From Ultimate Classic Rock