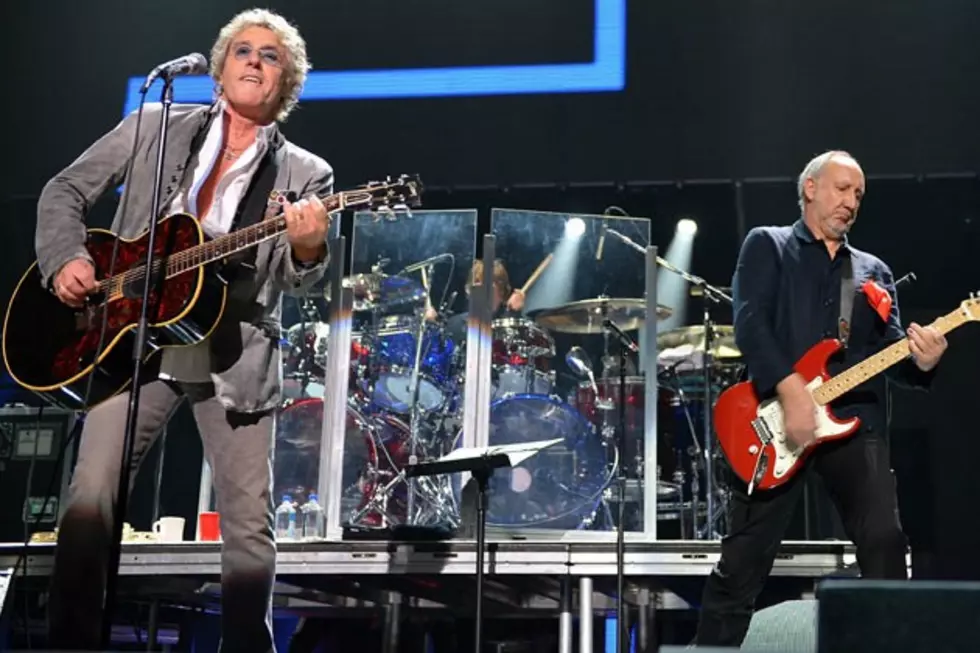 The Who Reveal Plans for 2015 Farewell Tour
Larry Busacca, Getty Images
Last week, Pete Townshend said that the Who would embark on one final tour in 2015. And apparently he means it this time. Sort of. Roger Daltrey recently clarified those plans, but confirmed that the group would indeed be performing its last batch of big shows in the near future.
In an interview with Rolling Stone, Daltrey said that the Who will be hitting the road in 2015 -- for "the last big tour," as he put it. But he pointed out that the group will most likely still record and play occasional shows until they're dead.
"We aren't finishing after that," he said. "We intend to go on doing music until we drop, but we have to be realistic about our age. The touring is incredibly grinding on the body, and we have to draw a line in the sand somewhere. This will be the last old-fashioned, big tour."
And even though Townshend's comments seemed to reflect that the tour will coincide with the Who's 50th anniversary, Daltrey once again stepped in with some clarification. "Our anniversary is actually right now," he said. "We were the Who 50 years ago this month. To us, 2015 is just another year."
While details haven't been settled on yet, Daltrey said the tour -- unlike the band's most recent, which featured the playing of the 1973 classic 'Quadrophenia' in its entirety -- will focus on the Who's entire career, drawing from the large catalog of songs that fans want to hear. "Most people that want to come to a show want to hear what they grew up with," he said. "Let's not kid ourselves. We will always sell more tickets if we play the hits. That's a fact."
In the meantime, Daltrey said that he and Townshend may make a new record, but they would play those songs in a different setting, not as part of the 2015 tour. So yeah, maybe this isn't the very last tour, after all. We've heard this before from the Who. And even Daltrey offered a possible stage scenario for the band after the, um, farewell tour.
"Maybe that means sitting down in a theater for a couple of weeks," he told Rollng Stone. "That means you travel to once place, but you're stationed there. You aren't touring. It's the touring, the schlepping, that kills you. The music is a joy. The two hours onstage every night is a joy, even though it's incredibly strenuous. The schlepping and changing hotels every day, that can become incredibly hard work."
More From Ultimate Classic Rock