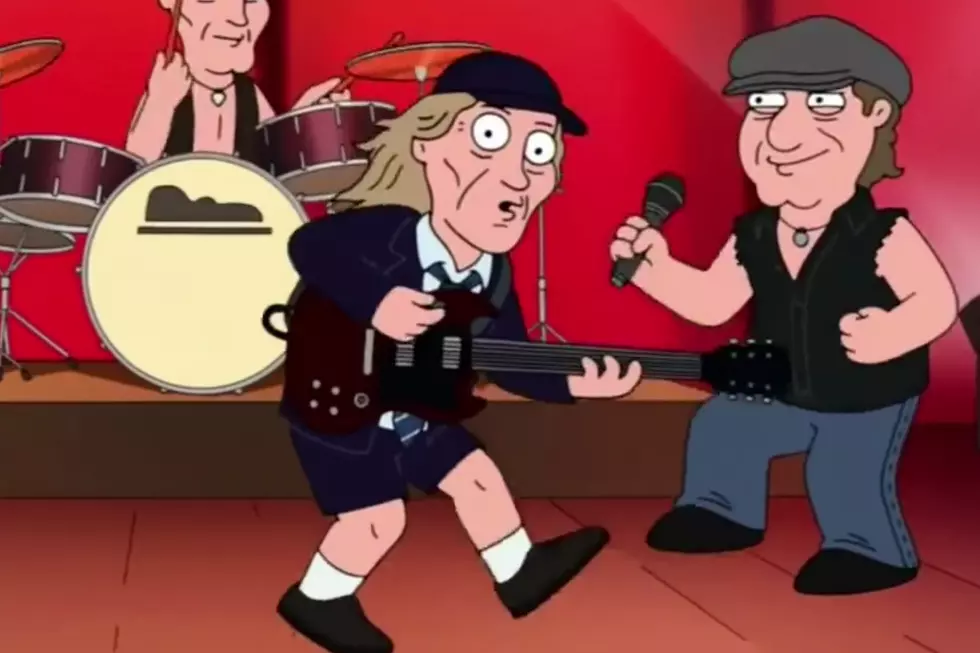 The Best AC/DC Songs That Are Not Actually by AC/DC
YouTube
Few classic-rock catalogs command as much respect as AC/DC's. Their longevity speaks for itself. But perhaps nothing speaks louder than the band's deceivingly simple and straightforward songwriting style. Unlike, say, Led Zeppelin, their approach has both influenced and encouraged countless bands to learn their craft covering AC/DC songs.
Another surprisingly long list of bands has gone the extra step of writing their own songs using the AC/DC template, and it is to those bands that this list is dedicated. Sure, some may look down upon these acts for borrowing from AC/DC instead of carving their own style, but don't forget that imitation is the sincerest form of flattery:
10

'Black Shuck'

The Darkness

From: 'Permission to Land' (2003)

The opening number from the Darkness' 2003 debut is an unapologetic ode to everything AC/DC … at least until the screeching starts. Even then, only the most cynical of critics could possibly condemn the raunchy delivery and clean but punchy, 'Mutt' Lange-esque production that makes "Black Shuck" an obvious tribute to the classic Back in Black album. Come to think of it, the screeching on that record is also pretty intense!

9

From: 'King of the Road' (2000)

Probably this list's biggest wild card comes from desert rock pioneers Fu Manchu, whose churning stoner grooves and discreet space rock accents still can't disguise a three-chord AC/DC-inspired foot-stomper when we hear one. "Over the Edge" from 2000's King of the Road is our chosen culprit, as it locks into a steady four-four beat that Phil Rudd would no doubt endorse, before barreling off into the sunset like the vintage hot rod vans the band is so fond of.

8

'Rockin' is Ma' Business'

The Four Horsemen

From: 'Nobody Said it was Easy' (1991)

Shortly after he helped spearhead the Cult's AC/DC-worshipping Electric album (see below), future producer-to-the-stars Rick Rubin began stockpiling new bands for his own vanity label, American Recordings, ranging from thrash titans Slayer and Chicago doom legends Trouble to unheard upstarts like the Black Crowes and The Four Horsemen. The latter – formed by ex-Zodiac Mindwarp member and Cult touring bassist Haggis – was sadly soon forgotten, but "Rockin' is My Business" remains a bastion of blue-collar hard rock glory.

7

From: 'Blow My Fuse' (1988)

They eventually caved to record label pressures toward the end of their long, underrated career by recording ballads, teasing their hair, applying makeup, and generally dressing like a bunch of new wave hookers, but the Maryland quasi-legendary Kix really wanted nothing more than to follow in the Young brothers' footsteps. The stubbornly denim-clad title track of the band's 1988 release, Blow My Fuse, still proves as much, and it obviously fits the starvation-wiry frames of Kix as musicians more comfortably than spandex and eyeliner ever could.

6

'Let Them Eat Rock'

'The Upper Crust'

From 'Let them Eat Rock' (1995)

Anyone still doubting AC/DC's broad cross-cultural appeal need look no further than the noble gentlemen behind Boston-based satirists the Upper Crust, whose 18th-century French aristocrat wardrobe (complete with powdered wigs, frilly shirts, golden slippers, and high-born arrogance) in no way precludes their raucous ability to bring Le Roque! Need we say more? Let's just allow the original video to speak for itself.

5

From: 'Runnin' Wild' (2007)

One of the latest AC/DC disciples to emerge from the land down under, Airbourne even cut their baby teeth on the same, tough-as-nails, Australian pub rock circuit as their heroes, and this clearly toughened them up for the sonic punch in the gut that is 2007's Runnin' Wild. Led by the O'Keefe siblings, Airbourne is one of the few bands on this list that sounds more like Brian Johnson-era AC/DC than Bon Scott's. Question them on the matter, if you dare.

4

'Rock & Roll Tried to Ruin My Life'

Supagroup

From: 'Rock & Roll Tried to Ruin My Life' (2001)

This hyper-ironic nugget comes courtesy of Supagroup, a New Orleans-based band that is actually led by a pair of Alaskan-born bothers, Chris and Benji Lee. To make things even more interesting, they also claim distant kinship to martial-arts master Bruce Lee, if you can believe that. One thing's for certain: You won't find a more amusing, tongue-in-cheek lyric than "Rock & Roll Tried to Ruin My Life" this side of Bon Scott, nor a more seizure-prone Angus-like stage performer than lead guitar shredder Benji.

3

From: 'I'm a Rebel' (1980)

A few years before they gained worldwide renown for putting their "Balls to the Wall," as it were, Germany's Accept was still grappling with its musical identity when hard rock heaven literally fell into their laps, in the shape of a demo called "I'm a Rebel." Why? Well, turns out this fist-pumping anthem was penned by none other than Angus and Malcolm's older brother, Alex Young, but discarded by the band after a demo recording. As it turned out, the Youngs' embarrassment of songwriting riches gave Accept's career the kick in the arse it needed, and the rest is Teutonic metal history.

2

From: 'Electric' (1987)

The Cult's musical transformation between 1985's neo-psych masterpiece Love and 1987's born-again hard-rock statement Electric – epitomized by the Spartan power chord crunch of "Wild Flower" – is arguably without peer in the annals of rock. From incense and peppermints to burgers and beer, only Ian Astbury's flower-child lyrics survived this radical sonic makeover once Rick Rubin took over the reins. He was, of course, on his way to producing AC/DC's Ballbreaker album, some eight years later.

1

'One Night Stand'

Rhino Bucket

From: 'Rhino Bucket' (1990)

The reigning and still undisputed champion of AC/DC soundalikes, Rhino Bucket's "One Night Stand" is quite simply the great, lost AC/DC song that never was. It's so accurately reverential that the Aussie legends could probably cover it and even their fans wouldn't notice a difference. Much of the credit for this goes to the gargled-glass delivery and innuendo-laced double entendres delivered by Swedish born singer Georg Dolivo (a Bon Scott ringer through and through), but the song's three-chord riff is also effortless, simple perfection. Talk about a perfect "One Night Stand."
More From Ultimate Classic Rock