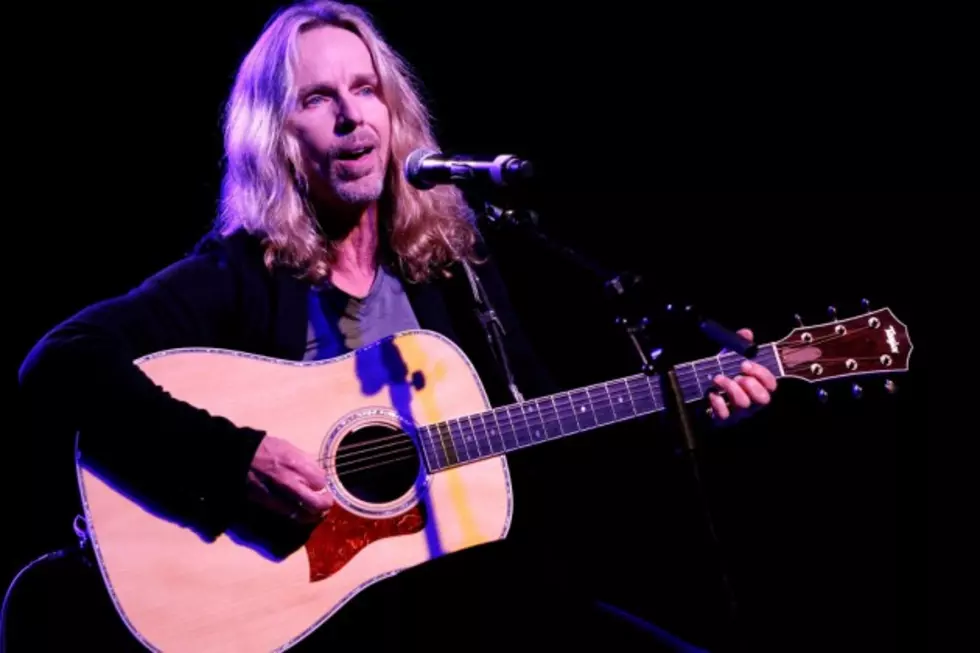 Tommy Shaw Talks About Styx Touring With Def Leppard, Writing New Music + More: Exclusive Interview
Terry Wyatt, Getty Images
Styx are gearing up to hit the road in June with Def Leppard for a summer full of rock 'n' roll at outdoor venues across the U.S. The two bands sealed a bond when they previously toured together in 2007 and, as Tommy Shaw tells Ultimate Classic Rock during a rare interview recently, he has fond memories of the trek and can't wait to do it again.
"We just loved those guys. You know, we didn't know them," Shaw admits. "But from day one when we met them, they put our minds at ease and their dressing room doors were always open. They were in our dressing rooms and it was just a very funny, happy place, but very professionally run."
"Then there was the music, good God, they are so f--king good! My daughter was in her early 20s when we toured with them and she came out and she flipped," he recalls. "She had no idea they were that good and she became an instant Def Leppard fan and still is."
The music of the Chicago-bred band has endured for more than four decades and their songs have survived the trends that have come and gone. "We had the insurance policy of being in what became classic rock status," Shaw says. "We didn't used to call it classic rock; it was just rock."
As he looks out into the seats each night, he sees an audience that continues to get younger and younger.
"It is amazing. I'm not really sure exactly what's happening with it. It's probably a bunch of things. It's probably kids whose parents were fans or their older brother or sister or whatever. But some of them, I don't really know how [they're finding it]," he says. "You know, everything's so accessible from iTunes and Amazon and the internet and all of the music sites that it's easy to [listen to]. Even on our website, if you're a member, you can go on there and all of the albums are on there and you can sample every single song on all of the albums. So it's a lot easier to listen to music than it used to be."
"You used to have to go out and buy it take it home and you had to invest in it and commit to it and if it wasn't any good, you were like, 'S---!' But now, in addition to that, so many people are releasing things on vinyl, just because MP3s got so tiny and thin that I think when people finally went back and listened to albums, they were like, 'Wait a minute -- this is three-dimensional and that's flat.' Shaw says. "It's nice -- I can get my entire record collection in MP3s on my phone and play them through the little speaker on the phone, but when you play a full frequency album, it's the original high-resolution recording and you're sitting between the two speakers. You don't have to explain anything -- it speaks for itself."
The band recently played a series of symphony shows in Nashville that reunited them with conductor Liza Grossman, who was on the stand previously with Cleveland's Contemporary Youth Orchestra when Styx recorded their symphonic live DVD in 2006.
"We had been invited by the symphony to do it. We hadn't played one of those shows in a few years and it's Nashville, I just assumed it's going to be a kick-ass symphony and of course it was," he says. "To have Liza, you know, she's our connection with the symphony. She is so good and such a great spirit that they're immediately drawn to her and they trusted her."
"She knows our body language and she can make that link between this crusty rock band, to have the discipline to stay linked up with the symphony. But the one thing about Styx is that we are very quick studies with things," Shaw explains. "We pay attention and we take notes. We had one full rehearsal, which amounted to about two hours and 15 minutes, the night before the first concert. We made our notes and came back the next day and had about an hour and touched on all of those notes and everything had sunk in from the day before and it was the same with the orchestra.
"They're all such pros that by the time we struck the first note on the first night it was so tight and so good that it was mind-blowing," he recalls. "I don't know about you, but I think of orchestras and I think of the theme of Star Wars or beautiful symphonies and symphony halls or a great score at the end of the film. All of these grand things and it elevates whatever those themes are to this place where it's magical. To have your music treated that way, it makes you feel like a child. It was like Christmas when you still believe in Santa Claus -- it's that sort of thing. So you have to divorce yourself from it a little bit, because otherwise you'll just be drawn in and you can't just be a fan up there. You've got to do your part."
Shaw reveals that it's very possible that the Nashville shows might lead to further symphonic dates. "As a result of doing the three nights with the symphony in Nashville, we realized that with Liza as our guest conductor, it really makes it pretty easy," he says.
"There's work to be done, but we have all of our charts and we're looking to have a few more things charted. We've gotten a bunch of offers already to do some more symphony shows, so maybe next year in 2016 and 2017, we'll do some special event symphony shows like the Nashville thing was."
Fans can also look forward to new music on several fronts from Shaw, who says he's working on a few different things. "Ever since the bluegrass album, that kind of woke up the writer in me again," he says. "So I'm writing some stuff for what will be more like an Americana solo album. We're [also] working on some new Styx music, just taking our time with it. We've always been creating a little stuff. We don't really have any plans to release an album, but there's stuff in the works."
See Styx and Other Rockers in the Top 100 Albums of the '80s
The 10 Worst Rock and Roll Hall of Fame Snubs
More From Ultimate Classic Rock