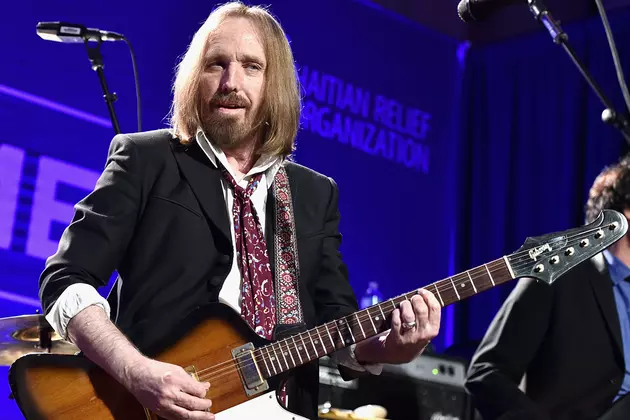 Tom Petty's Mudcrutch Announces First Show Since 2008
Alberto E. Rodriguez, Getty Images
Mudcrutch, the band that Tom Petty was in before he and two its members formed the Heartbreakers, is gearing up for summer activity. Today, their first live date in eight years was announced.
Petty began talking about creating a follow-up to Mudcrutch's 2008 self-titled album last summer. He said that the band, which featured Heartbreakers Mike Campbell and Benmont Tench were "frantically working on material for that right now, really over the past month. The good thing is that everybody brings in a song so I don't have to write 12 or something. But I'm working on it. Some of the most fun I have is those Mudcrutch sessions. It was just so much fun and I think that's one of the better albums I was ever involved in. I'm hoping it's something like that again."
Before Petty reconvened them in 2007, Mudcrutch were mostly a footnote in Petty's history. He formed the band -- playing bass -- in 1970 with guitarist Tom Leadon (brother of Bernie Leadon of the Eagles) in Gainesville, Fla., and eventually added Campbell, Tench and drummer Randall Marsh. Leadon left in 1973 and was replaced by Danny Roberts, but returned for the reunion. The group was signed to Shelter Records, but broke up after their first single, "Depot Street," flopped. Four of the songs they recorded, "On the Street," "Depot Street" "Up in Mississippi Tonight" and an early version of "Don't Do Me Like That," can be found on Petty's 1995 boxed set Playback.
The album they eventually released in 2008 reached No. 8 on the Billboard 200, and the band did a brief tour of California. Petty said last year that they were looking to do more shows when the new record comes out. "Last time we were kinda under the gun because there was a big Heartbreakers tour coming up not long after that, so we didn't have a lot of time," he said. "We kind of just ran up and down the West Coast real fast and did a fairly long stand at the Troubadour. Those were really fun gigs. It's a totally different thing than the Heartbreakers. It's a different rhythm section. It's a different style of music."
See Tom Petty and Other Rockers in the Top 100 Albums of the '70s
More From Ultimate Classic Rock