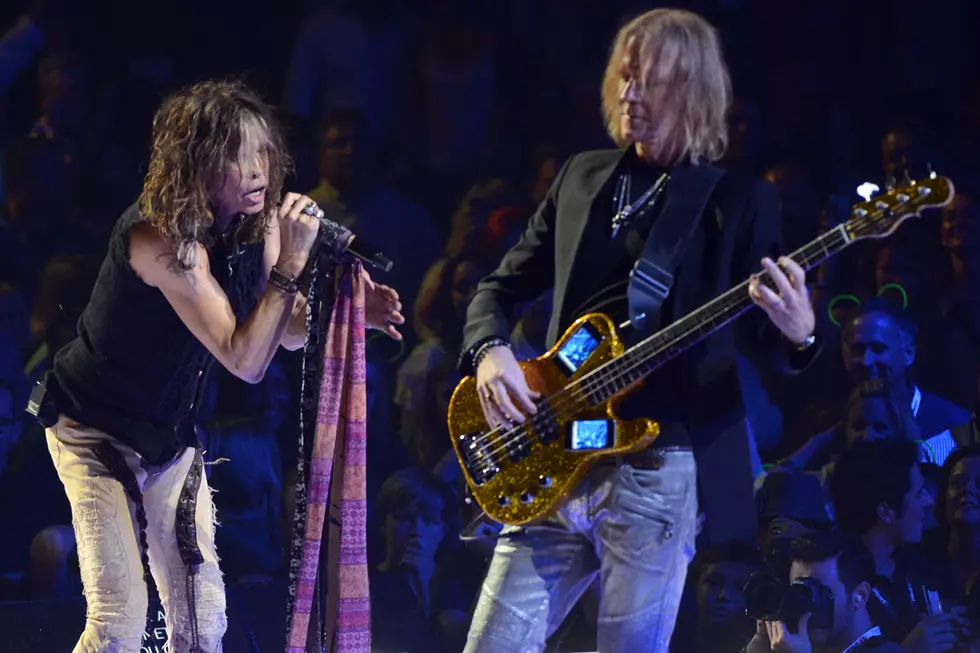 Tom Hamilton Says Aerosmith Is Not Mad About Steven Tyler's Solo Album
Michael Kovac, Getty Images
As it turns out, Aerosmith do not have a problem with Steven Tyler's decision to go off and make a solo country album. In a new interview, bassist Tom Hamilton offered his full support, refuting his singer's belief that the other members were upset by his decision.
Speaking to Digital Journal, Hamilton said, "I saw that quote where he sort of made a blanket remark that we're mad at him for doing it, which is ridiculous - that's his own perception."
Last month, Tyler discussed his band's reaction to his upcoming record by saying, "I'm sure they're not happy. But Joe [Perry] has done five solo albums. I just thought, 'Hey, it's my turn in the barrel.' This is a side project, which has now turned into a love of life. I think we got something here that the radio would love to play. Look, that's why I'm in it. I love to take the f---ing power to wow to the 100th degree. It's just what I do."
"It's funny," Hamilton continued. "Sometimes he'll talk about how he's been persecuted by the band over the years, but whatever... If it causes drama, let's show that! He wanted to do this creative exercise of going and making an album, and I can't blame him for wanting to do it. Joe's done it before, I'd love to do it someday. Why be angry about it?"
Tyler has been working on his album down in Nashville since the spring. In May, he released the first single, "Love Is Your Name," and will return to Music City to complete the record after the conclusion of Aerosmith's summer tour. There is no scheduled release date for the as-yet untitled record.
Aerosmith Albums Ranked Worst to Best
See Aerosmith in Rock's Most Criminally Underrated Albums
More From Ultimate Classic Rock