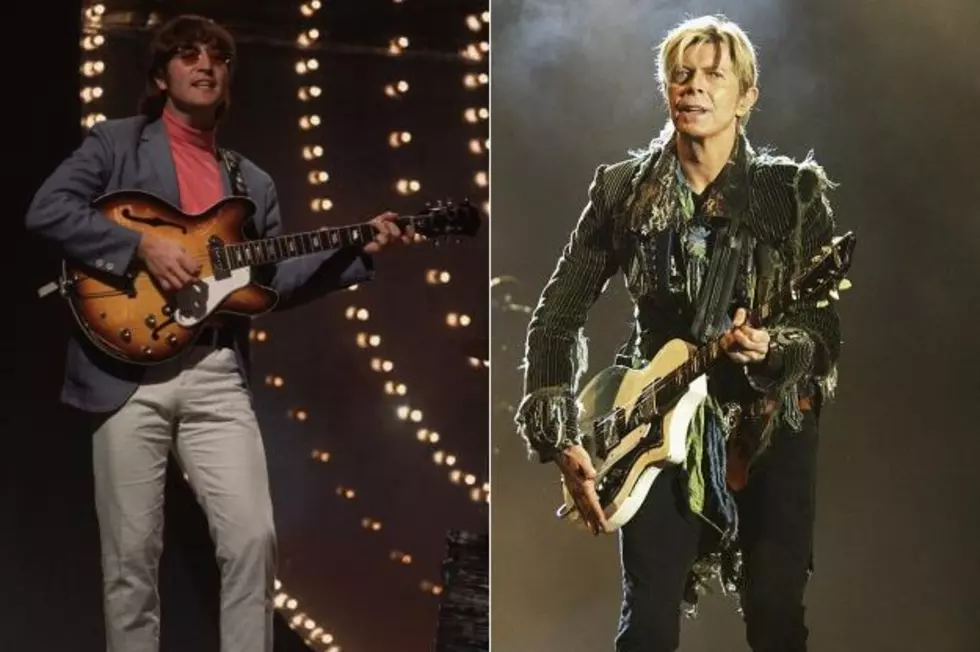 Tangerine Dream Cover the Beatles, David Bowie on New Album
Hulton Archive / Jo Hale, Getty Images
On Tuesday (Oct. 16), Tangerine Dream released 'Under Cover.' The album finds the pioneering German electronic group performing covers of songs by their musical heroes, contemporaries and bands that have been influenced by their work.
Tangerine Dream, who were famously described by legendary rock critic Lester Bangs in 1977 as sounding "like silt seeping on the ocean floor," tackle such classics as the Beatles' 'Norwegian Wood' and 'Wish You Were Here' by Pink Floyd. Two songs by David Bowie -- 'Space Oddity' and 'Heroes' -- are also included. And, since it's a covers album, international law requires that a version of Leonard Cohen's 'Hallelujah' be included. You can stream their take on 'Space Oddity' from their Soundcloud page.
As the press release says, "Each member of the band selected tracks that intimately resonated with them. [Edgar] Froese chose 'Everybody Hurts,' 'Space Oddity,' and 'Heroes' on which he played synth, mellotron, and provided vocals. Percussionist/drummer Iris Camaa selected 'Wicked Game,' 'Hotel California' and 'Iris.' Flutist and singer Linda Spa chose 'The Model,' 'Suzanne,' and 'Forever Young.' Thorsten Quaeschning, main vocalist and synth/guitar player, chose 'Cry Little Sister,' 'Precious', and 'Hallelujah.' Guitarist Bernhard Beibl elected to cover 'Norwegian Wood' and 'Wish You Were Here'.
If Wikipedia's discography can be believed, 'Under Cover' is the 95th studio album Tangerine Dream has released since their recording career began in 1969.
Tangerine Dream's 'Under Cover' Track Listing:
1.'Cry Little Sister' (Gerard McMann)
2. 'Everybody Hurts' (R.E.M.)
3. 'Precious' (Depeche Mode)
4. 'Space Oddity' (David Bowie)
5. 'The Model' (Kraftwerk)
6. 'Wicked Game' (Chris Isaak)
7. 'Hotel California' (Eagles)
8. 'Suzanne' (Leonard Cohen)
9. 'Heroes' (David Bowie)
10. 'Forever Young' (Alphaville)
11. 'Iris' (Goo Goo Dolls)
12. 'Norwegian Wood' (Beatles)
13. 'Hallelujah' (Leonard Cohen)
14. 'Wish You Were Here' (Pink Floyd)
More From Ultimate Classic Rock