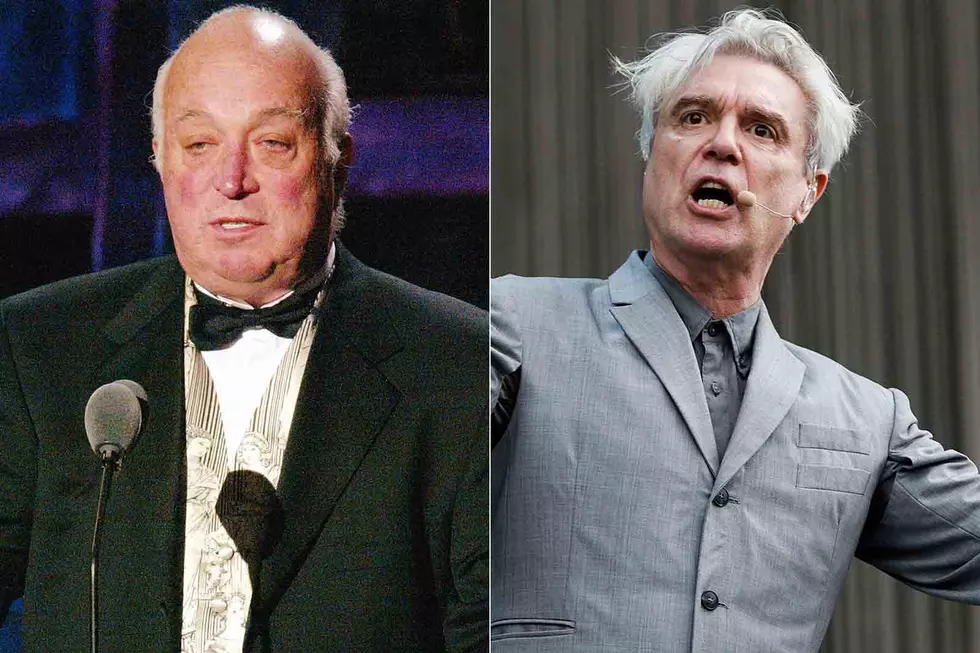 How Seymour Stein Resolved Radio's Resistance to Talking Heads
Frank Micelotta / Alessandra del Bene, Getty Images
Talking Heads drummer Chris Frantz paid tribute to late record label boss Seymour Stein and recalled how the exec dealt with radio stations' refusal to play the band's records.
Stein was visiting the CBGB club in New York City in 1975, intending to sign the Ramones to his Sire Records company, when he heard Talking Heads performing their support slot. He immediately wanted to sign them too and waited more than 18 months until Frantz, David Byrne and Tina Weymouth felt ready to cut a deal.
"Seymour was a good match for us," Frantz wrote in an article for Variety. "He understood us and accepted our eccentricities. He liked that we were smart and knew about art. Not very many record company guys understood or even cared about Talking Heads at that time, but Seymour believed in us from the beginning and his support never wavered."
He added that "there was some serious resistance on the part of American radio to play punk music. Program directors would say, 'Oh, we don't play punk music. We only play good music,' and because we came out of CBGB and had a song called 'Psycho Killer,' they assumed we were punk.
"Seymour had an idea. Inspired by French Nouvelle Vague cinema, he coined the term 'new wave.' He said, 'Talking Heads are not punk. Talking Heads are new wave,' and the radio guys would say, 'Oh, really? Well, I guess we could play new wave.' Before you knew it, our version of Al Green's 'Take Me to the River' was suddenly getting AM and FM airplay."
Frantz reflected that Stein's reputation as a "collector of bands" was accurate. "He loved the chase and traveled the world, particularly England, in search of new bands," the drummer said. "He could recognize a diamond in the rough. That's why he had a stable of such great bands on Sire. He discovered and signed them before anybody else had even heard of them.
"We had so much fun together back then and though we hadn't seen each other very often of late, we remember the many good times we had with Seymour in New York, London, Paris and Hamburg. We also remember how much he lived and loved the music. He was our champion from the beginning to the end and for that, Seymour, we thank you."
Talking Heads Albums Ranked Worst to Best
For the decade and a half that they held it together, Talking Heads led a charmed musical career.
More From Ultimate Classic Rock