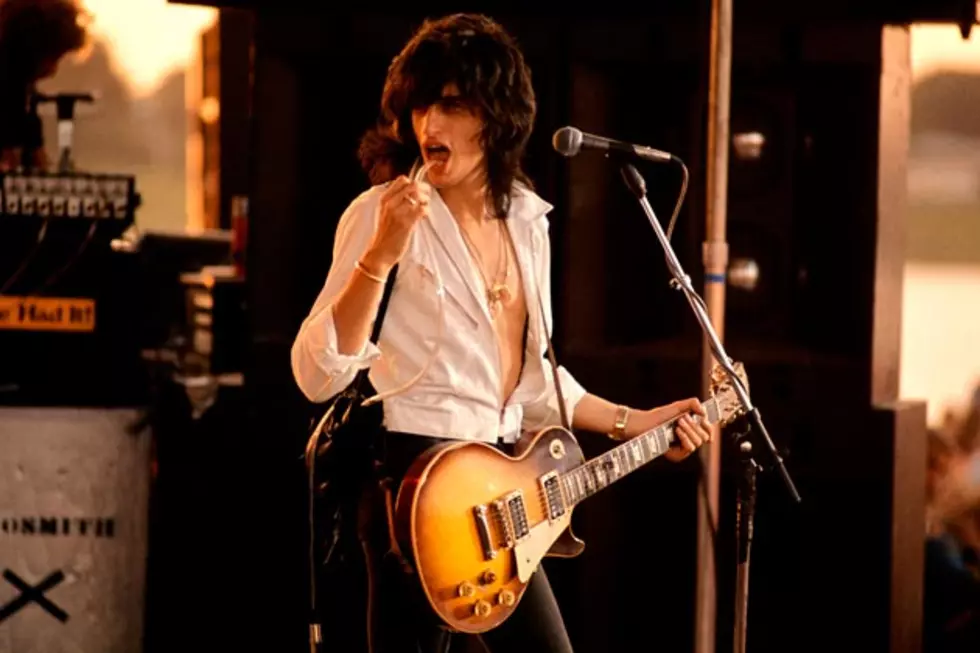 Fin Costello, Redferns, Getty Images
Trying to explain how the talk box works can be confusing as hell. "There's this tube, you see, and it's connected to this box, which is connected to the guitar, and then you sing into the mic ..." It's best just to say something like, "You know that thing that makes
Peter Frampton
 sound like a robot?
That's
a talk box," and be done with it. It's way too technical for us to understand. All we know is that it looks like a beer bong, sounds cool and lots of artists have used it over the years, especially in the '70s (that's
Aerosmith
's
Joe Perry
 with one in the above photo). Our list of the Top 10 Talk Box Songs includes everything from subtle solos to entire conversations delivered by our future robot overlords.
10

'Haitian Divorce'

Steely Dan

On the surface, it may seem that Steely Dan are among the most unlikely of bands to use a talk box, given their perfection in the studio and the relative novelty of the device. But the group was one of the most sonically adventurous of the era, employing electric sitar, jazzy arrangements and studio pros who weren't afraid to branch off into weird, wonderful directions. The talk-box solo on 'Haitian Divorce' is performed by session guitarist Dean Parks, who played it straight on his instrument. Steely Dan's Walter Becker later went in and tinkered with it on a talk box.

9

'Pigs (Three Different Ones)'

Pink Floyd

Roger Waters more or less based Pink Floyd's 1977 concept album 'Animals' on George Orwell's classic 'Animal Farm,' in which animals represent different social classes. The 11-minute 'Pigs (Three Different Ones)' focuses on the wealthiest and those in power, so it's no surprise that Waters chose pigs to be their surrogates. About halfway through the song, guitarist David Gilmour slips into the mix with a solo heavy on talk-box effects that nails both the anger and meaningless of the words being spewed in the barnyard of political waste.

8

'Kickstart My Heart'

Motley Crue

Like Bon Jovi's 'Livin' on a Prayer' (see No. 3 on our list of the Top 10 Talk Box Songs), Motley Crue's 'Kickstart My Heart' was a little late to the talk-box party. Showing up in 1989, just a few years before Vince Neil left the band and was temporarily replaced by John Corabi, it was also almost too late to the Crue's party. In fact, Nikki Sixx wrote it after he was declared dead following a heroin overdose. Guitarist Mick Mars lets loose at the end of the song with a series of talk box solos that acts like the '70s, and the party, never ended.

7

Joe Walsh, no stranger to the talk box (see No. 1 on our list of the Top 10 Talk Box Songs), dusted off his trusty box for this cut from the Eagles' 'The Long Run' album, and then invited the band's other guitarist, Don Felder, to join him on some double talk-box action. There may be other double talk-box solos out there; we don't know. And we really don't care, because there's no way it beats Walsh and Felder's showdown on this buzzing cut. Supreme awesomeness all around.

6

'Do You Feel Like We Do'

Peter Frampton

More than any other artist, Peter Frampton is pretty much the guy you think of when you hear the words "talk box." His 1976 mega-popular 'Frampton Comes Alive!' album brought it into unsuspecting households, and the album's top two tracks, 'Do You Feel Like We Do' and 'Show Me the Way' (see No. 4 on our list of the Top 10 Talk Box Songs), are essentially built on the device. The former includes an extended midsection that redefines the guitar solo and twists it into something that sounds an awful lot like a dialogue between an audience and the robot onstage.

5

'Hair of the Dog'

Nazareth

The talk-box solo on 'Hair of the Dog' doesn't really call too much attention to itself. It doesn't show off. It doesn't try to strike up a conversation with you. And it doesn't force its way into the mix. It eases so effortlessly into the song that, really, you hardly notice it's there. Also, Nazareth's rhythm section is so air-tight here that the solo essentially just maneuvers itself into whatever open space it can find, and then does its thing for a glorious 40 seconds or so.

4

'Show Me the Way'

Peter Frampton

Few artists have mastered the art of the talk box the way Peter Frampton has. Even though there were songs featuring the effects device before his 'Frampton Comes Alive!' brought robotic murmurs into homes across the globe in 1976, and after it started filling up used-record bins a few years later, two Frampton talk-box milestones have forever pinned the artist to the unit. 'Do You Feel Like We Do' shows up elsewhere on our list of Top 10 Talk Box Songs; 'Show Me the Way' is the pinnacle, weaving in and out of Frampton's best song with an effortless grace that makes it sound almost natural in the setting.

3

'Livin' on a Prayer'

Bon Jovi

The talk box was pretty much dead and forgotten by the time Bon Jovi guitarist Richie Sambora dragged one out in 1986 for the band's eternal No. 1 hit 'Livin' on a Prayer.' He doesn't waste any time putting it to use either, working it hard on the song's intro and carrying it through to the verses. It would all seem like a Jonny-Come-Lately novelty if the song wasn't so great. Loaded with Bon Jovi's all-time greatest hook -- hell, we'll go as far as to say it may be the greatest hook of its era -- 'Livin' on a Prayer' doesn't really need a talk box. But admit it: You'd miss it if it wasn't there.

2

There's a whole lot to like about Aerosmith's 1975 classic, especially the monster riff that plows throughout the song. But it's that opening bit, where guitarist Joe Perry hums the song's title like a robot wrestling with feelings, that pulls us in every time. The talk box is used almost as a narrative device on 'Sweet Emotion,' more so than any other cut on our list of Top 10 Talk Box Songs, where it takes its place alongside the other instruments. It's almost begging for attention here, and we gladly give it, every single time.

1

'Rocky Mountain Way'

Joe Walsh

The basic concept for the talk box was around before Joe Walsh used it on his 1973 song 'Rocky Mountain Way' and pretty much sealed its destiny with adventurous rock guitarists. But the guy who invented the one almost every rocker uses, sound engineer Bob Heil, manufactured the model Walsh plays on 'Rocky Mountain Way' (Peter Frampton and Bon Jovi's Richie Sambora also used this version). The distinct tone gives Walsh's blues stomp a futuristic wave, as if a hulking mechanical beast was looming just over those rocky mountains. What could have been a gimmick totally transforms the song into a '70s barnstormer.
More From Ultimate Classic Rock