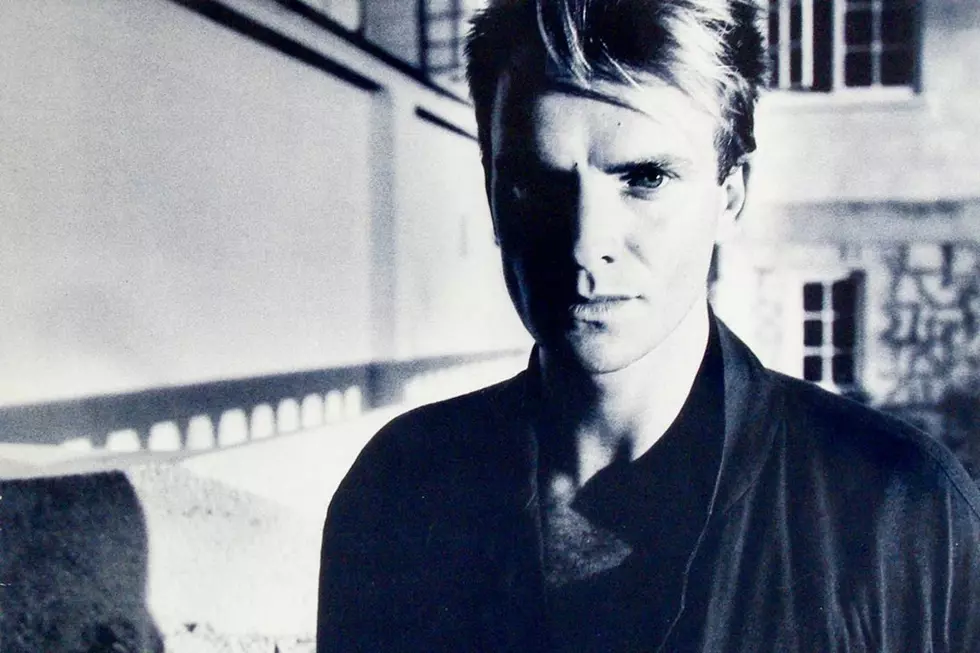 When Sting Left the Police for 'Dream of the Blue Turtles'
A&M
Love him or hate him, you've got to give Sting this much: It takes major cojones to bring your band to a screeching halt and embark on a solo career immediately after achieving your greatest commercial success.
"This decision, I admit, was not particularly logical," Sting reflected in his 2007 book Lyrics. Noting that there were doubts in his circle as to whether it was truly the wisest idea to abandon the Police after they'd conquered the world with Synchronicity, he said he chose to believe instead "that the momentum of the band had been such that people would at least be curious about what I was up to."
Like the other rock frontmen who flew the coop after setting new sales peaks with their bands in the mid-'80s (including Van Halen's David Lee Roth and Chicago's Peter Cetera), Sting had the important advantage of owning the voice that listeners associated with his own greatest hits. Even so, what he was up to didn't end up having a tremendous amount in common, musically speaking, with what he'd done before.
But as Sting proved with his solo debut, The Dream of the Blue Turtles, the restlessness he'd always shown within the restrictive rock format had only grown since Synchronicity: He wanted to erode the boundaries between rock and jazz by recruiting a group of musicians talented enough to play in a vocabulary that combined elements of both.
Watch Sting's Video for 'Fortress Around Your Heart'
"My intention was to use musicians who had the finesse of playing jazz, but to make music without that label. I think we got enough spontaneity on the record and yet enough discipline to have gone into areas that most pop records don't go," Sting told Record. "A lot of people will be surprised at how this album sounds, because it isn't jazz but nor is it a mainstream pop album. It will be interesting to see how radio adjusts to it. If they adjust at all."
They'd ultimately adjust to it quite well. Released on June 1, 1985, The Dream of the Blue Turtles was a No. 2 success on the Billboard chart, selling three million copies and spinning off a quartet of Top 40 singles: "If You Love Somebody Set Them Free," "Russians," "Fortress Around Your Heart" and "Love Is the Seventh Wave." Generally well reviewed, it also went on to garner a pair of Grammy nominations – one for Best Pop Vocal Performance, Male and another for Album of the Year.
It certainly helped that while Sting did what he set out to do in terms of enlisting brilliant musicians — including saxophonist Branford Marsalis, keyboard player Kenny Kirkland, drummer Omar Hakim and future Rolling Stones bassist Darryl Jones. He was still speaking essentially the same language he always had, dispensing intelligently written pop with literate lyrics and globetrotting arrangements.
As the airwaves attested, he hadn't lost his way with a catchy hook, and sometimes — as with "Fortress Around Your Heart" — it even sounded a little like the Police. In other words, The Dream of the Blue Turtles was nowhere near as odd as its title — an evocative image that Sting said was inspired by an actual dream.
Watch Sting's Video for 'Russians'
"I had a dream that I was back home in Hampshire, looking out the window into this big walled-in garden I have out back with its very neat flower bed and foliage. Suddenly, out of a hole in the wall came these large, macho, aggressive and quite drunk blue turtles. They started doing back- flips and other acrobatics, in the process utterly destroying my garden," he told Spin.
"For me, the turtles are symbols of the sub-conscious, living under the sea, full of unrealized potential, very Jungian in their meaning," he added. "I wanted to destroy a lot of preconceptions and expectations, and do something unsettlingly different. These blue turtles, these musicians, were gonna help me. And they did."
That might be stretching it a bit, but Sting's enthusiasm was easy to understand; after years of working within the confines of a trio, he was free to write and record with whatever configuration he saw fit — and as his solo success continued to grow, he banked that capital for future use on projects that really challenged expectations, like Songs From the Labyrinth, his 2006 collection of lute music. They haven't all been received as well as The Dream of the Blue Turtles, but even in 1985, Sting made it clear he wasn't worried about that anyway.
"The more people pigeonhole me, the more my freedom is impaired. I want to be able to change what I do," he told Record. "I get bored very easily. My threshold for boredom is very, very low."
Police Albums Ranked 
More From Ultimate Classic Rock