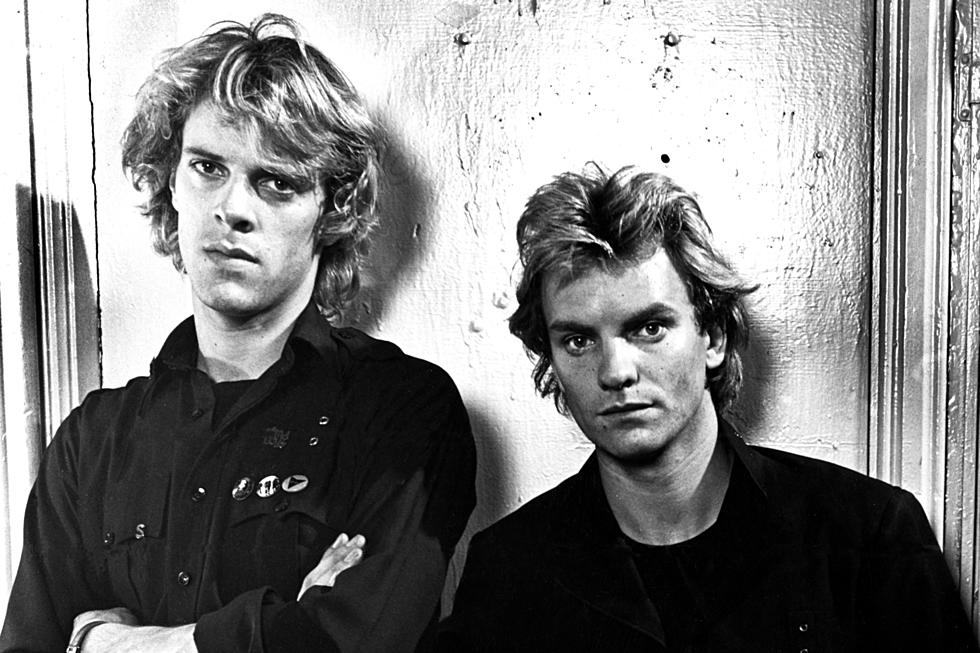 Stewart Copeland Admits Wanting to 'Choke the Life out of' Sting
Gijsbert Hanekroot/Redferns, Getty Images
Stewart Copeland has revisited the Police's tumultuous final days, admitting there were times when he wanted to "choke the life out of" Sting.
By the time the band released their fifth – and ultimately last – studio album, Synchronicity, things within the Police had become "hell on earth."
"It was a very uncomfortable place — and we drove each other crazy," Copeland recalled during a recent interview with the New York Post. "We now understand where all that tension came from. And in fact, given that understanding, I'm very grateful that we got as many as five albums out of Stingo, because by then … he had a very clear idea of how the arrangements should go."
Read More: The Police's 'Synchronicity': 40 Facts You May Not Know
The drummer further noted that much of the discourse between he and Sting stemmed from differing opinions on the band's direction.
"At first, it was collaboration," Copeland noted of the band's songwriting dynamic. "It became more and more compromise for him — and it got tougher and tougher for him to make those compromises."
Copeland joked that the band's breakup ultimately prevented a frontman homicide. He further noted that the moments he really erupted at Sting were when the singer gave notes on the drum parts.
READ MORE: All 70 Police Songs Ranked Worst to Best
"The times when I came the closest to homicide, the times when it became absolutely critical that I choke the life out of this man, were when he would come over to me and tell me something about the hi-hat," Copeland admitted.
In hindsight, the drummer recognizes that he and Sting had differing philosophies, both of which were valid.
"Sting was looking for a beautiful place, and to create something serene and moving and, dare I say, intellectual," Copeland explained. "For me, it's about burning down the house — it's a party."
Stewart Copeland's New Book Chronicles the Police
In the new book Stewart Copeland's Police Diaries, the acclaimed drummer recounts his career with the famous trio.
"It's full of my original diary pages, hand-made poster designs, ragged accounts, callow observations and other scribblings of a proto-rock star, illuminated by hitherto unseen vintage photos from the deepest vaults," Copeland noted. "It's a big, noisy book about one heckuva ride."
Stewart Copeland's Police Diaries is available now and can be ordered in various editions, including copies signed by the drummer.
The Police Albums Ranked
They made only handful of records, but all offer plenty of rewards.
Gallery Credit: Michael Gallucci
More From Ultimate Classic Rock