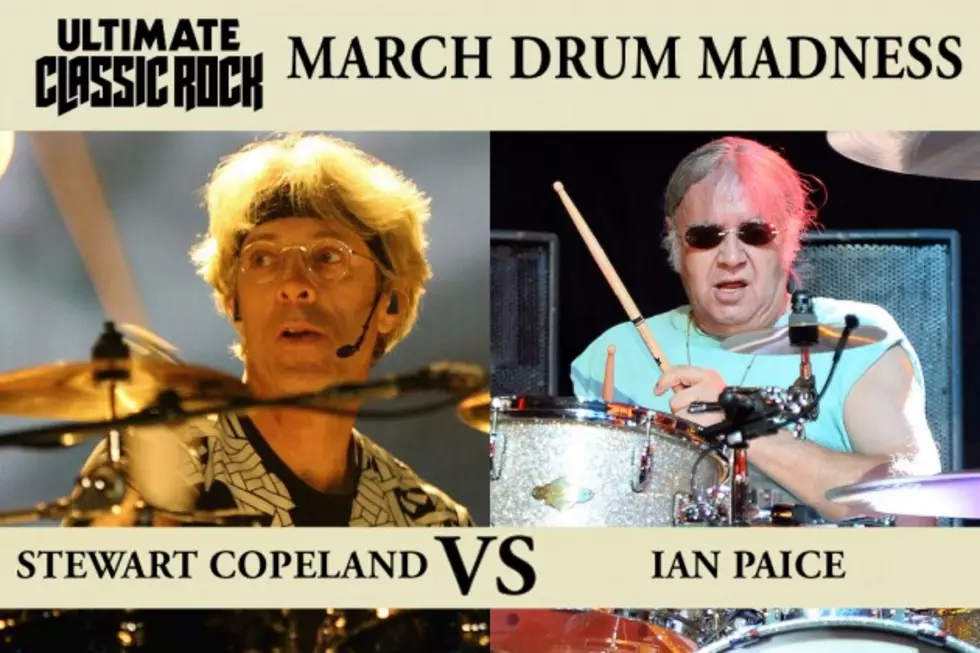 Stewart Copeland vs. Ian Paice: March Drum Madness
Ethan Miller / Getty Images
Stewart Copeland and Ian Paice have almost made it to the end of March Drum Madness, but only one of them will move on to the next round.
We placed 32 of the most famous drummers in classic rock history into our bracket. Now, we've arrived at the Elite 8, and we'll keep cutting that number in half until we arrive at your choice for the greatest rock drummer of all time.
Both drummers pulled off impressive victories in the previous round, with Copeland emerging victorious over Judas Priest's Scott Travis and Paice knocking Ringo Starr out of the running. Copeland notched the more decisive of the two wins, racking up a little more than 70 percent of the vote while Paice squeaked past Starr with 52 percent. Now, Copeland's legacy with the Police goes head-to-head against Paice's decades of service with Deep Purple.
Paice, as the only continuous member of Deep Purple, has time on his side; as of 2013's Now What?!, he's performed on 19 studio albums for the band, along with countless compilations and live LPs, and continues to maintain a dogged touring schedule with the group. Copeland's tenure with the Police was far briefer, but then, that wasn't really his fault — and since the band's breakup in 1986, he's busied himself with an eclectic array of projects, including forays into opera and classical music.
As with the previous round, we're forcing you to choose between some fairly different players here, but you've been up to the task thus far in our 100 percent reader-voted competition, and we're sure you'll be able to cast your ballot. If you can't pick just one, don't worry — you can vote once an hour between now and when the polls close at 11:59PM ET on March 30.
See the Police and Other Rockers in the Top 100 Albums of the '70s