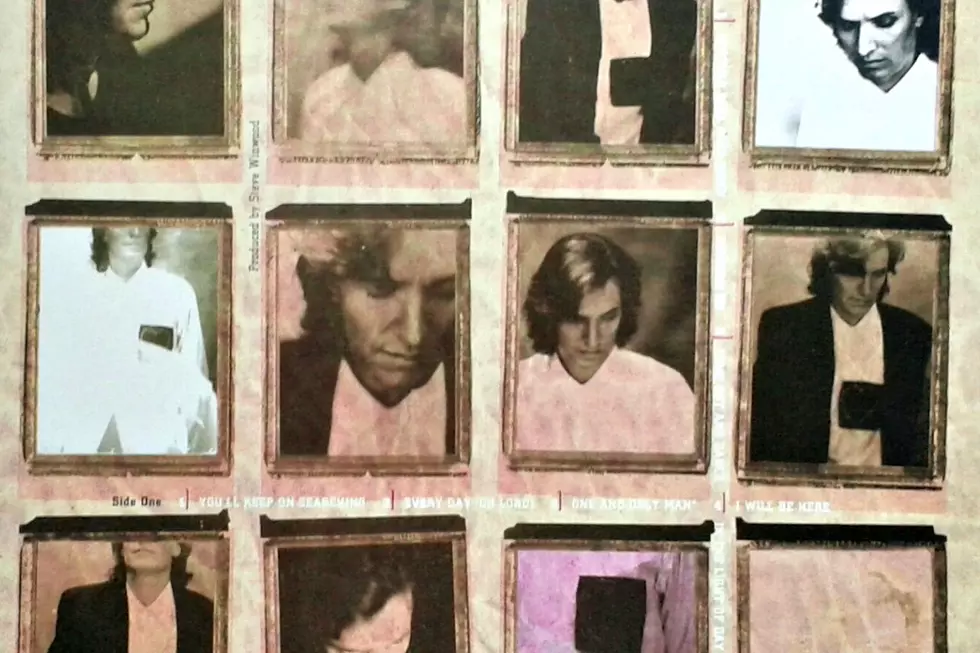 How Steve Winwood Changed Direction on 'Refugees of the Heart'
Virgin
After a relatively low-key first decade as a solo artist, Steve Winwood ended the '80s on a multi-platinum streak, scoring huge hits with a pair of albums that found him making some of the most radio-friendly music from a career that already included an impressive catalog of classics.
Yet even while he racked up Top 40 singles and Grammys with 1986's Back in the High Life and 1988's Roll With It, Winwood faced criticism from fans and pundits who felt he'd forgotten his roots — particularly after Michelob rolled out an ad campaign based around "Don't You Know What the Night Can Do?," Roll With It's third single, complete with moodily lit commercials that looked like 30-second music videos. Although he was far from the only member of his musical peer group to go the corporate-sponsorship route, Winwood's glossy overhauled image was more of a jarring departure from his past — and even though his records had always had strong pop overtones, his drift toward adult contemporary fare struck some as a betrayal.
"Really, your question is about the value of art in the marketplace," Winwood retorted when Rolling Stone pointed out that his solo efforts had grown slicker over the years. "That's a tricky question. It's got to be a balance, and it's hard to get the balance right every time. I spent a lot of years doing stuff where people said, 'That's fantastic,' but nobody bought it. That also is a bad situation, because what are you achieving? You do want to be heard — unless you're trying to create some elitist thing."
Whether or not it was a conscious reaction to that criticism, Winwood's sixth solo album represented a slight step in the other direction. Released Nov. 6, 1990, Refugees of the Heart retained a number of his recent creative cohorts — including lyricist Will Jennings and in-demand engineer/mixer Tom Lord-Alge — while marking something of a return to the longform song structures, jam-friendly arrangements, and deeper lyrics of his earlier efforts and his years as a member of Traffic.
While the album still bore a considerable coat of era-appropriate gloss, and the track listing's preponderance of ballads and mid-tempo cuts was pointed out by countless aggrieved critics, Refugees was a little warmer and looser than its immediate predecessor. Bookended by its lengthiest songs — the six-minute-plus "You'll Keep on Searching" and the nearly 10-minute "In the Light of Day" — the album presented an artist who'd sold enough records, and earned enough confidence, to ignore commercial concerns.
"I didn't care to prove much about whether it conformed, probably, on this album. I think I cared less about that," Winwood told Westwood One. "I didn't really care what anybody thought of it. I did an album that I like. Well, I always do anyway, but I didn't make any concession towards 'this is too long' or 'that instrument or passages are too long' and if the song ended up being 10 minutes long, then I didn't care."
Listen to Steve Winwood Perform 'In the Light of Day'
"I think this album has less concessions to fashion than some of my previous efforts," he added in an interview with International Musician & Recording World. "There are longer instrumental passages and long songs — not really what is considered fashionable in a way. In some ways it's a lot jazzier than others, and in a way it's a bit more like Traffic as an album. It's probably a reaction to the music I tend to hear, there's a lot of packaged music around — 'product music.' It's all very machine-like, both in sound and technique."
Perhaps the track most emblematic of Winwood's feelings regarding Refugees of the Heart is "In the Light of Day," which rounds out the record with sociopolitical commentary and a patiently slow-building arrangement that unfurls over nearly 10 minutes. As Winwood later explained, he and Jennings were inspired to write the song while watching the news of Nelson Mandela's release from prison in early 1990.
"When Will and I wrote the song, it was really a fantasy of ours," Winwood told Rockline. "At that time, there was a lot of trouble in South Africa, and it was our idea of what Nelson Mandela's dream was, while he was in prison. It was really just a fantasy of ours, but that's what we based the song on."
The record also included a co-write with Winwood's former Traffic bandmate Jim Capaldi, who'd returned to his circle of collaborators on Roll With It for the first time since the two worked together on the bulk of Winwood's self-titled 1977 debut. "We'd almost completed the album, but I felt there was something missing," he told Rockline of the hit single "One and Only Man." "In order to keep the album balanced, I tried to get a more up-tempo song. I called Jim and asked him to come up and work with me on this, and he did, and we really wrote it in a day, which surprised us both a bit, but we're both really pleased with the outcome, we're happy with the song."
Ultimately, while Winwood's flirtation with less commercially oriented music might have satisfied some longtime fans, Refugees of the Heart failed to resonate with critics, and its lack of overtly radio-friendly material contributed to a relatively poor chart showing. The album peaked at No. 26 and went gold — a respectable showing, but a noticeable comedown coming on the heels of Roll With It's chart-topping multi-platinum success. Yet if the sales lull bothered Winwood, he didn't show it; in fact, he'd follow Refugees with an album even less in step with Top 40 trends, 1994's surprise Traffic reunion Far from Home.
In retrospect, although Winwood would eventually release another pop record with 1997's Junction Seven, Refugees of the Heart marks the creative turning point where he started settling into elder statesman status while learning to focus more than ever on his life away from the spotlight. "I'm certainly a lot happier than I have been," he mused shortly after Refugees of the Heart was released. "I'm a very happy man at the moment, and I hope the songs reflect that. I've got a family, and I'm happily married, and I think these things kind of come across in songs. Sometimes without trying, sometimes even more subconsciously."
See Traffic Among the Top 100 Albums of the '70s
More From Ultimate Classic Rock