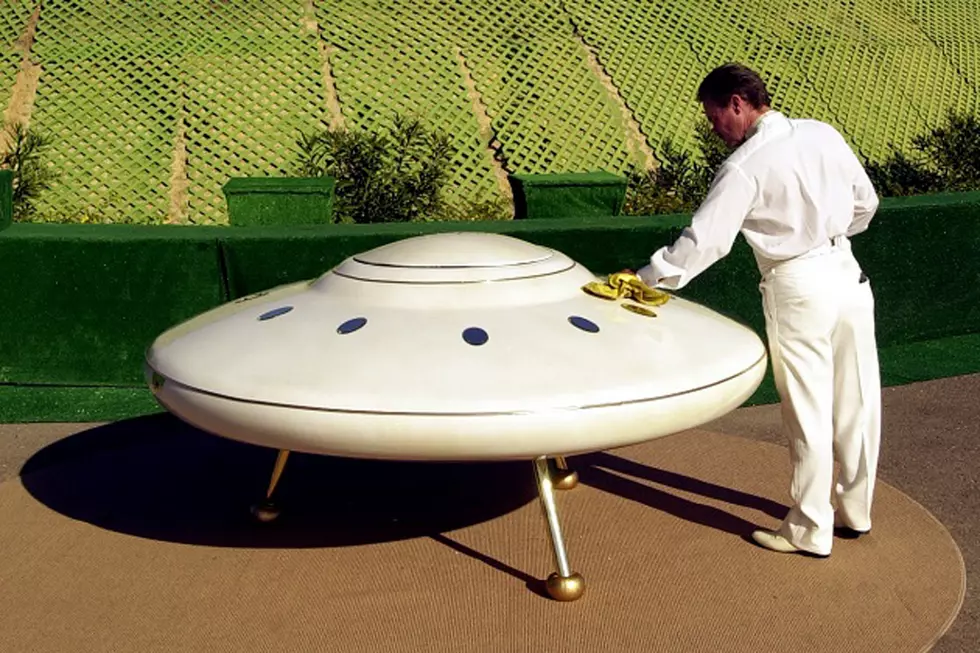 David McNew, Getty Images
The space race and rock and roll launched at the same time, so it's perhaps no surprise musicians have looked to the skies for inspiration – something we're celebrating with the Top 10 Songs About UFOs. While some tunes have focused on rocket men and space cowboys, others have ruminated on the idea of extraterrestrial beings invading earth's orbit. Early rock hits went the route of the novelty song ("Flying Saucers Rock and Roll" and "Purple People Eater"), while classic rock artists wrote about UFOs in a grander context (or even named themselves after these unexplained spacecraft). Check out these Top 10 songs about UFOs ...
10

"It Came Out of the Sky"

Creedence Clearwater Revival

From: 'Willy and the Poor Boys' (1969)

John Fogerty employed a B-movie plot (even the song's name sounds like a schlocky sci-fi flick) for this Creedence Clearwater Revival track. "It" is never revealed to be anything; we just hear about what everyone else sees in the UFO that landed "a little south of Moline." In the chooglin' rocker, which begins our list of the Top 10 Songs About UFOs, Fogerty explains that scientists seek a natural explanation. The Vatican sees a sign from God, conspiracy theorists blame the Communists, Hollywood turns it into a big-budget film and then-Vice President Spiro Agnew looks to profit from "It."

9

From: 'Tormato' (1978)

Yes often sounded otherworldly, but they push their progressive rock to the stratosphere on this track from Tormato. "Arriving UFO" finds the band welcoming a race of superior beings to the planet, with the hope that they will inspire "a bolder empire of energy." Rick Wakeman's mechanical synthesizers make "Arriving UFO" sound like it takes place in outer space. Although, after this album, Wakeman would decide that he and Yes needed their own space; he wouldn't return to the fold until the '90s.

8

"Silver Lights"

Sammy Hagar

From: 'Nine on a Ten Scale' (1976)

Going back decades, Sammy Hagar has been obsessed with unexplained phenomena, writing multiple songs (such as this one, from his solo debut) about the universe and the other life forms that may exist in it. "Silver Lights" describes a group of alien beings that visited Earth, then whisked some of the population away while the rest "fought for the broken bits" that remained. In his autobiography, Hagar describes a dream he had about having his thoughts uploaded by aliens – something he later claimed wasn't just a dream, but actually happened to him. If he gets abducted again, it better be in a fast flying saucer. After all, Sammy can't fly 55.

7

"Zero Zero UFO"

The Ramones

From: 'Brain Drain' (1989)

For his last Ramones album, Dee Dee Ramone co-wrote a couple of paranormal punk tunes: "Pet Semetary" (written in concert with the movie's release) and "Zero Zero UFO." Joey Ramone growls the lyrics about a man in Idaho who witnesses the landing of an alien spacecraft that "did not look like it came from Japan." A strange man approaches him, but we're not told much about what happens after that, except that the general public isn't likely to believe tall tales told by potato farmers.

6

"Children of the Sun"

Billy Thorpe

From: 'Children of the Sun' (1979)

This makes our list for Thorpe's out-of-this world intro alone, one which begins with a series of ominous, heavily processed rhythms before exploding into wave after thunderous wave of streaming spaceships. They descend upon our fair planet, surrounded by a silvery light (and a monstrous riff), then open the door to a new world of sights and sounds – but only after a weightless middle eight that finds the earthlings experiencing zero gravity for the first time. Cool!

5

"I've Seen the Saucers"

Elton John

From: 'Caribou' (1974)

Elton John and his co-conspirator Bernie Taupin are no strangers to space-based songs. On the mid-tempo rocker that opens Side 2 of Caribou, John sings about the excitement of a true believer who's taken aboard a UFO. Facing the enormous scope of the universe, the space traveler quickly gets homesick (just like the "Rocket Man") and prays to return to earth soon: "Maybe if I promise not to say a word / They can get me back before the morning light."

4

From: 'The Grand Illusion' (1977)

This classic rock radio staple from Styx is neatly split into two parts. There's the baroque, piano-ballad portion, which presents a lonely ship captain on the open sea, and there's the guitar-fueled finale, which is where the UFO comes in. Angels, who are really aliens, rescue the depressed captain and crew and take them on a journey into the final frontier – filled with spacey synthesizer and keyboard effects. Singer Dennis DeYoung said he wrote this song because he was sad about his band's lack of success at the time. Like the extraterrestrials in the song, "Come Sail Away" rescued Styx and became one of the band's biggest hits.

3

From: 'Rust in Peace' (1990)

In creating this metal classic, Megadeth was inspired by the UFO conspiracy theories suggesting that Hangar 18 at Wright-Patterson Air Force Base in Ohio is where the U.S. government hides aliens and their spaceships – such as the infamous craft said to have landed in Roswell, N.M. Although then-drummer Nick Menza was credited as the band's alien believer, the lyrics also tie into frontman Dave Mustaine's anti-authoritarian stance: "Military intelligence / Two words combined that can't make sense."

2

From: 'Fifth Dimension' (1966)

This hit single – along with "5D (Fifth Dimension)" – brought about the first use of the term "space rock." The country-rock jangle of "Mr. Spaceman," of course, bears no resemblance to the progressive rock epics that would be associated with that term in the '70s but the subject matter of this two-minute Byrds tune is nevertheless right at home with those later works. Roger McGuinn wrote the light-hearted tale about a man who is visited by UFOs every night, but is disappointed when they refuse to bring him aboard and take him for a spin around the universe. McGuinn hoped that extraterrestrials might be encouraged to contact Earth if they heard the song on AM radio; unfortunately, AM signals dissipate quickly in outer space. Thanks for trying, Roger.

1

From: 'The Rise and Fall of Ziggy Stardust' (1972)

You couldn't have a Top 10 Songs About UFOs without David Bowie. From "Space Oddity" to "Loving the Alien," the Thin White Duke has written and performed a fair share of sci-fi material – including Bowie's most famous album. Contrary to what many think, the character of Ziggy Stardust isn't an alien, but merely an earthbound messenger who speaks for otherworldly beings that could rescue Earth in the last five years of humanity's existence. "Starman" tells the story of teenagers who hear Ziggy's message about the alien beings "waiting in the sky" and ready to land their ships if the young people can "sparkle" for them. The song is a key moment in the story of Ziggy, but also in Bowie's career. "Starman" was his first British hit in the three years that followed the release of "Space Oddity."
More From Ultimate Classic Rock