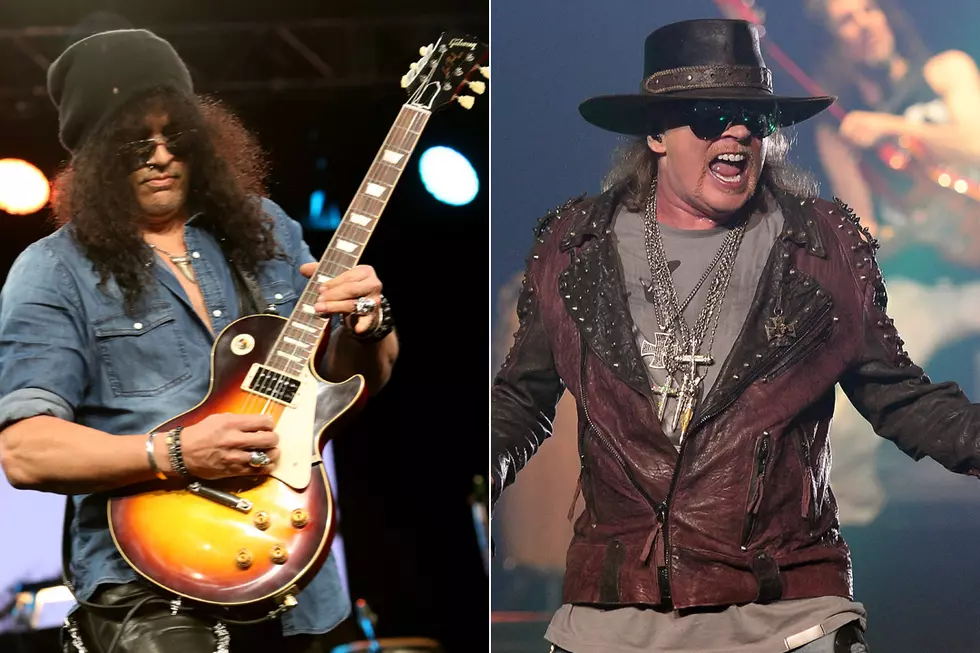 Slash's Brother Apologizes for Saying Axl Rose Is a 'Fat Bastard'
Jesse Grant / Ethan Miller, Getty Images
A day after Slash's brother potentially derailed the possibility of a long-awaited Guns N' Roses reunion, Ash Hudson is trying to put it back on track. Today (Sept. 11), he apologized for remarks he made about Axl Rose.
It appears that Ash, who is seven years younger than Slash, was possibly on the receiving end of a nasty tongue-lashing from his brother because he wrote on Facebook, "I apologize to Axl and his legions of fans who were offended by my post of yesterday. I am sorry I shot my mouth off. I know, or should know, better than to get involved in GN'R business. It has come to me attention that Axl is on a strict diet and losing weight. Unfortunately, my post was very offensive and upsetting to my brother, for which I apologize. To the rest of the world, I had one of these days when people kept asking me about a possible reunion and I had had enough... Again, my apologies."
Yesterday, Ash went off on fans who have been hounding him about the possibliity of Slash rejoining Guns N' Roses now that the two are on speaking terms again. After telling them to "grow up" and "get a life," he set his sights on the singer's frame. "Axl is a fat bastard and the reunion would only be a disappointment and an action that would result in criticism [...] You loved Axl when he was beautiful now he's Fat Elvis."
Both the apology and the original offending status update have since been deleted from Ash Hudson's Facebook timeline.
See Guns N' Roses and Other Rockers in the Top 100 Albums of the '80s
Watch Slash Say Nice Things About Axl Rose
More From Ultimate Classic Rock