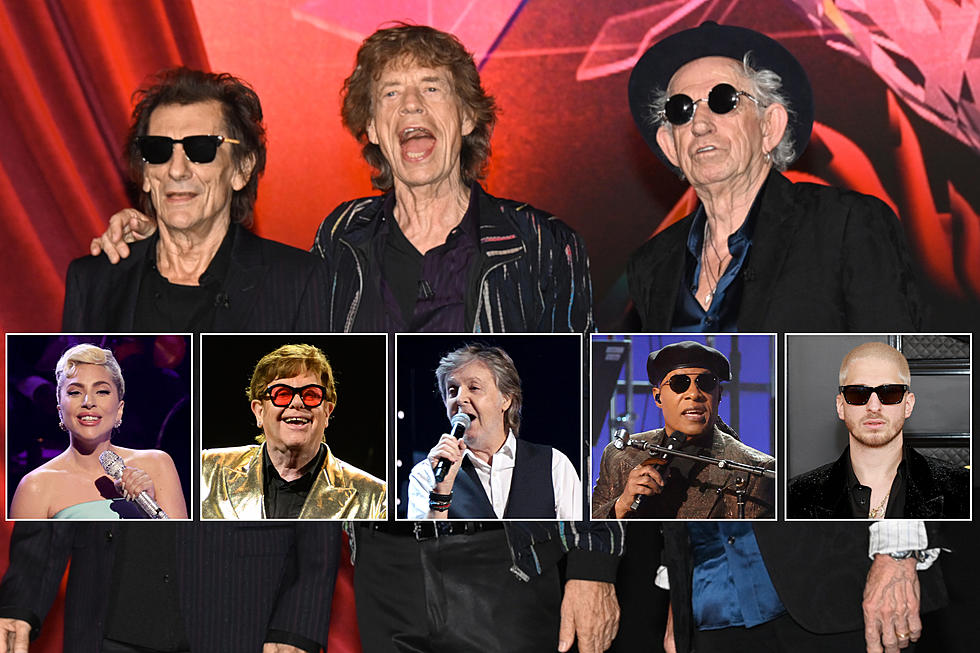 Here's Every Guest Star on the Rolling Stones' 'Hackney Diamonds'
UCR
The Rolling Stones' new album Hackney Diamonds boasts an impressive array of musical guests.
The LP, described by UCR's Michael Gallucci as the band's "most committed set of songs and performances in years," is being hailed as a return to form for the group, proving once again that the Stones aren't ready to give up their crown as biggest rock band on the planet.
While Mick Jagger, Keith Richards and Ronnie Wood do most of the heavy lifting on the album, there are 10 other musicians – ranging from global superstars to tenured collaborators – who contributed to the LP. Here are the non-Stones members featured on Hackney Diamonds.
'Hackney Diamonds' Guest Stars
Steve Jordan
Jordan's presence on the album came out of necessity. In 2021, Charlie Watts, the band's drummer for nearly 60 years, died at the age of 80. At the time, Jordan had already been tabbed to fill in for Watts on the last leg of the Stones' No Filter tour. Suddenly, the position became more permanent. "There are people that don't understand that I lost a friend," Jordan, who knew and worked with Watts for 40 years, explained to Vanity Fair at the time. "So they're happy for me, but they don't understand that I'd rather not have this be the case." Material Watts recorded before his passing was used for the songs "Live by the Sword" and "Mess it Up." All other tracks on Hackney Diamonds feature Jordan's drumming.
Paul McCartney
The internet was buzzing back in February when reports began swirling regarding Paul McCartney collaborating with the Rolling Stones. To the joy of rock fans everywhere, the rumors turned out to be true, as the Beatle great played bass on "Bite My Head Off." "[McCartney] had been doing some work with Andrew Watt as well, and happened to be around and dropped by," Keith Richards explained to Guitar Player. "I don't even think he intended to play bass on a track, but once he was in there, I just said, 'Come on, you're in. You ain't leaving till you play.'"
Listen to 'Bite My Head Off'
Stevie Wonder
For the rousing gospel tune "Sweet Sounds of Heaven," the Stones turned to one of music's most celebrated stars, Stevie Wonder. "I felt that the song needed a place of celebration, a celebration of the spirit of the rhythms and the spirit of just everybody coming together for that event," Wonder recalled to Rolling Stone. "It just was so moving to be in the studio with Stevie," added guitarist Ronnie Wood. "Watching Stevie play his array of keyboards: a little bit of synthesizer, a little bit of Moog here, and a bit of clavinet there, and a grand piano here, and the lovely moods that he invoked. It was lots of great inspiration in the whole band." Mick Jagger agreed. "To get Stevie to play it with all those gospel chords, it makes it come alive and takes it to another level," the singer explained. "And you feel, 'Oh, wow.'"
Lady Gaga
Also featured on "Sweet Sounds of Heaven" is pop star Lady Gaga. Like Wonder, who toured with the Stones in 1972, Gaga had some history with the band, having joined them on their 50 & Counting trek in 2012. Her involvement on Hackney Diamonds came around somewhat fortuitously. The singer was recording in a studio adjacent to the Stones' and popped in to say hello. Jagger was singing at the time and Gaga instantly decided to join him. The band liked what they heard and soon laid her contributions down.
Listen to 'Sweet Sounds of Heaven'
Elton John
Another rock legend joined forces with the Stones' on a pair of tracks, as Elton John appears on both "Get Close" and "Live by the Sword." Surprisingly, the Rocket Man didn't contribute vocals, but instead delivered his distinctive honky-tonk piano. "Elton loves to play, and he started as a session musician," Watt explained. "Everyone's a fan of the Rolling Stones. Just like Paul, Elton was like, 'I just fucking played with the Rolling Stones.'"
Bill Wyman
For the first time since 1989, Bill Wyman appears on a Rolling Stones release. He famously served as the group's bassist from 1962 to 1992, contributing to 19 albums during that time. Wyman, who was also the Stones' unofficial historian, departed the band to focus on his family. "I had 30 years with them, then a really nice divorce and as corny as it sounds, we are still family," he later said of his relationship with his former bandmates. Wyman's playing can be heard on the Hackney Diamonds track "Live by the Sword."
Listen to 'Live by the Sword'
Matt Clifford
Matt Clifford first appearance on a Rolling Stones album came in 1989 when he played on nine tracks for Steel Wheels. He became one of the band's touring keyboardists and later contributed to the albums Bridges to Babylon, A Bigger Bang and Blue & Lonesome. During the Rolling Stones' interview with Jimmy Fallon, Mick Jagger revealed that Clifford was part of a contingent that went to Jamaica to work on Hackney Diamonds song ideas. "We started kicking ideas around, and we went to New York and Ronnie joined us," the frontman recalled. "And then after that, we got a producer called Andy Watt, who kicked us up the ass."
Andrew Watt
Over the past decade, Andrew Watt has emerged as one of the most in-demand producers in all of music. He initially made his name in the pop world, working with such hugely successful acts as Post Malone, Miley Cyrus and Justin Bieber. More recently, he's ventured into rock. In 2022, he produced Ozzy Osbourne's Ordinary Man and Iggy Pop's Every Loser. He's also worked with Eddie Vedder, and is helming Pearl Jam's upcoming album. Working on Hackney Diamonds was the fulfillment of a childhood dream for Watt. "You gotta understand, I'm a fucking fan," the producer admitted. "If I told them how many Rolling Stones concerts I'd seen, I don't think they'd ever talk to me again. When we were in the studio, I'd tell them, 'You let a freak from behind the barricade produce the album.' I wore a different Stones T-shirt in the studio every day." Watt is also a multi-instrumentalist and contributed backing vocals on the LP.
Listen to 'Angry'
Darryl Jones
Darryl Jones originally rose to prominence as a member of Sting's solo band, which he joined in 1985. He played on the Police frontman's 1985 solo album, Dream of the Blue Turtles, as well as the 1986 live album Bring On the Night. Following Bill Wyman's departure from the Rolling Stones in 1992, Jones auditioned and was given the gig. He's toured and recorded with the group ever since, but also plays on other artists' recordings. Joe Cocker, Rod Stewart and Ziggy Marley are among the musicians with whom Jones has collaborated.
Don Was
Bassist and producer Don Was has a long history with the Rolling Stones, stretching back to 1994's Voodoo Lounge. He has contributed to all of the band's studio albums since then, as well as live LPs and archival releases. On Hackney Diamonds, he is listed as a producer on "Live by the Sword," a tune with origins dating back to 2019.
15 Musicians Who Almost Joined the Rolling Stones
Becoming a member of one of the longest running rock bands of all time is no easy feat.
Gallery Credit: Allison Rapp
More From Ultimate Classic Rock