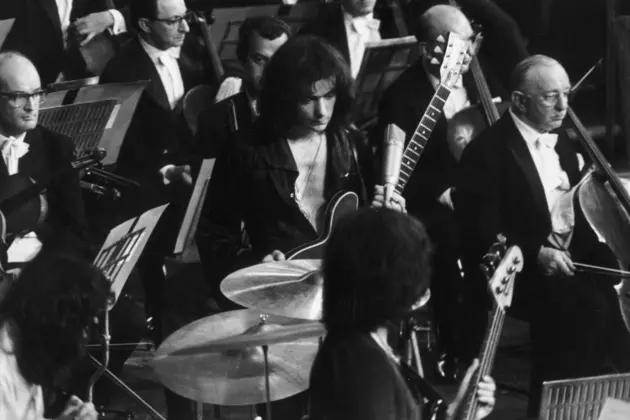 Top 10 Ritchie Blackmore Songs
Hulton Archive, Getty Images
As the primary musical architect behind not one, but two of heavy metal's cornerstone bands -- Deep Purple and Rainbow -- and with a deserving reputation as one of history's greatest guitar gods, Ritchie Blackmore's influence is difficult to exaggerate.  As is his legendary truculence -- for instance, there's the now-iconic incident at the California Jam in 1974, when Blackmore destroyed a television camera with his guitar to make up for some backstage frustrations.
Such are the everyday dangers of dealing with the notoriously irascible six-string icon, we are told -- so in a bid to avert this fate, we've decided not to bore you (or him) with a detailed analysis of great solos or a lazy selection of his best-known hits.
Instead, our list of the Top 10 Ritchie Blackmore Songs through the years is intended as a chronological celebration of Blackmore's key creative milestones found along his remarkably eclectic life in music.
1964

'Shake With Me'

The Outlaws

From: 'Getaway: Groups & Sessions' (2005)

Our journey back in time to identify the Top 10 Ritchie Blackmore Songs begins quite some time before the deeds he is best known for. Long before he became a highway star with Deep Purple, Blackmore learned his trade as a session ace for controversial producer Joe Meek, while cutting his teeth with numerous show bands of the mid-'60s, most notably Screaming Lord Sutch. But it was with his teen beat combo the Outlaws that Blackmore's pyrotechnic guitar work really began to spew six-string sparks.

1968

'Wring That Neck'

Deep Purple

From: 'The Book of Taliesyn' (1968)

Once Deep Purple got under way in 1968, Blackmore truly began flexing his songwriting muscles, and "Wring That Neck," from the band's sophomore LP The Book of Taliesyn, became a highlight of the so-called Mk. I formation. On stage, the song eventually evolved into an extended showcase for organist Jon Lord and Blackmore to unleash their wildest solos, as can be witnessed in the following clip, already with bassist Roger Glover in the fold.

1970

From: 'Deep Purple in Rock' (1970)

By the turn of the '70s, Glover and vocalist Ian Gillan had officially replaced Nick Simper and Rod Evans, respectively, to solidify Purple's legendary Mk. II lineup (completed by drummer Ian Paice). After allowing Lord to have his way on the Concerto for Group and Orchestra project, Blackmore let it be known who would be piloting the Purple ship henceforth with the blistering solo introducing "Speed King."

1972

'Smoke on the Water'

Deep Purple

From: 'Machine Head' (1972)

We follow that slight reach with the song Blackmore will inevitably be immortalized through: Deep Purple's best-known classic, "Smoke on the Water." Far more than a hit, this classic rock standard spans Blackmore's talent from conjuring one of the simplest, most immediate and universal riffs known to man all the way to a typically dazzling and inventive solo.

1973

From: 'Made in Japan' (1973)

One of the most successful live albums of the 70s (and a major reason concert recordings became so prevalent later in the decade), Made in Japan caught Deep Purple's Mk. II lineup at the height of their powers. Indeed, with Blackmore – ever the band's sparkplug – leading the way, songs like "Child in Time," "Strange Kind of Woman" and "Space Truckin'" grew to include amazing improvised solos, but our final choice to represent this period in our list of Top 10 Ritchie Blackmore Songs is the hybrid jazz, blues and classical approach the guitarist jammed into the inappropriately-named "Lazy."

1976

From: 'Rainbow Rising' (1976)

Feeling increasingly stifled by the lumbering corporation Purple had become and growing creative differences within the group, Blackmore shockingly set out on his own in 1975, vowing to paint his new musical ideas in a palette of colors as vivid as a . . . Rainbow. And so it came to pass, with the timeless, mesmerizing "Stargazer" often cited as the culmination of Blackmore's dramatic infusion of classical elements into the heavy rock format to create -- with the help of histrionic accomplice Ronnie James Dio -- a style often described as "Castle Metal."

1978

From: 'Long Live Rock 'n' Roll' (1978)

Just when you thought Blackmore, Dio and their fellow musical knights would march off into mystical battlefields of the mind, there came a furious reminder of the veteran virtuoso's blinding dexterity and pent-up aggression in the shape of the merciless head-banger "Kill the King." A highlight of Rainbow's third studio album Long Live Rock 'n' Roll, the song threw down a metal gauntlet, daring all comers to challenge heavy rock's true black knight – Blackmore – for his six-string maestro's baton, and reminding one and all of his major role in the foundation of heavy metal.

1981

'Difficult to Cure (Beethoven's Ninth)' [Live]

Rainbow

From 'Finyl Vinyl' (1984)

After years of applying his classical training to countless solos and songs, Blackmore finally undertook a full-fledged electrified rendition of a major work – Beethoven's Ninth Symphony – at the end of Rainbow's 1981 LP, Difficult to Cure. But even this was merely a taster for the extended improvisations he would lead his band through on tour, and this 11-minute jaw-dropper -- recorded in 1983 and documented on the Finyl Vinyl collection in '84 -- captures the full scale of Blackmore's genius. Oh, and you can bet that somewhere in Sweden, a young guitarist named Yngwie Malmsteen was taking notes.

1984

'Knocking at Your Back Door'

Deep Purple

From: 'Perfect Strangers' (1984)

Before the Eagles stole the old adage for themselves, it was the reformation of Deep Purple's Mk. II quintet that epitomized hell freezing over when it came to rock and roll band reunions. And yet, the years of acrimony appeared to melt away as effortlessly as Blackmore's liquid lead-work and grinding riff gelled on "Knocking at Your Back Door." Alas, although the nervous truce of egos didn't last long, for a while at least, the man in black and his former mates were firing on all cylinders.

1997

'Minstrel Hall'

Blackmore's Night

From: 'Shadow of the Moon' (1997)

And so our list of the Top 10 Ritchie Blackmore Songs comes to an end, not with an all-time career highlight, but a final sterling example of the man's seemingly limitless talent, courtesy of his late-career project with his wife Candice Night, called Blackmore's Night. As shown by this beautifully executed acoustic instrumental, the project finally gave Blackmore an outlet to explore his classical background and passion for Renaissance music. The music may not be every Deep Purple or Rainbow fan's cup of ale, musically speaking, but not even they can begrudge Blackmore's desire to carry on reinventing himself – again and again.
More From Ultimate Classic Rock