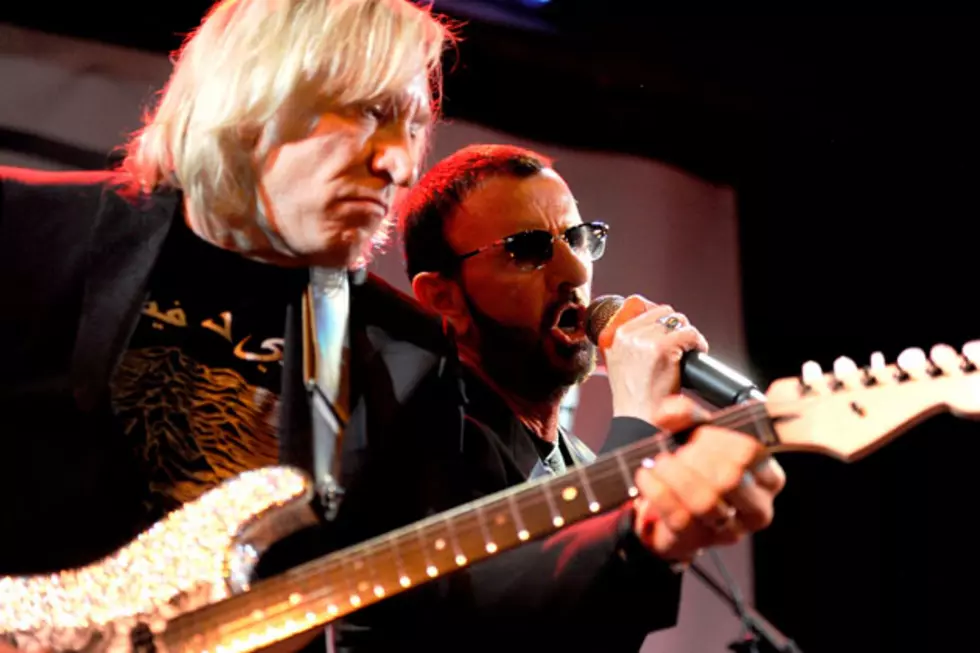 Ringo Starr's All Star Performance at Nashville's Ryman Auditorium Coming to DVD
Frazer Harrison, Getty Images
Last July Ringo Starr celebrated his 72nd birthday with a stage full of players familar to fans of rock and country music. This star-studded performance will now be released on DVD. Look for 'Ringo at the Ryman' to arrive on March 11.
Amongst the stars who made cameo appearances were Joe Walsh ('Rocky Mountain Way'), Brendan Benson (of the Raconteurs) and country superstars Kix Brooks, Vince Gill and Brad Paisley. The finale -- and final song on the 26-track DVD -- features a stage full of musicians singing the classic anthem 'With a Little help From My Friends.'
Starr would play other shows with his All Star Band later that same month, including a gig at the Greek Theater in Los Angeles on July 21. Walsh turned up for that show as well. The All Star Band includes Steve Lukather of Toto, Todd Rundgren, Gregg Rolie of Journey, Mr. Mister singer Richard Page, Gregg Bissonette and Mark Rivera.
'Ringo at the Ryman' Track Listing:
1. 'Open / Matchbox'
2. 'It Don't Come Easy'
3. 'Wings'
4. 'I Saw The Light'
5. 'Evil Ways'
6. 'Rosanna'
7. 'Kyrie Eleison'
8. 'Don't Pass Me By'
9. 'Bang The Drum All Day'
10. 'Boys'
11. 'Yellow Submarine'
12. 'Black Magic Woman'
13. 'Band Intro / Happy Birthday'
14. 'Anthem'
15. 'I'm The Greatest'
16. 'Rocky Mountain Way'
17. 'You Are Mine'
18. 'Africa'
19. 'Everybody's Everything'
20. 'I Wanna Be Your Man'
21. 'Love Is The Answer'
22. 'Broken Wings'
23. 'Hold The Line'
24. 'Photograph'
25. 'Act Naturally'
26. 'With A Little Help From My Friends / Give Peace A Chance'