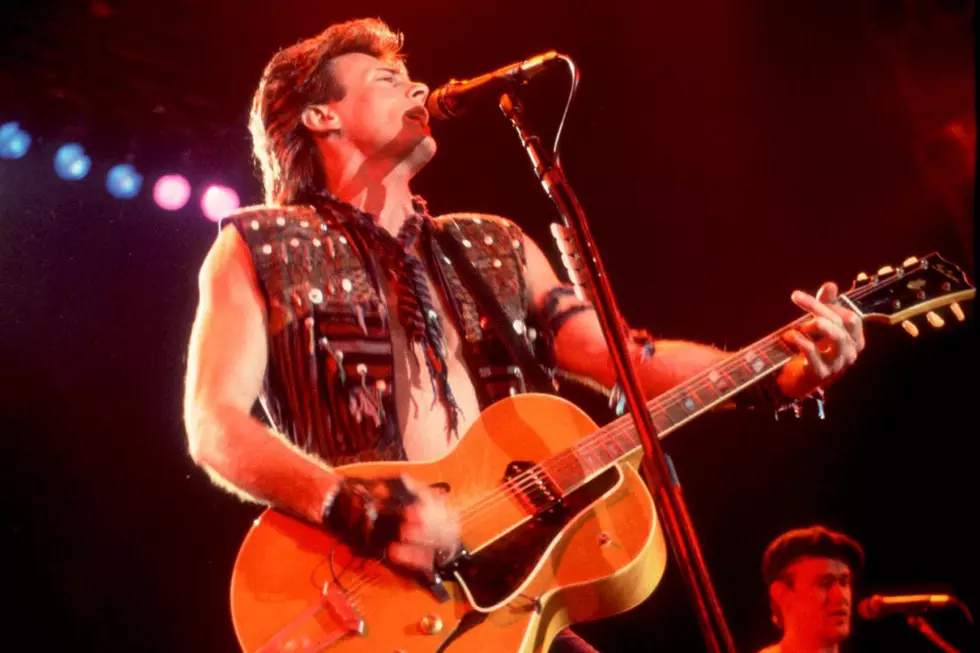 How Rick Springfield Secured His Future With 'Living in Oz'
Paul Natkin, Getty Images
Rick Springfield seemed to be on top of the world with plenty of early-'80s multiplatinum success. But he knew his third album of the decade was going to be crucial.
"It was the third album and the second one kind of rides on the strength of the first one," Springfield told UCR. "So the third one is the one that says, 'Will I be here tomorrow or is this pretty much it?' So there was a lot riding on that record for me."
He came into the sessions for Living in Oz with seven previous Top 40 hits – including "Jessie's Girl," from 1981's Working Class Dog, which had gone all of the way to No. 1. The late producer Keith Olsen (Foreigner, Fleetwood Mac) had helmed that song, along with a cover of Sammy Hagar's "I've Done Everything for You."
Springfield produced the rest of Working Class Dog, but the attention paid to "Jessie's Girl" and "I've Done Everything for You" left Olsen with a desire to oversee the next LP, which ended up being 1982's Success Hasn't Spoiled Me Yet. Springfield didn't disagree. "He was still one of the hottest producers around, so it seemed like a good move for me, even though I'd always been totally hands-on with the recording process," he explains. "I've always demoed stuff and I've always laid stuff out as I want to hear it, and we'd use that as a template."
Exploding success as a television star meant that there were compromises that Springfield didn't anticipate. "I was traveling so much because of General Hospital – and because of the touring I couldn't physically be in the studio as much as I wanted to with Success Hasn't Spoiled Me Yet," Springfield says. "It still turned out to be a great record, I think. But it's very much more 'Keith' than I would have liked initially."
Springfield wanted to make an album that would better reflect the energy of his concerts. "My live shows are always much louder and bigger and heavier than the records," he explains, "because that's just how I play onstage – and I wanted to [show that] with the album."
The stage-ready feel of "Affair of the Heart," the album's lead single, certainly fleshes out this idea. Its futuristic synth-heavy introduction would be extended in the live setting, with Springfield adding guitar stabs as the momentum of the track continued to build.
Listen to Rick Springfield's 'Affair of the Heart'
As always, he drew on personal inspiration for songs like "Me & Johnny," a poignant track dedicated to his childhood friend. Decades later, the pair are still in touch. "We spoke last night on FaceTime. We're both going, 'Oh, my God, we're like in our 70s!' He's got health issues and we're going, 'What the fuck happened?'" Springfield says with a laugh. "But the song is about our youth and our great times together. He really was my closest friend when I was a kid."
"Me & Johnny" was also one of the tracks that Springfield played for Olsen prior to deciding to simply produce the album himself. "Keith heard it and he didn't get it – and there was another song, I think, that he didn't get either," Springfield recalls. "I liked that song and it was very dear to me, so I just said, 'Fuck it, I'm gonna do it myself.'"
He acknowledges that it was a "tense time," as Springfield felt like he was stepping out from "under a very big shadow" without Olsen, who had been a valued creative partner. As Springfield points out, however, he had always been a key writer, arranger and co-producer on every previous album – so he knew he could make the transition. "But certainly after I'd had the success I'd had, there was more pressure on delivering a product," he explains. "So that was really where the pressure came from, was the fact that I was now a known entity."
Songs like the guitar-heavy title track underlined a series of additional concerns that Springfield had – including whether his new songs would be too loud for his existing fanbase. "I'd seen a lot of young teen girls at the shows, and I thought they wouldn't be into the guitar thing and the more aggressive approach," Springfield says. "Also, I was writing more about what was going on in my life – and since I was probably at least 10 or 15 years older than my audience, I was worried they wouldn't be able to relate to it."
Listen to Rick Springfield's 'Living in Oz'
Like many artists, Springfield says he has always written for himself rather than the audience. Still, there was an unexpected additional benefit to his modified approach on Living in Oz. "A lot of guys got it – the ones that were brave enough to say, 'Yeah, I like Rick Springfield,'" he clarifies. "Because back then it was not a badge of honor to say that you liked my music. But I remember playing somewhere and a lot of college guys would show up in Winnebagos with Living in Oz written all over it. It was a transitional record, for sure. I think that album is probably a reason that there are guys at the shows now."
He was sometimes unsure of what was ahead, but Springfield continued down a number of creative paths with engineer Bill Drescher, who had become a vital cog in the process. "I was definitely pushing ahead, trying to find new ground," Springfield confirms. "I found Mitchell Froom, who went on to become the really successful producer. I liked him, because he was left of center. I remember doing some instrumental stuff on 'Human Touch' [and] we were playing all of this weird shit. I'm going, 'Is this going to be too weird for my audience?' It was that bizarre to me. Now, I listen to it and it [doesn't] sound that weird. But back then, it was very weird for me."
A trio of songs – "Tiger by the Tail," the anthemic "Souls" and "I Can't Stop Hurting You" – functions as a miniature suite of sorts, all segued together. "I've always loved when songs blend into one another," Springfield says. "You know, it's been done before, certainly. They just seemed to link up really easily – and I was looking to do more of that. But that [series of tracks] seemed to work the best, so we kept it."
Looking back at Living in Oz, Springfield says it's probably "at the top" of the albums he made during the '80s. "Sonically, it's really a good record. Everybody played great on it. I was at a high with my writing. You know, I was bold at that point, because I'd had two big albums and was starting to feel comfortable in my role and I was ready to push it in another direction."
Listen to 'Souls' by Rick Springfield
The '80s Most Outrageous Rock Fashions
In the same way that ducktails defined the '50s and bell bottoms became shorthand for the '70s, neon-lit sartorial choices can be firmly placed in the Reagan years.
More From Ultimate Classic Rock