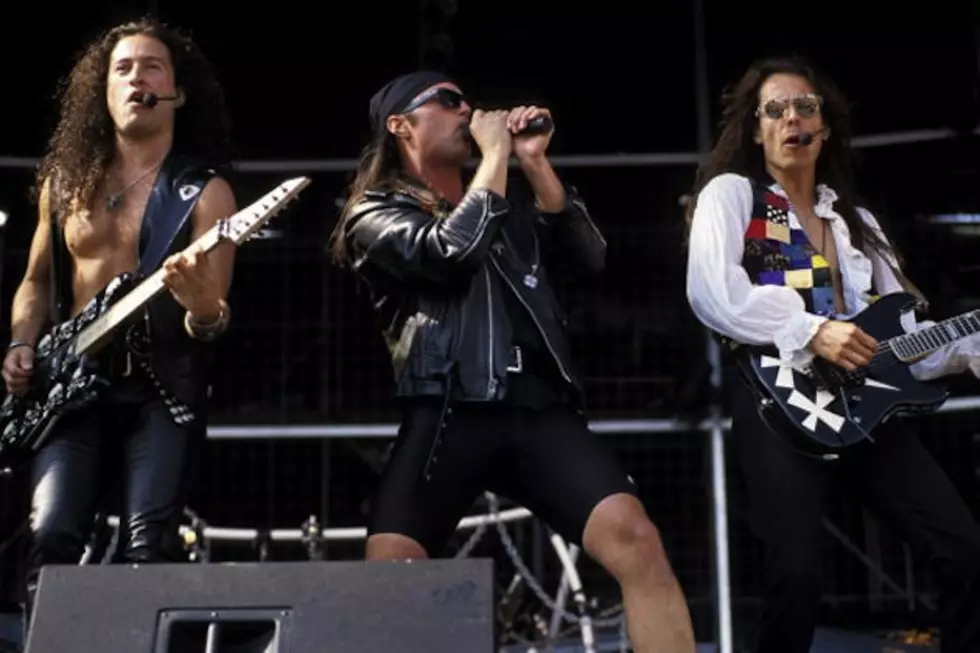 Mick Hutson, Getty Images
Music has unfortunately taken a backseat to the airing of dirty laundry for veteran hard rockers Queensryche of late, what with the group's acrimonious parting of ways from lead singer Geoff Tate and controversial decision to carry on with new arrival Todd La Torre. But long before they fell prey to such interpersonal distractions, the Seattle quintet produced some of the most compelling hard rock and progressive metal of its day -- at once intellectually stimulating and musically adventurous.
Indeed, the '80s loomed so large as we faced the task of selecting the Top 10 Queensryche Songs that, with all due respect to the group's frequently rock-solid post-'90s output, there was simply no competing with the early gems -- as you will see below.
10

'Jet City Woman'

From: 'Empire' (1990)

We begin our countdown of the Top 10 Queensryche Songs with this mega-hit from 1990's world-conquering 'Empire' LP, a twice-useful ode to singer Geoff Tate's flight attendant wife and the band's shared hometown with jumbo jet manufacturers Boeing. A few years later, 'Jet City Woman' would also prove prophetic when guitarist Chris DeGarmo quit the band to start a new career as a fully licensed corporate jet pilot. How ironic that this has probably seen him work for other music stars who have sold less albums than his old band!

9

'I Don't Believe in Love'

From: 'Operation: Mindcrime' (1988)

With 'Operation: Mindcrime,' Queensryche finally achieved both the critical and commercial success that had long eluded them, and all it took was following their gut instincts instead of trying to please meddling managers and record labels. Not unlike one of the band's '70s heroes, Rush, who saved their career with a bold experiment like '2112,' Queensryche too managed the nearly impossible feat of scoring a mainstream hit with an intricate, demanding and thoroughly depressing concept album. That's what happens when you compose irresistible songs such as 'I Don't Believe I Love.'

8

'Walk in the Shadows'

From: 'Rage for Order' (1986)

Prior to 'Mindcrime,' Queensryche had wasted a few years obfuscating their thinking-man's metal behind gaudy makeup and ridiculous costumes that made them look like transvestite vampires. So silly were these ploys to fit the band's square peg into the hole-in-the-head of '80's glam rock that 1986's musically intriguing, ultra-adventurous 'Rage for Order' LP simply never got a fair shake. Luckily, once Queensryche cleared the air, so to speak, with its follow-up masterpiece, 'Rage' could be better appreciated for its many musical merits, concealed behind all that scary clown greasepaint.

7

'Silent Lucidity'

From: 'Empire' (1990)

1990's 'Empire' managed to please almost everyone who'd ever (or never) heard of Queensryche, and the album's touching ballad, 'Silent Lucidity,' was that special kind of song capable of moving even burly metal-men to little girl tears (even as they grabbed for the nearest dictionary to make sure "lucidity" meant what they thought it did). In all seriousness, the beautifully orchestrated song's tender words of reassurance for a child frightened by nightmares also reflected the band's unusual maturity in an era filled with frivolous rock escapism. Just one more reason Queensryche often stood so far apart from their contemporaries.

6

'Queen of the Reich'

From: 'Queensrÿche' EP (1983)

Before they scored their recording contract, the members of Queensryche cut their proverbial teeth as a cover band for several years, learning their trade by duplicating the works of established heavy metal masters such as Judas Priest and Iron Maiden in their native Seattle. It was therefore hardly surprisingly that the band's introductory single, 'Queen of the Reich,' should come so steeped in classic metal hallmarks, bordering on self-parody thanks to its accompanying music video – so charmingly naïve it never gets old.

5

'Empire'

From: 'Empire' (1990)

The title track from Queensryche's triple-platinum-selling fourth album was the very definition of their masterful ability to mingle catchy hooks and heady subjects, muscular metal riffs and infectious commercial hooks. Along with the disc's other hit single/video combos, 'Empire' helped the band not only avoid the expected sales slump following 'Operation: Mindcrime,' but nearly quadruple its sales. Of note, this is the only entry in our list of the Top 10 Queensryche Songs that doesn't feature a DeGarmo songwriting credit, being a collaboration between Tate and second guitarist Michael Wilton, instead.

4

'Prophecy'

From: 'Queensrÿche' EP (1983)

So fraught with confusion were the 'Rage for Order' sessions that the best available song was eventually left off the album! We're talking about perhaps the biggest cult song in the Queensryche canon, 'Prophecy', a virtually perfect DeGarmo composition that had been kicking around the band's repertoire for a few years already, looking for a studio album to call home. And the song may well have been lost forever (making us wonder what other unrecorded gems may have met this very fate) had it not eventually been added to the CD reissue of Queensryche's original 1983 EP. Phew!

3

'Suite Sister Mary'

From: 'Operation: Mindcrime' (1988)

This eleven-minute magnum opus doubled as the climatic centerpiece of Queensryche's conceptual masterwork, 'Operation: Mindcrime,' throwing everything but the kitchen sink into a towering prog-rock monument that held the album's complex storyline together and showcased every musical trick available in the band's vast arsenal. Heck, even a guest vocalist – Seattle neighbor Pamela Moore – was brought in to impersonate the doomed good Sister in a harrowing, dramatic duet with Tate that still brings the house down whenever it is tackled by the band onstage.

2

'Take Hold of the Flame'

From: 'The Warning' (1984)

Queensryche's first full-length found them still very much in thrall to heavy metal's vintage formulas -- and Iron Maiden, in particular -- resulting in mish-mash of material alternating between dependable but somewhat predictable exercises ('Warning,' 'Before the Storm') and intriguing but still tentative progressive ambitions ('NM 156,' 'Roads to Madness'). Amidst all this, though, there was one bona fide Queensryche standard everyone could agree with in 'Take Hold of the Flame' – an inspired call to arms the likes of which they would arguably never duplicate, and which confirmed this was a band to watch for in the future, even as they went through their necessary growing pains.

1

'Eyes of a Stranger'

From: 'Operation: Mindcrime' (1988)

Settling on a No. 1 choice for our list of Top 10 Queensryche Songs was no easy task, but in the end we had to go with the climatic finale to the group's master work, 'Operation: Mindcrime.' By this point in the album's hour-long tale of dystopian intrigue, rampant paranoia, love, betrayal and murder had left its protagonist crazier than a sack of rabid weasels (and listeners' ability to keep up challenged to the breaking point), so for Queensryche to deliver such a satisfyingly cathartic musical denouement was simply an astounding feat. Moreover, 'Eyes' is another song that perfectly encapsulates that aforementioned delicate balance between pop smarts and real smarts that made Queensryche so special -- no matter what their recent career struggles may suggest.
More From Ultimate Classic Rock